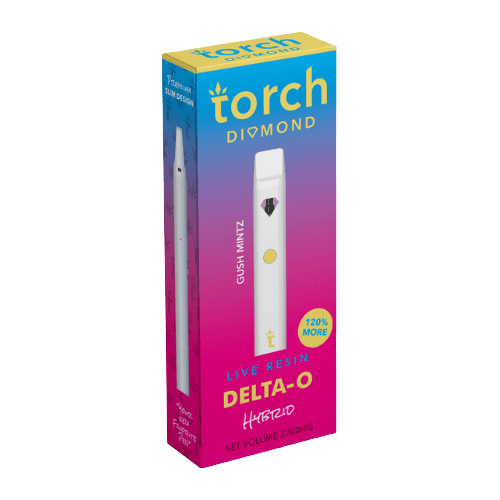 Torch Delta O Live Resin Disposable 2.2G
Free Shipping on Orders $60+.
Secure Checkout With
24/7 Customer Service
100% US Grown Hemp
All Products Third-Party Lab Tested
Same-Day Shipping with Discreet Packaging
Torch Delta O Disposable
Introducing the all-new collection of disposables crafted by Torch! The Torch Delta O Disposable is infused with 2.2 grams of delta-O live resin diamond concentrate. By using this type of concentrate instead of the regular distillate you see in almost every disposable, a higher abundance of terpenes and cannabinoids are preserved. This results in a way more potent and flavorful experience when smoking.
When compared to other brands, Torch's products are renowned to have very low to no rates of bothersome defects, such as clogging, leaking, and defective batteries.
The highly powerful flavor characteristics of Torch Diamond Delta O Live Resin Disposables come in 5 different varieties. They are produced using uncommon strains like Cafecito and Tropical Sherbert. In addition to employing diamond concentration, they also use terpenes that are naturally-derived, which contributes to the delectable aromas and flavors of these disposables.
Torch Delta O Disposable Flavors/Strains:
Caffecito (Sativa)
Gush Mintz (Hybrid)
Pomelo (Indica)
Royal Kush (Indica)
Tropical Sherbert (Hybrid)
Product Features:
Compliant with the 2018 Farm Bill ( consists of less than .3% of delta-9 THC)
1 disposable with 2.2 grams of delta-O THC live resin diamond concentrate
Naturally-derived terpenes
Innovative device
Made in the USA with industrial hemp
5 potent strains to choose from
Click Here To View Lab Reports. 
D8Gas is on a mission! We are committed to exposing and promoting a variety of the highest quality brands and products that are excelling in the Delta 8 space today. We strive to provide an exceptional customer shopping experience. From access to a vast variety of the best brands and products through ordering and fulfillment-customer satisfaction is 100% guaranteed.
Our customers are assured to be gassed up and ready to lift off upon the arrival of their new product(s)! The D8Gas team thoroughly researches, tests, and rigorously quality-controls all the brands listed on D8Gas.com to ensure they meet the highest quality and health standards. Every product listed for sale has accessible lab reports providing research and information in support of claims.