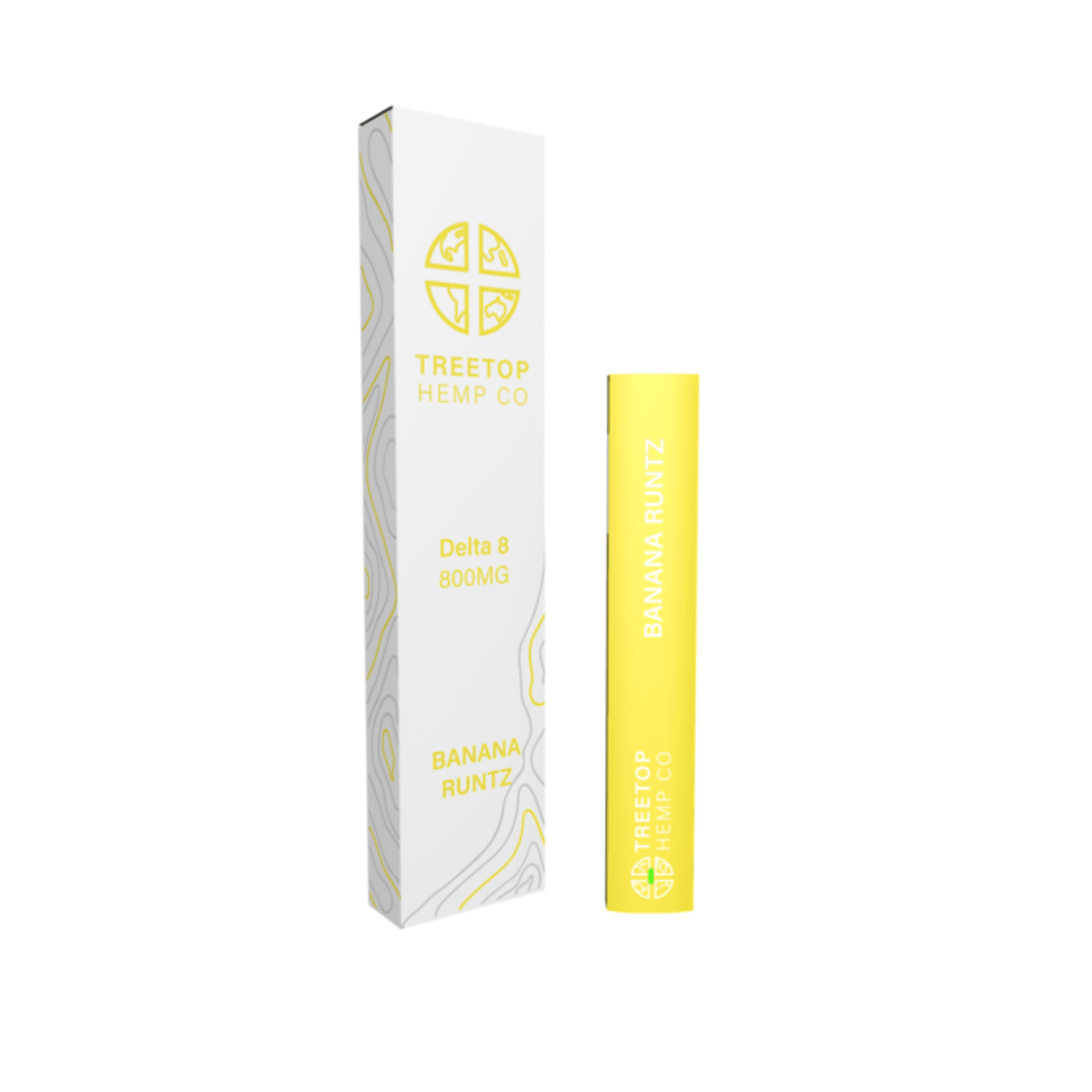 Treetop Hemp Co. Delta 8 Disposable 800mg
$27.99
Tax Included. $9 flat rate shipping. Free shipping on orders $50+.
Secure Checkout With
Unlike most disposable vape products on the market, Treetop Hemp Co Delta 8 Disposables are made from high quality delta 8 distillate. This ensures you don't have the issues other disposable delta-8 devices have in the market. These convenient easy to pocket devices are small and portable.
They are perfect for discreet use or just having in your carry purse or pockets without it being an inconvenience. This disposable features a tightly sealed juice reservoir to prevent any leaking.
Treetop Hemp Flavors:
Banana Runtz [HYBRID]: Banana Runtz is an evenly balanced Hybrid strain created by crossing the classic Zkittlez and Gelato strains. The aroma is just as delicious, although a little heavier, with a pungent and spicy overtone accented by fresh fruity banana and sour candy.
Blue Dream [HYBRID]: Blue Dream is a Sativa dominant hybrid that carries a very sweet flavor. It is a cross of Blueberry Indica and Sativa Haze, producing a strain known for its balanced full-body relaxation, with gentle uplifting and mental clarity and motivating effects. It's great for daytime use.
Cherry Pie [HYBRID]: Cherry Pie is a well balanced hybrid bred by crossing Granddaddy Purple and F1 Durb. This strain is known to give equal body and cerebral effects leaving users both euphoric and relaxed. It is known to have a strong aroma and flavor of sweet and sour cherry pie.
Gelato [HYBRID]: Gelato is an extremely well known hybrid strain cultivated by crossing Sunset Sherbet and Thin Mint Girl Scout Cookies. Gelato is well regarded for inducing powerful mental uplifting effects and unmistakable whole body relaxation. In short, you will feel like you are melting into your couch.
Orange Cookies [HYBRID]: Orange Cookies is a well balanced hybrid bred by crossing Orange Juice with the elite Girl Scout Cookies. This strain is known for its relaxing, yet euphoric effects leaving users feeling happy and uplifted. It is known to carry a very strong aroma and taste of sweet citrus reminiscent of fresh tangerine.
Purple Punch [INDICA]: Purple Punch is an Indica-dominant blend of two California favorites, Larry OG and Granddaddy Purple. Purple Punch terpenes offer sweet grape and blueberry flavors accented with vanilla and cinnamon overtones.
Product Features:
800mg of Delta-8 THC
1 Disposable Vape Pen Pre-Charged and Pre-Filled
Third-party Lab Tested
Less than 0.3% Delta-9 THC
Click here to view Lab Reports.