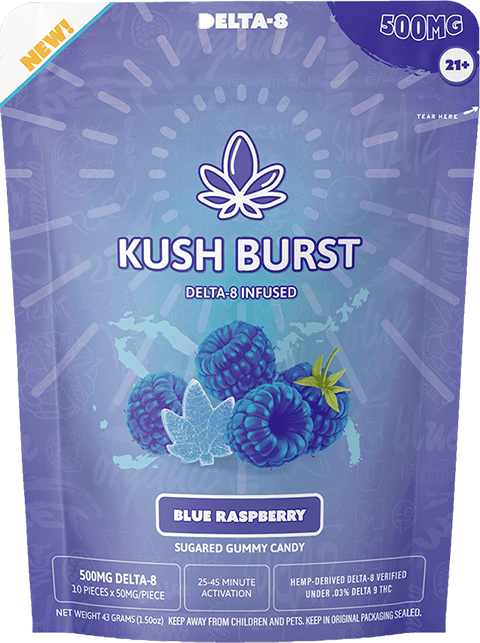 Kush Burst Delta 8 Gummies 500mg
Tax Included. $9 flat rate shipping. Free shipping on orders $50+.
Secure Checkout With
Kush Burst Delta 8 Gummies
Known for making some of the best tasting edibles infused with delta 8 on the market. Kush Burst was one of the first hemp companies to come out with d8 infused gummies. With clean and organic ingredients, there is no question why Kush Burst has become a leading brand in the industry. Each Kush Burst Delta 8 Gummies bag comes with a total of 10 gummies. Each edible contains 50mg of pure delta-8 THC.
The entire bag contains 500mg. These d8 edibles are available in 8 different delicious flavors.
Kush Burst Delta 8 Gummies Flavors
Sour Apple- What's life without both sour and sweet? This sour apple delivers a sour punch then a quick burst of crisp apple juice.
Blue Raspberry- These electric Blue Raspberry gummies are out-of-this-world tasty. It's a mix of fresh blueberry with a touch of sweet raspberry.
White Peach- Get peachy with these White Peach flavored Delta 8 gummies that will leave your taste buds tingling!
Juicy Pineapple- A taste of the islands. The sweet golden fruit. You won't be able to stop enjoying these incredible pineapple-flavored gummies
Pink Lemonade- What do you do when life gives you lemons? Well, if they're pink lemon Kush Bursts, you'll probably want to eat 'em!
Mystery Berry- We can't tell you, it's a mystery for your taste buds to decide!
OMG- OMG is as tasty as it sounds! A tropical twist with a bite of citrus, this flavor is sure to get your mouth watering.
Watermelon- Juicy, savory and sweet. This classic watermelon flavor is everything you want and more!
Product Features:
500mg
Premium Active Ingredients
Organic
Third Party Lab Tested
Made in the USA
Click here to view Lab Reports.
D8Gas is on a mission! We are committed to exposing and promoting a variety of the highest quality brands and products that are excelling in the Delta 8 space today. We strive to provide an exceptional customer shopping experience. From access to a vast variety of the best brands and products through ordering and fulfillment-customer satisfaction is 100% guaranteed.
Our customers are assured to be gassed up and ready to lift off upon the arrival of their new product(s)! The D8Gas team thoroughly researches, tests, and rigorously quality-controls all the brands listed on D8Gas.com to ensure they meet the highest quality and health standards. Every product listed for sale has accessible lab reports providing research and information in support of claims.
Kush Burst Delta 8 Gummies 500mg
Perfectly relaxing
Absolutely loved these!!!
The flavor of these gummies are so good especially the blue raspberry. I will definitely be purchasing more.