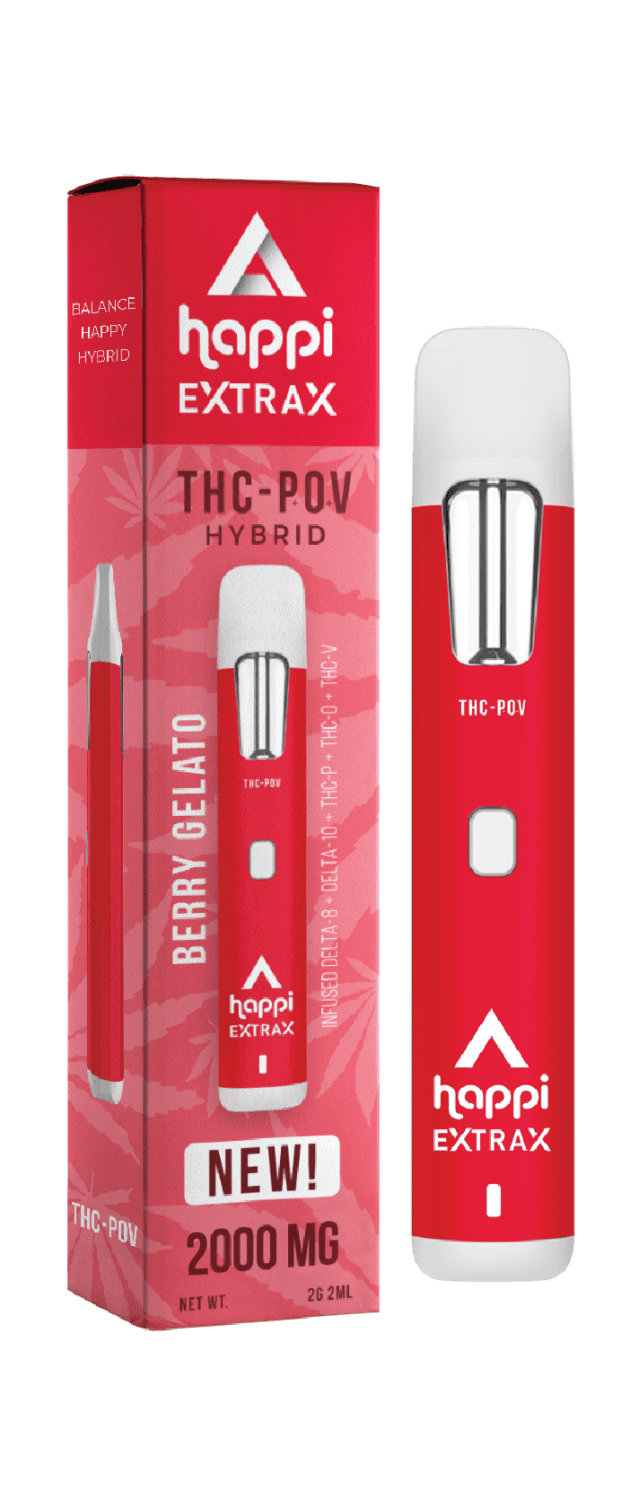 Happi Delta Extrax THC-POV Disposables 2G
Tax Included. $9 flat rate shipping. Free shipping on orders $50+.
Secure Checkout With
Happi Extrax THC-POV Disposables
Happi Extrax Disposables are by far one of the most sought after products in the hemp world. Manufactured by 2 of the best brands in the industry. Delta Extrax and Happi Hemp are both known for making some great tasting and uplifting products. These disposables come pre charged and pre filled with a one of one blend. This blend contains all of the most popular cannabinoids currently on the market.
This mix consists of Delta 8, Delta 10, THC-P, THC-O, and THC-V. This potent and powerful blend gives users the ultimate uplifting and euphoric experience. These disposables are currently only available in 4 different flavor strains. Each pen comes with 2000mg.
Happi Extrax THC-POV Disposable Strains
Grape Ape- This Grape Ape hybrid is sure to keep you feeling wild, it's ready when you are.
Berry Gelato- Take a stroll down Berry Lane with this delicious hybrid.
Product Features:
Happi Hemp X Delta Extrax
2 Gram
D8, D10, THCO, THCP, THCV
Third Party Lab Tested
Made in the USA
Click here to view Lab Reports.
D8Gas is on a mission! We are committed to exposing and promoting a variety of the highest quality brands and products that are excelling in the Delta 8 space today. We strive to provide an exceptional customer shopping experience. From access to a vast variety of the best brands and products through ordering and fulfillment-customer satisfaction is 100% guaranteed.
Our customers are assured to be gassed up and ready to lift off upon the arrival of their new product(s)! The D8Gas team thoroughly researches, tests and rigorously quality-controls all the brands listed on D8Gas.com to ensure they meet the highest quality and health standards. Every product listed for sale has accessible lab reports providing research and information in support of claims.
Great Flavor
Great flavor and taste. Smooth and has an instant effect. Love this one!
Awesome
Great disposable. Love how light it is and that it has the name of what I'm smoking. I wish they told you what the button was for, I had to Google what it was for that is my only complaint. Taste is right up there with the grape taste. And lasts a long time
Amazin af🔥
I got watermelon kush, it tastes amazin & such smooth hit such wonderful heady **** & mellow body ****.. I was able to get things done & binge on Netflix
Happy Extrax POV disposable
This cart tastes like grape soda no kidding , potent also , nicely priced to , I recommend you try it I loved it.