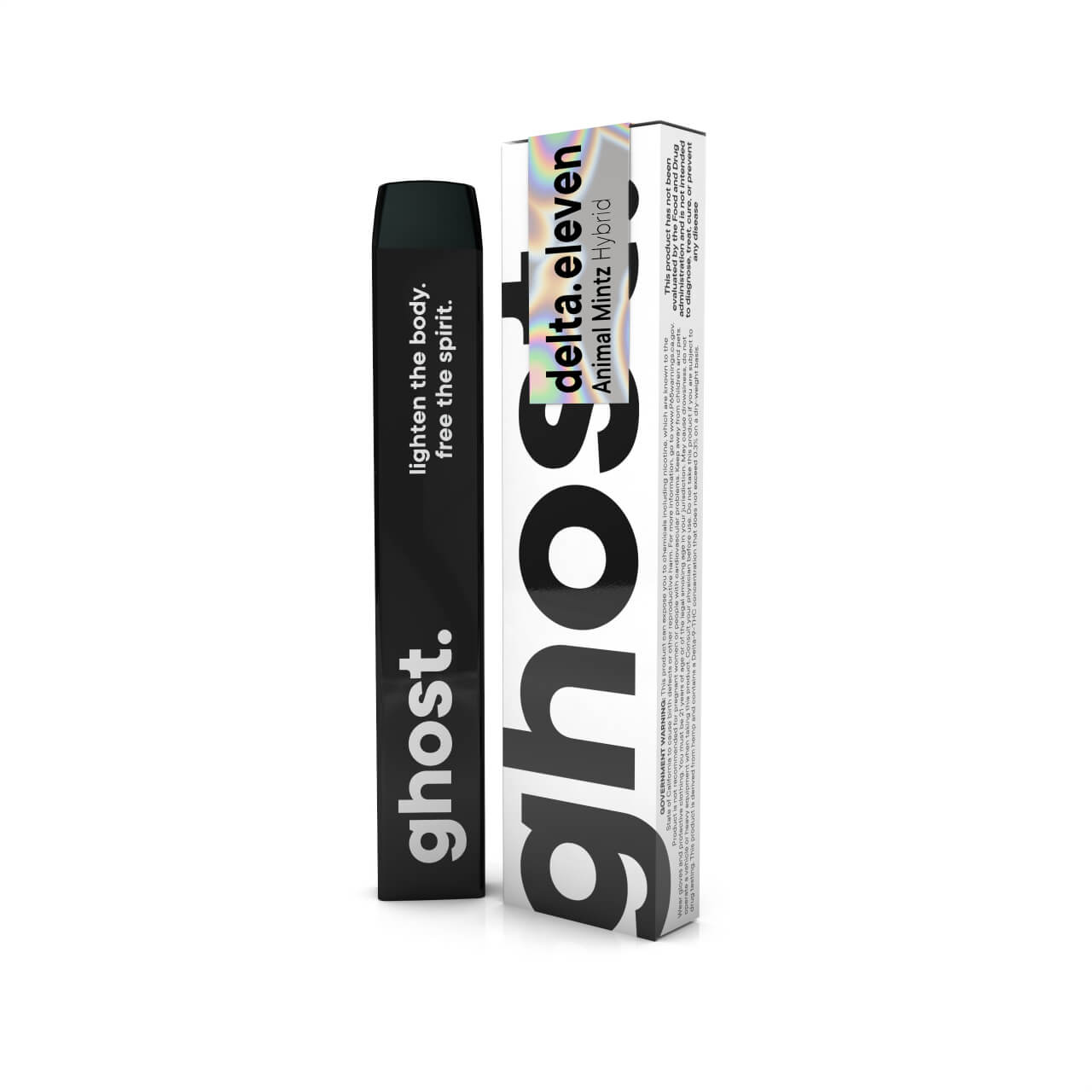 Ghost Delta 11 Disposable 2G
$28.00
Tax Included. $9 flat rate shipping. Free shipping on orders $50+.
Secure Checkout With
Ghost Delta 11 Disposable 2g
If you are not a believer in the supernatural, the all-new collection of Ghost Delta 11 Disposable is sure to open your eyes to the power of hemp-derived cannabinoids. The most recent cannabinoid to hit the industry, D11, has quickly become the most sought-after product by hemp enthusiasts nationwide. We are proud to offer you the first official Delta 11 vape available in the markets, containing a full 2 grams of Ghost's elite-level Delta-11 THC extract blended to near perfection with natural terpenes for a hemp experience like none other. Each Delta 11 disposable comes pre-filled and pre-charged at your convenience so that you can enjoy this delectable product right out of the box!
Whether you prefer consuming hemp on the go or enjoying it in the comfort of your own home, this D11 disposable is an excellent companion to have by your side. Don't worry about not being able to finish this delicious extract before the battery runs out because these disposables are rechargeable. There is no doubting the quality of Ghost products, which is why each vape is equipped with a ceramic heating element so you can truly experience the flavor profiles of the six iconic strains available to their fullest.
Ghost Delta 11 Disposables Strains
Blackberry Kush- Indica
Hippie Crusher- Indica
Strawnana- Sativa
Animal Mintz- Hybrid
Sojay Haze- Sativa
Gorilla Glue #4-Hybrid
What is Delta 11?
D11 is a genuine cannabinoid known to exist in the hemp plant. It is very possible to convert delta 11 THC from another cannabinoid. Labs do this by performing a simple laboratory process. Interest has recently been growing to this new cannabinoid.
*If you would like to learn more, check out our blog that explains everything that has to do with Delta 11 THC.
Product Features:
2000mg
Premium Delta-11 THC
Rechargeable
Third Party Lab Tested
Made in the USA
Click here to view Lab Reports.
D8Gas is on a mission! We are committed to exposing and promoting a variety of the highest quality brands and products that are excelling in the Delta 8 space today. We strive to provide an exceptional customer shopping experience. From access to a vast variety of the best brands and products through ordering and fulfillment-customer satisfaction is 100% guaranteed.
Our customers are assured to be gassed up and ready to lift off upon the arrival of their new product(s)! The D8Gas team thoroughly researches, tests, and rigorously quality-controls all the brands listed on D8Gas.com to ensure they meet the highest quality and health standards. Every product listed for sale has accessible lab reports providing research and information in support of claims.
Ghost Delta 11 Disposable 2G
Ghost Greatness
These are so smooth and worth the price. These don't burn my chest, it doesn't taste like chemicals or give you a head ache after continuous use. They are very potent and day dreaming may occur. I will continue to buy these!
Easy way to relax
Potent without being harsh, smooth drag delicate taste with a **** effect. I'm a repeat buyer of this brand never disappointed.
sojay haze
the taste is so weird but the **** is hella ****.
There just 1 gram but worth buying
For the price u cant beat it, compares to the actual delta 9 carts