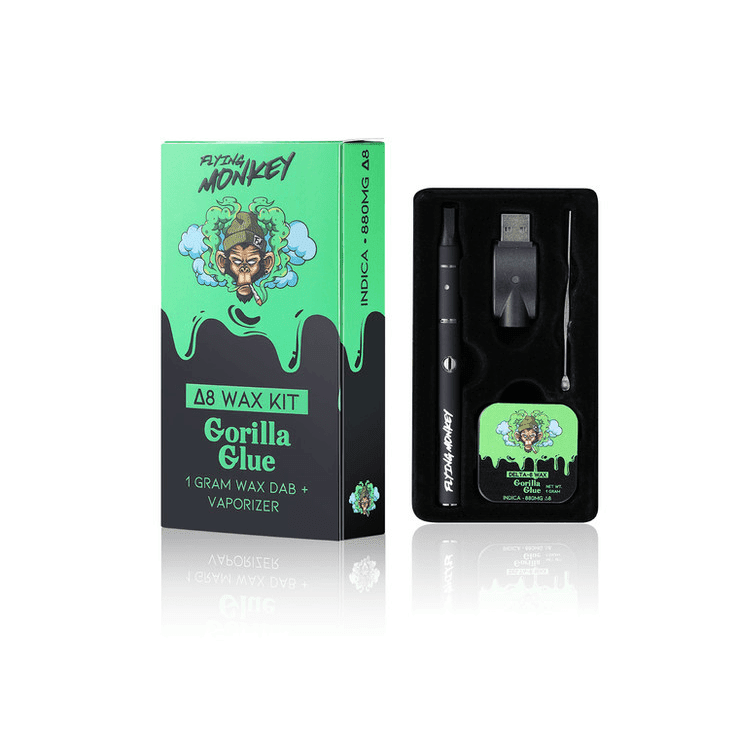 Flying Monkey Delta 8 Wax Kit 1G
Free Shipping on Orders $60+.
Secure Checkout With
24/7 Customer Service
100% US Grown Hemp
All Products Third-Party Lab Tested
Same-Day Shipping with Discreet Packaging
Flying Monkey Delta 8 Wax Kit
Flying Monkey has done it! Their brand new Flying Monkey Delta 8 Wax Kit will blow you away. This d8 vape was made for beginners and experts. Heavy hitting potency. Keep your delta 8 concentrates on the go. This delta 8 vape, is easy to use and light to carry. Sleek and comfortable. Everything you need to get started in the box with 1 gram of highly concentrated Delta-8 wax. This delta 8 vape is rechargeable and includes charger.
Flying Monkey D8 Wax Kit Flavors
Girl Scout Cookies (Hybrid): Sweet and Spicy. This flavor will remind you of a cookie treat.
Grape Ape (Indica): A tangy, and sweet grape blend. Users report a strong initial flavor and a fruity aftertaste.
Gorilla Glue (Indica): Get ready to taste the sour. Perfect for all sour lovers.
Mango Kush (Sativa): Mouth-watering mango on the tip of your tongue. This flavor is the true taste of mango delta 8.
StrawNana (Sativa): Smooth blend of strawberry and tropical bananas. Sweet earthy undertones.
Product Features:
1 Flying Monkey Wax Delta 8 Vaporizer Kit
1 Dabbing Tool
1.0 Full Gram of Delta 8 Wax
1 Super USB Charger
1 Portable D8 Concentrate Vaporizer
Third party Lab Tested
Less than 0.3% Delta-9 THC
Ingredients: Delta-8 Distillate, Strain Specific Terpenes
Recommended Use: Consult with a physician before using this product.
Warning: Must be 21 years of age. Do not use this product while pregnant or breastfeeding.
When Using This Product: Do not drive or operate heavy machinery.
Click Here to View Delta-8 Lab Reports.
D8Gas is on a mission! We are committed to exposing and promoting a variety of the highest quality brands and products that are excelling in the Delta 8 space today. We strive to provide an exceptional customer shopping experience. From access to a vast variety of the best brands and products through ordering and fulfillment-customer satisfaction is 100% guaranteed.
Our customers are assured to be gassed up and ready to lift off upon the arrival of their new product(s)! The D8Gas team thoroughly researches, tests, and rigorously quality-controls all the brands listed on D8Gas.com to ensure they meet the highest quality and health standards. Every product listed for sale has accessible lab reports providing research and information in support of claims.