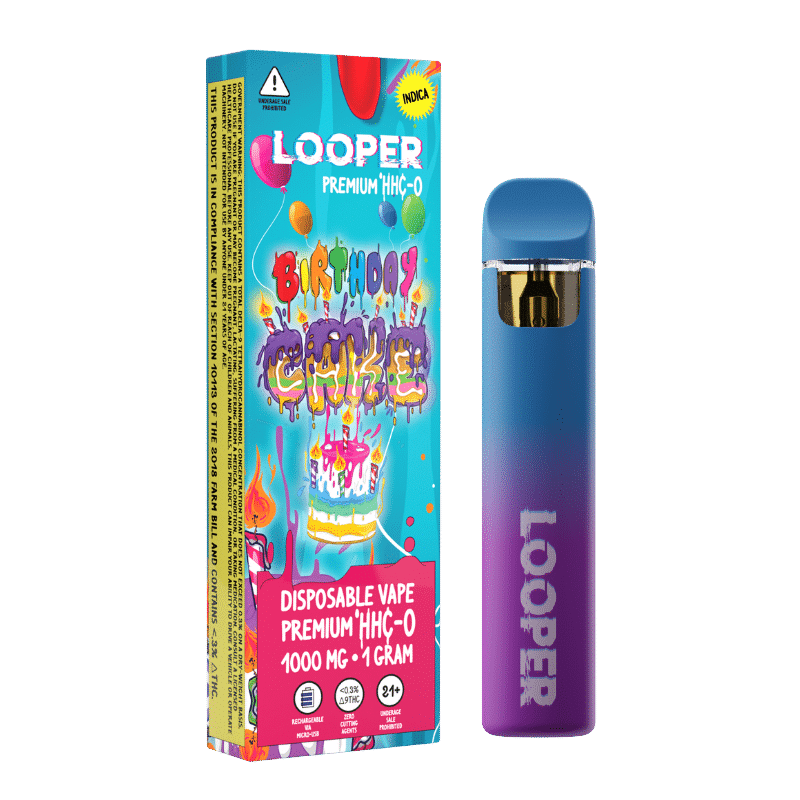 Dimo Hemp Looper HHC-O Disposable 1G
Tax Included. $9 flat rate shipping. Free shipping on orders $50+.
Secure Checkout With
24/7 Customer Service
100% US Grown Hemp
All Products Third-Party Lab Tested
Same-Day Shipping with Discreet Packaging
Dimo Hemp Looper HHC-O Disposable
The newest product from Dimo Hemp is now available in stock and ready to ship. This new line of the Dimo Hemp Looper HHC-O Disposable incorporates a premium blend of HHC-O. Each disposable is pre charged and pre filled with 1000mg of premium HHC-O distillate. Each vape is also filled with strain specific terpenes to match the flavor.
These HHC vapes are available in 3 different flavor strains.
Dimo Hemp HHC-O Strains
Kush Mintz- Take a breath of fresh air and exhale with this  hybrid strain! The tandem of sweet hashish from its 'Bubba Kush' notes blended with the delightfully sugary aroma of 'Animal Mints' brings on powerful head & body high drawn from one of the most potent strains in our line up. Its dank yet refreshing counter parts give it a complex distinction that's sure to become a fan favorite in the Looperverse.
Birthday Cake- Blow out the candles & indulge in a slice of this decadent Birthday Cake. 'GSC' & 'Cherry Pie' are meshed effortlessly into an Indica-dominant 'batter' before being baked into a dessert strain that's relaxing yet doesn't sedate the mental. This is comfort food at its best with aromatic notes of Vanilla – the high that ensues is simply the cherry on top.
Mango Headz- This bright, juicy Mango is full of euphoric and uplifting properties that boost your mood while simultaneously putting the mind & body at ease. "Mango Headz" is composed of Hybrid properties making it a strain capable of enhancing your mood while keeping you focused at the same time. True to its namesake, its aroma is attributed to the sweet, succulent fruit itself with citrusy notes that will be sure to keep Mango on your mind!
Product Features:
1000mg HHC-O
Third Party Lab Tested
Made In The USA
Hemp Derived
Compliant with the 2018 Farm Bill
Click here to view Lab Reports.
D8Gas is on a mission! We are committed to exposing and promoting a variety of the highest quality brands and products that are excelling in the Delta 8 space today. We strive to provide an exceptional customer shopping experience. From access to a vast variety of the best brands and products through ordering and fulfillment-customer satisfaction is 100% guaranteed.
Our customers are assured to be gassed up and ready to lift off upon the arrival of their new product(s)! The D8Gas team thoroughly researches, tests and rigorously quality-controls all the brands listed on D8Gas.com to ensure they meet the highest quality and health standards. Every product listed for sale has accessible lab reports providing information in support of claims.