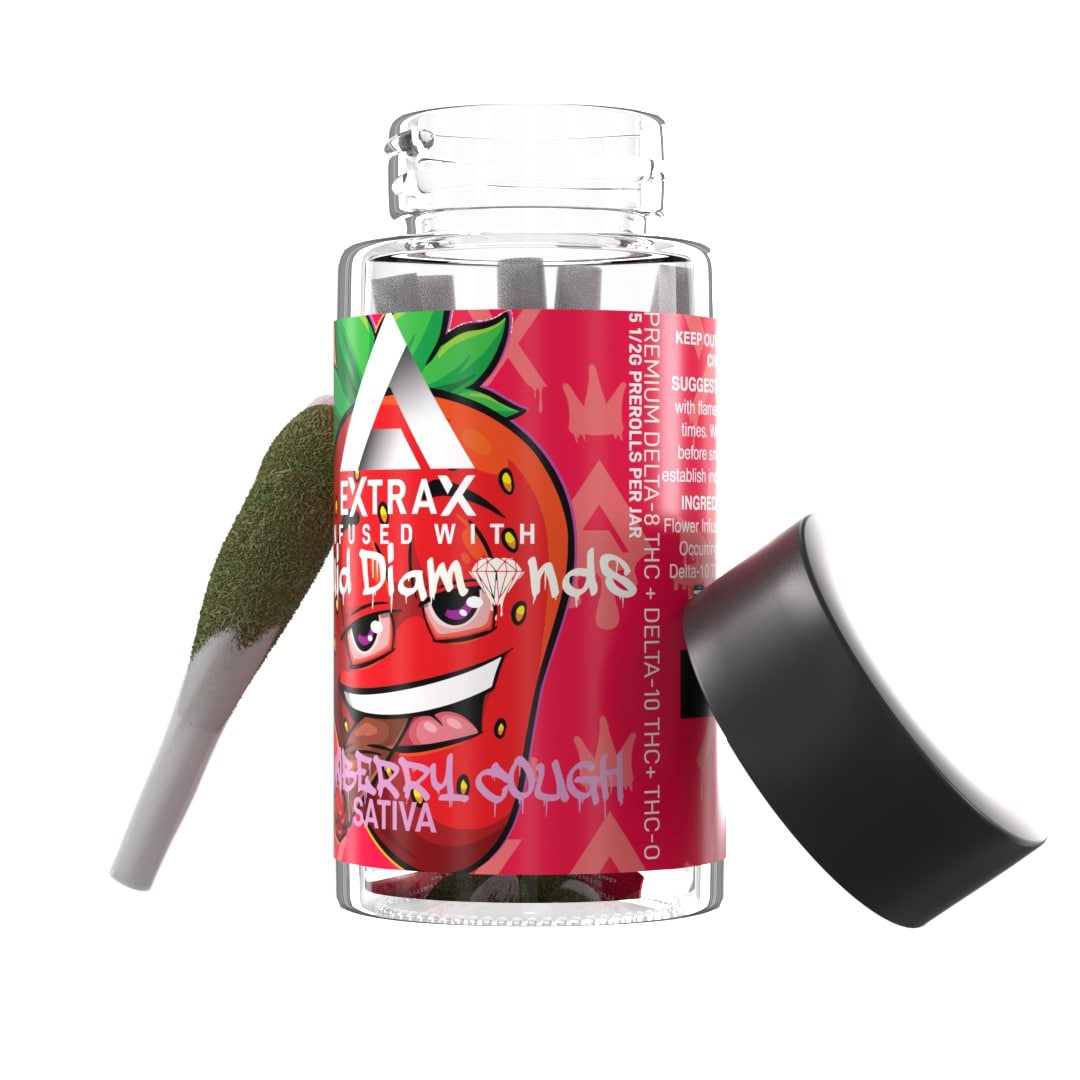 Delta Extrax Liquid Diamond Pre Rolls 5pk
$20.00
Tax Included. $9 flat rate shipping. Free shipping on orders $50+.
Secure Checkout With
Delta Extrax Delta 8 Pre Rolls
Finally available and in stock, the new Liquid Diamond Infused delta 8 pre rolls by Delta Extrax. They are well known for sourcing some of the best active ingredients in the hemp industry. These new pre rolls come in a glass jar with 5 joints per jar. The one of one blend used in this product features delta-8 thc, delta-10 thc, and also THC-O.
Each pre roll is rolled with half a gram of premium indoor hemp flower. After the joints are then hand painted with concentrated liquid diamonds. Expect these joints to burn much slower than any traditional d8 pre roll.
This d8 product is available in five different flavor strains.
Delta Extrax Liquid Diamond Pre Roll Flavors
Strawberry Cough- Strawberry Cough is reminiscent of sweet strawberries that can make even the most experienced smoker cough. This potent Sativa strain has a skunky, berry aroma paired with more uplifting and euphoric terpenes. You'll love the rich fruity notes along with the subtle taste of earthy-Hemp flavor.
White OG Kush- The White OG Kush is most commonly famous for the lemon, earthy pine flavors you get when you spark up. This Hybrid strain is very popular because of its euphoric and easygoing properties that tend to mellow out as the high intensifies. You can expect a blend of rich citrus and musk with refreshing hints of wintergreen.
Sour Lifter- This pungent, gassy diesel strain of Sour Lifter has some intense flavors along with clear headed-calming vibes. It has a perfectly balanced amount of chill that sets the mood to slow down and let the Indica do its thing. The citrus flavor takes the edge off the natural aromas in this strain.
Legend OG- This strain is gas! It comes with a tart, floral orange fragrance that has a smooth draw. The Indica in this strain is perfectly balanced so it has that mellowness without leaving you too couch locked. This is a true legend in its own right that has multi layered flavors and aromas that stimulate.
Grape Ape- This heavy hitting Indica dominant strain is known for its profound taste of Grape that slaps you like the hand of an orangutan. You can expect delicious notes of grapes, a subtle taste of strawberry, and candy like flavors. The fruity notes in this strain along with the more mellow vibes will leave you in that right headspace.
Product Features:
Delta-8 THC, Delta-10 THC, & THC-O
6 Joints per jar
Half Gram Per Joint
Made in the USA
Third Party Lab Tested
Click here to view Lab Reports.
D8Gas is on a mission! We are committed to exposing and promoting a variety of the highest quality brands and products that are excelling in the Delta 8 space today. We strive to provide an exceptional customer shopping experience. From access to a vast variety of the best brands and products through ordering and fulfillment-customer satisfaction is 100% guaranteed.
Our customers are assured to be gassed up and ready to lift off upon the arrival of their new product(s)! The D8Gas team thoroughly researches, tests, and rigorously quality-controls all the brands listed on D8Gas.com to ensure they meet the highest quality and health standards. Every product listed for sale has accessible lab reports providing research and information in support of claims.
gas⛽️🤫
i was iffy at first but then i got it. it was a lil **** but i got it to try grape 🍇 ape 🦍 that ⛽️ was good pressure. but if pretty good after all
Worth it
For my pain and low tolerance this has been a relief and perfect amount for me. Not too harsh.
The pre rolls where really good and the taste was good as well.