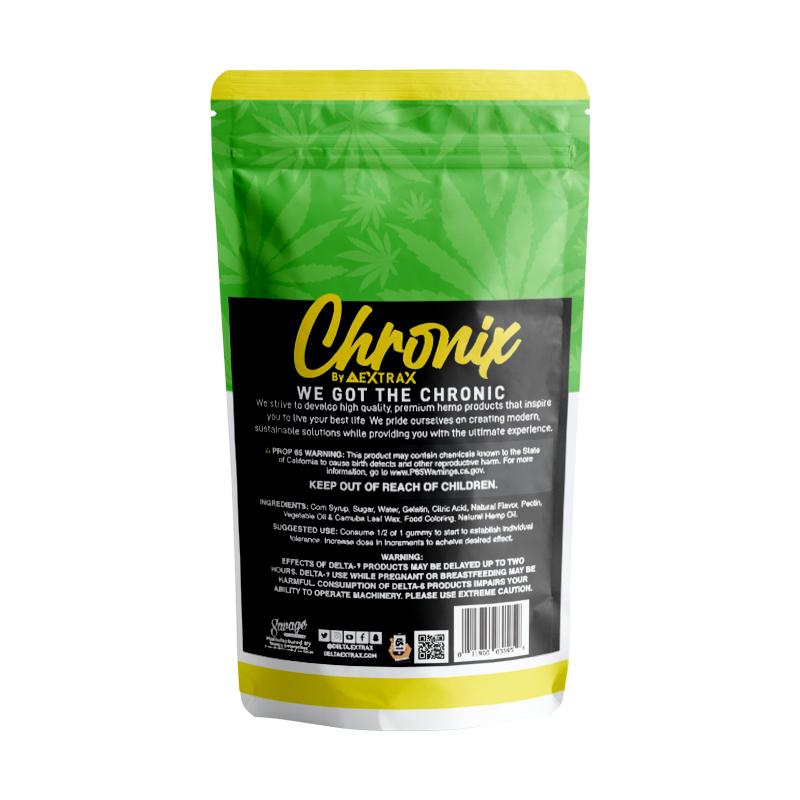 Delta Extrax Chronix Delta 9 Gummies 100mg
$12.00
Tax Included. $9 flat rate shipping. Free shipping on orders $50+.
In stock
Secure Checkout With
Delta Extrax Green Apple Chronix Gummies
Delta Extrax has just released their new green apple delta 9 thc gummies. These gummies feature premium hemp compliant Delta 9 THC. These delicious apple gummies resemble Granny Smith Apples dipped in powdered sugar. With 10mg of Hemp-Derived d9 thc per piece, you will find that this is the perfect amount of thc per gummy.
Delta 9 Gummy Flavor
Green Apple- Delicious green apple flavor that will remind you of granny smith apples dipped in powdered sugar.
Product Features:
10 D9 Gummies Per Pack
10mg of hemp derived delta-9 THC
100mg total Delta-9
Under 0.03% Delta 9 per weight
Click Here To View Lab Reports. 
D8Gas is on a mission! We are committed to exposing and promoting a variety of the highest quality brands and products that are excelling in the Delta 8 space today. We strive to provide an exceptional customer shopping experience. From access to a vast variety of the best brands and products through ordering and fulfillment-customer satisfaction is 100% guaranteed.
Our customers are assured to be gassed up and ready to lift off upon the arrival of their new product(s)! The D8Gas team thoroughly researches, tests, and rigorously quality-controls all the brands listed on D8Gas.com to ensure they meet the highest quality and health standards. Every product listed for sale has accessible lab reports providing research and information in support of claims.
Gummies
Definitely great I wish they had bigger bags of these but honestly these are great, taste on point texture was a bit off but that's ok with me I split the bag with my brother and we were a 7/10 on the **** scale and for how cheap these are you could probably buy a couple bags for a party or if you just wanna get higher
these work great, no complaints about effects. unfortunately i gotta remove a star cause they changed the recipe for these gummies and now they're more like gels that stick to your teeth when you chew rather than the more gummy texture they had before. they don't taste nearly as good as they used to and they were my favorite ones :/ that's just personal preference tho, if you just care for effects you can't beat it at this price.