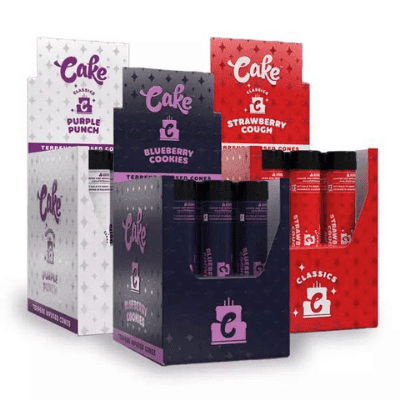 Cake Terpene Infused Cones – 2ct
$10.00
Tax Included. $8.50 flat rate shipping. Free shipping on orders $75+.
Secure Checkout With
Cake Terpene Infused Cones
There is something special about rolling your favorite hemp, these cones will help enhance that experience even more. Cake's all-new Terpene Infused Cones comes with 2 cones ready to pack with Delta 8 flower. Each flavor cone pack comes with 2 cones infused with strain-specific terpenes to give you an amazing flavor profile. Our favorite flower to combine this with is the Rocket Fuel Supersonic Blend Flower.
Available in 5 strain profiles and flavors.
Cake Terpene Infused Cone Strains
Banana Runtz
Blueberry Cookies
Purple Punch
Strawberry Cough
Wedding Cake
Product Features:
1 Glass Resealable Tube
2 Cones per Tube
Terpene Infused Cones
These cone where really easy to pack and made it very easy for me.