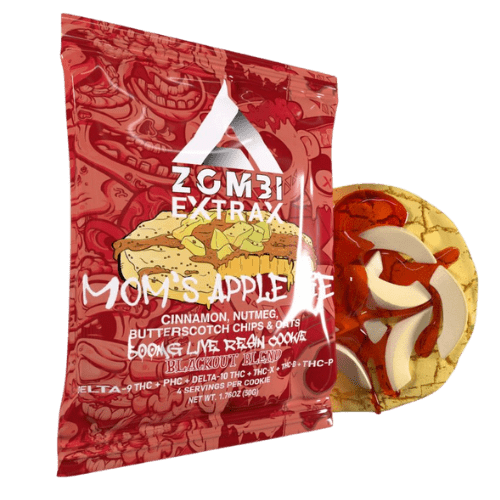 Zombi Extrax Blackout Blend Cookie 500mg
Tax Included. $9 flat rate shipping. Free shipping on orders $50+.
Secure Checkout With
24/7 Customer Service
100% US Grown Hemp
All Products Third-Party Lab Tested
Same-Day Shipping with Discreet Packaging
Zombi Extrax Blackout Blend Cookie
Introducing a brand new edible collection from Zombi. This collection is a collaboration between Zombi and the famous Delta Extrax. They're come together to create the Zombi Extrax Blackout Blend Cookie. These cookies are incorporated with 500mg of a proprietary blend of 6 powerful cannabinoids: delta-8 THC, delta-10 THC, THC-B, THC-P, PHC, and THC-X. By fusing these into a single edible, it produces what is known as the entourage effect. This is when they work together to induce a very potent experience.
Delta Extrax is known for making some of the most premium edibles. There are 4 servings per cookie.
These cookies are currently offered in 3 mouth-watering flavors. Regardless of which you choose, they're all very potent and flavorful.
Zombi Extrax Blackout Blend Cookie Flavors
Birthday Cake (birthday cake with sprinkles)
Mint Chip (mint chocolate chip)
Munchies (mini marshmallows, chocolate chips, and pretzel pieces)
Toffee -This mouth-watering Toffee Cookie is exactly what your brain has been craving. Speaking of brains, The Zombi Extrax combo packs the right punch regarding cannabinoids and flavor. Experience tasty crushed toffee and almonds mixed with a crazy blend of hemp-derived THC.
Mom's Apple Pie -This isn't your regular Mom's Apple Pie; this is an apple pie cookie that only Zombi + Extrax can make. This twisted take on the all-American apple pie packs a punch, has cinnamon, nutmeg, and butterscotch flavor, and is topped off with oats.
Trippy Hippie -Do you like to trip out? Then this Trippy Hippie cookie is perfect for you! Celebrate good vibes, peace, and love with this one-of-a-kind trippy cookie. The oats, cranberries, white chocolate chips, and sweet coconut flakes scream bliss after each bite you take.
Product Features
Compliant with the 2018 Farm Bill
3 delicious flavors
500mg per cookie
4 servings per cookie
Third-party lab tested
Made in the USA with industrial hemp
Click here to view lab reports.
D8Gas is on a mission! We are committed to exposing and promoting a variety of the highest quality brands and products that are excelling in the Delta 8 space today. We strive to provide an exceptional customer shopping experience. From access to a vast variety of the best brands and products through ordering and fulfillment-customer satisfaction is 100% guaranteed.
Our customers are assured to be gassed up and ready to lift off upon the arrival of their new product(s)! The D8Gas team thoroughly researches, tests, and rigorously quality-controls all the brands listed on D8Gas.com to ensure they meet the highest quality and health standards. Every product listed for sale has accessible lab reports providing research and information in support of claims.