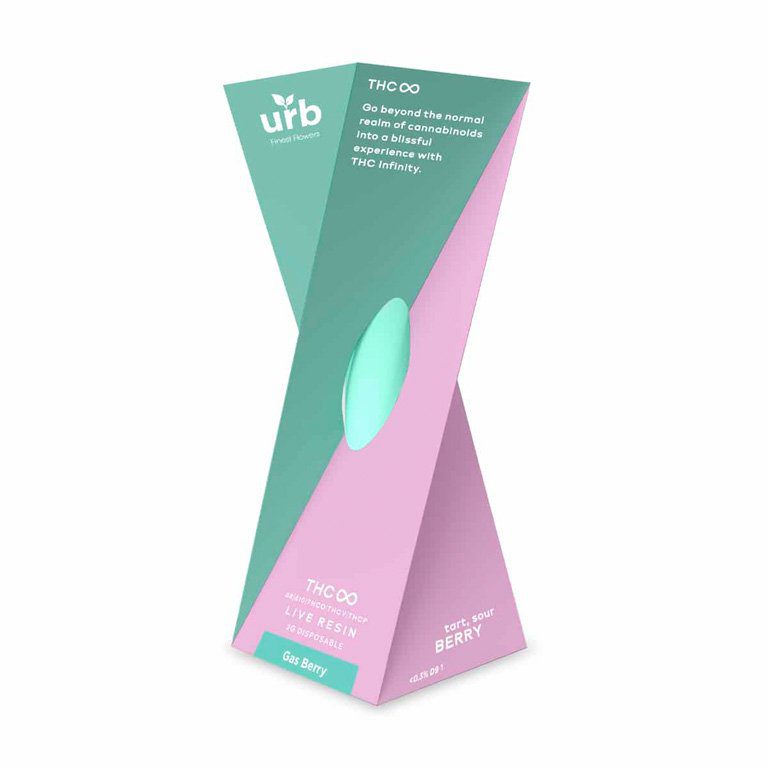 URB THC Infinity Disposable 2g
$28.00
Tax Included. $9 flat rate shipping. Free shipping on orders $50+.
Secure Checkout With
URB THC Infinity Disposable 2g
The newest product from URB, these disposables come pre charged and pre filled with 2 grams of a unique blend of cannabinoids extracted from the hemp plant. The blend consists of Delta-8 THC, Delta 10-THC, THC-O, THC-V, and THC-P. These vapes are also filled with organic strain specific terpenes. All of the cannabinoids used in this vapor device are made from flash frozen live cultivar which is the proper term for Live Resin.
These 2 gram disposables are available in 6 different flavors.
URB THC Infinity Disposable Strains
Lemon Haze- Sativa
Strawberry Cereal- Indica
Tropical Mango- Sativa
Purple Punch- Indica
Gas Berry- Hybrid
Blue Zkittlez- Hybrid
Product Features:
2 Gram Vape
Rechargeable
1 of 1 Blend
Less than 0.03% Delta-9 THC
Made In The USA
Third Party Lab Tested
Click here to view Delta 8 Lab Reports.
D8Gas is on a mission! We are committed to exposing and promoting a variety of the highest quality brands and products that are excelling in the Delta 8 space today. We strive to provide an exceptional customer shopping experience. From access to a vast variety of the best brands and products through ordering and fulfillment-customer satisfaction is 100% guaranteed.
Our customers are assured to be gassed up and ready to lift off upon the arrival of their new product(s)! The D8Gas team thoroughly researches, tests and rigorously quality-controls all the brands listed on D8Gas.com to ensure they meet the highest quality and health standards. Every product listed for sale has accessible lab reports providing research and information in support of claims.
URB INFINITY EXC Choice $
Great product!
My local vape shop recommended this brand as his best product when I went in looking for new brands to try..and he wasn't kidding. Love it!
On par with Delta-9
Of all of the vapes (Dleta 8 and other THC derivatives extracted from hemp) I've tried none put me into a cannabinoid haze in two puffs like this one (strawberry cereal). Effective. Easy to charge with an android port, draws fairly clean, can irritate throat, but with vapor inhaled turpines and it being a live resin, it's expected. Puff lightly my friends. Don't toke and drive!
Blend has superior ingredients
DB gas and URB-- POTENT and tokes softly (a pleased 1963 model) Thank You Again