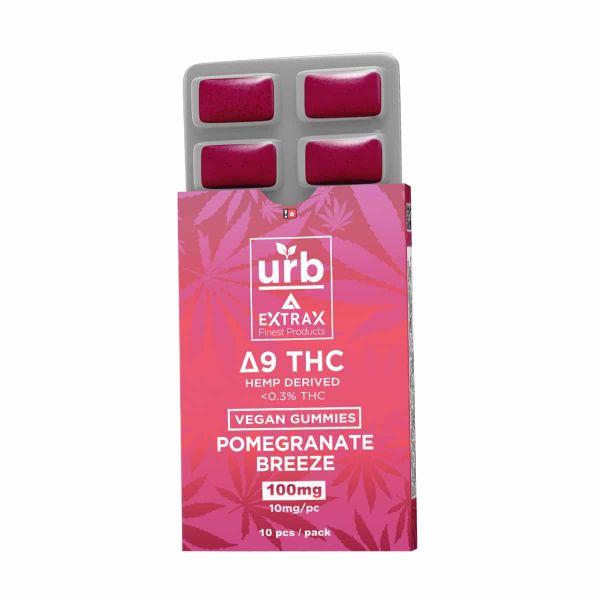 URB Extrax Delta 9 Gummies 100mg
$17.00
Tax Included. $9 flat rate shipping. Free shipping on orders $50+.
Secure Checkout With
URB Extrax Delta 9 Gummies
Urb and Delta Extrax, some of the most popular and sought-after brands in the hemp industry, have collaborated to create these convenient and delicious Urb Extrax Gummies infused with hemp derived delta-9 THC. Each package comes with 10 gummies which features 10mg of hemp (delta-9) per serving for a total of 100mg. Delta 9 products such as these Urb Delta 9 Gummies are known to be more potent than delta 8 THC. Every collection of Urb gummies also features naturally-derived flavors with minimal ingredients to provide some of the most natural consumption methods for anything hemp. The THC used in these delta-9 gummies by URB Extrax does not come from the cannabis plant, instead, it comes from hemp plants.
Urb Extrax D9 Gummies Gummy Flavors:
Guavaberry Fruit
Kiwi Mixer
Blueberry Citrus Burst
Blood Orange
Pomegranate Breeze
Peach Mango
Product Details:
0.25% Delta 9 THC
Third Party Lab Tested
Heat Resistant Packaging
Compliant with the 2018 Farm Bill
Click Here To View Lab Reports.
Blueberry Citrus Burst – Your two favorite childhood fruits combined in one gummy to explode. The blueberry burst and lemon zest is truly bliss.
Kiwi Mixer – Excite your taste buds with the perfect mix of kiwi. This flavor provides an uplifting and ecstatic cerebral feeling.
Guavaberry Fruit – These Guavaberry Fruit Gummies are bursting with a fruity, balanced flavor that will have you feeling cerebral all while offering a smooth body high!
D8Gas is on a mission! We are committed to exposing and promoting a variety of the highest-quality brands and products that are innovating and excelling in the Delta 8 space today to consumers worldwide…all while providing an exceptional customer shopping experience. From access to a vast variety of the best brands and products through ordering and fulfillment-customer satisfaction is 100% guaranteed.
Our customers are assured to be gassed up and ready to lift off upon the arrival of their new product(s)! The D8Gas team thoroughly researches, tests, and rigorously quality-controls all the brands listed on D8Gas.com to ensure they meet the highest quality and health standards. Every product listed for sale has accessible lab reports providing information in support of claims.
Wife loves these
My wife won't vape or smoke so gummies are really her only option. She absolutely loves these
Urb really never disappoints. The only thing I would even complain about is the consistency. All of the flavors are great!
I prefer consistency so I'd recommend these.
Great! I'm new to the D-9 edible world, and every time I try a different product I always keep coming back to these. Also, the flavors are great. Although I'm not much of a blood orange fan in general, but it wasn't terrible.
I've tried all the flavors and they're all delicious! Fruity and flavorful. I love that these gummies are made without gelatin, completely vegan! FINALLY! They are mello, happiness in a gummy!