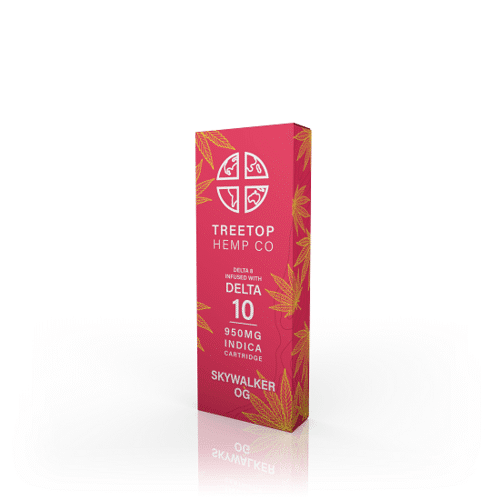 TreeTop Hemp Delta 10 Vape Cartridge
Tax Included. $9 flat rate shipping. Free shipping on orders $50+.
Secure Checkout With
24/7 Customer Service
100% US Grown Hemp
All Products Third-Party Lab Tested
Same-Day Shipping with Discreet Packaging
Treetop Hemp Delta 10 Cartridges
The all new Delta-10 Vape Cartridge by Treetop Hemp Co. These d10 vape carts are sure to satisfy your cannabis craving. These Delta 10 Cartridges are available in 5 different mouth watering strains.
All of Treetop Hemp's Delta 8 products and Delta 10 THC products are third party lab tested to ensure safety and quality for all buyers.
Treetop Hemp Co D10 Cartridge Flavors:
Triple Og-  This unique flavor profile of tangy lemon citrus and grassy herbs, similar to "lemon grass." Triple OG is the child of Donkey Butter Indica strain and 4 Kings hybrid strain. This strain can easily find its way to the top of your favorites list.
Super Sour Diesel- A blend of tangy citrus and spicy herbs along with hints of sweet, refreshing pine. This sativa strain is crossed with Super Silver Haze and Sour Diesel. If you are looking for that earthy, citrusy flavor then this is for you.
Sour Apple Monster- A predominately Indica strain. Providing a fruity palette just like the name suggests: sour apples which gives sweet and sour citrus notes. Undertones of earthiness will be sure to provide a complex and different flavor mixture that one will easily fall in love with.
Blueberry Cookies-  This unique flavor tastes of roasted nuts, mint, and fresh blueberries. The nose provides an earthier, strong berry aroma. Users report a strong taste of their favorite blueberry desert in this Indica dominant strain.
Product Features:
950mg of Delta-8 THC and Delta-10 THC
1 Pre-Filled Vapor Cart
Third party Lab Tested
Less than 0.3% Delta 9 THC
Click here to view Lab Reports. 
D8Gas is on a mission! We are committed to exposing and promoting a variety of the highest-quality brands and products that are innovating and excelling in the Delta 8 space today to consumers worldwide…all while providing an exceptional customer shopping experience. From access to a vast variety of the best brands and products through ordering and fulfillment-customer satisfaction is 100% guaranteed.
Our customers are assured to be gassed up and ready to lift off upon the arrival of their new product(s)! The D8Gas team thoroughly researches, tests, and rigorously quality-controls all the brands listed on D8Gas.com to ensure they meet the highest quality and health standards. Every product listed for sale has accessible lab reports providing information in support of claims.