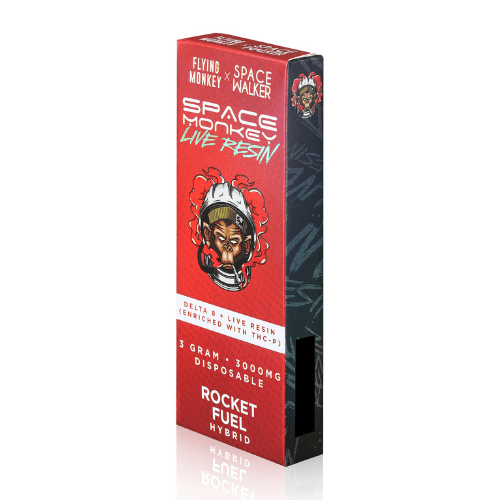 Space Monkey Live Resin Disposable 3G
$40.00
Tax Included. $9 flat rate shipping. Free shipping on orders $50+.
Secure Checkout With
24/7 Customer Service
100% US Grown Hemp
All Products Third-Party Lab Tested
Same-Day Shipping with Discreet Packaging
Space Monkey Delta 8 + THC-P Live Resin Disposable
Flying Monkey and Space Walker have collaborated together to create the all-new Space Monkey Live Resin Disposable! This disposable is infused with 3 grams of delta-8 THC enriched with THC-P. By fusing these 2 cannabinoids into a single disposable, it provides an immensely potent experience compared to using them individually. A live resin extract procedure allows a larger amount of terpenes, cannabinoids, and trichomes to be preserved as opposed to using dried and cured hemp flower.
Space Monkey Disposables are currently available in 8 different mouth-watering variations. They range from classic strains such as Grand Daddy Purple and Northern Lights to new and sough-after flavors like Space Cookies and Rocket Fuel.
Space Monkey Live Resin Disposable Flavors/Strains:
Astroboy (Sativa)
Dream n' Sour (Sativa)
Grand Daddy Purple (Indica)
Northern Lights (Indica)
Rocket Fuel (Hybrid)
Sour Tangie (Sativa)
Space Cookies (Hybrid)
Watermelon Sangria (Hybrid)
Product Features:
Compliant with the 2018 Farm Bill
One 3g disposable infused with delta-8 THC and THC-P
Live resin extract
Naturally-derived terpenes
Made in the USA with industrial hemp
Third-party lab tested
Click Here To View Delta 8 THC Lab Reports.
D8Gas is on a mission! We are committed to exposing and promoting a variety of the highest quality brands and products that are excelling in the Delta 8 space today. We strive to provide an exceptional customer shopping experience. From access to a vast variety of the best brands and products through ordering and fulfillment-customer satisfaction is 100% guaranteed.
Our customers are assured to be gassed up and ready to lift off upon the arrival of their new product(s)! The D8Gas team thoroughly researches, tests, and rigorously quality-controls all the brands listed on D8Gas.com to ensure they meet the highest quality and health standards. Every product listed for sale has accessible lab reports providing research and information in support of claims.