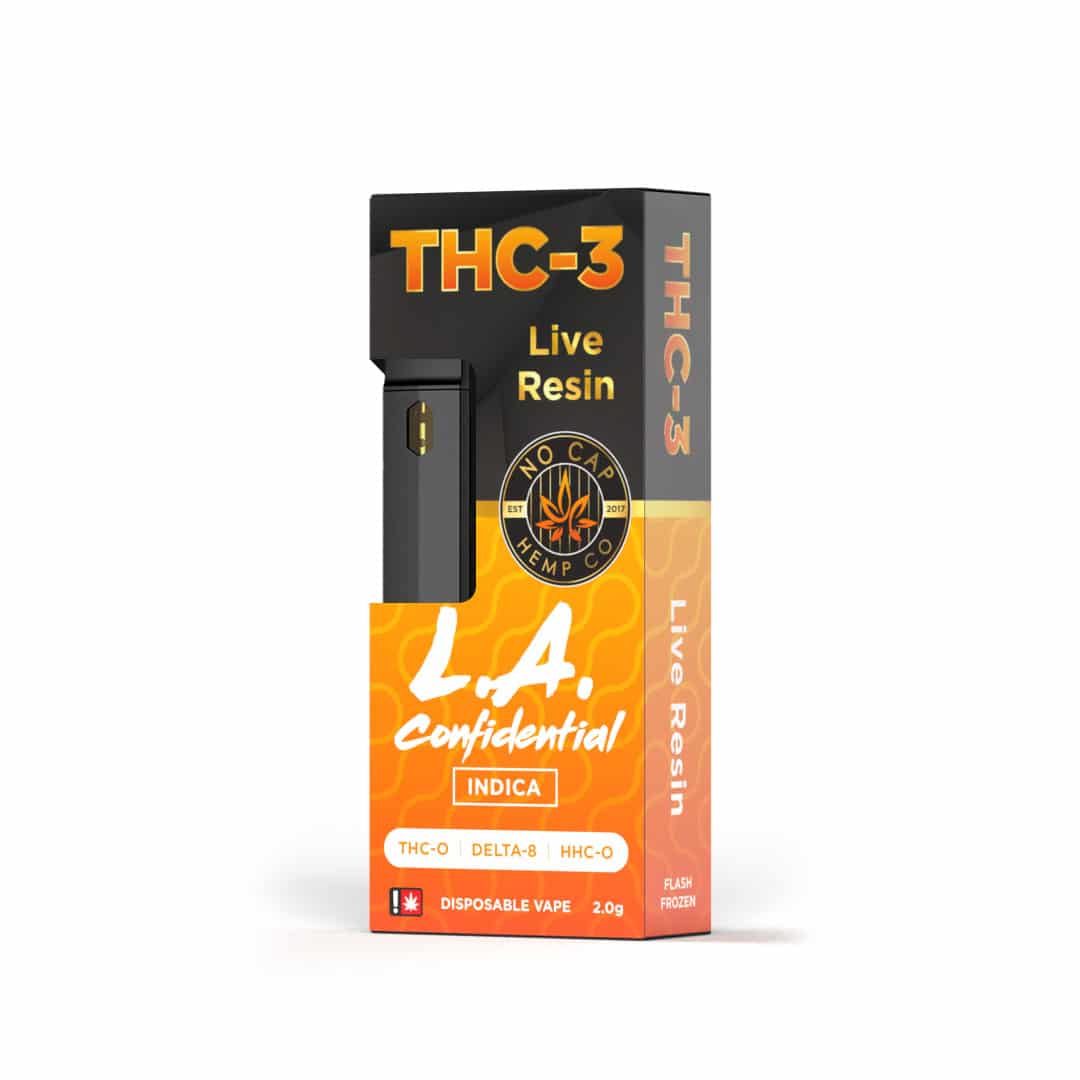 No Cap Hemp THC3 Disposable 2G
Free Shipping on Orders $60+.
Secure Checkout With
24/7 Customer Service
100% US Grown Hemp
All Products Third-Party Lab Tested
Same-Day Shipping with Discreet Packaging
No Cap Hemp THC3 Disposables
Introducing, the newest line of hemp products from the No Cap Brand. These 2 gram vapor disposables come with a one of one unique cannabinoid blend that provides users with an uplifting and euphoric buzz. This blend contains THC-O, HHC-O, and Delta-8 THC.
Aside from the potent distillate that is used in this blend, they have also added Live Resin flash frozen terpenes to give these vapes maximum flavor. These d8 disposables come in 4 different unique flavor strains.
No Cap THC3 Disposable Strains
LA Confidential- Indica
London Pound Cake- Hybrid
Slurricane- Indica
Blueberry Yum Yum- Sativa
Product Features:
Delta-8 THC, THC-O, HHC-O
2000mg
Manufactured in the USA
Third Party Lab Tested
Click here to view Lab Reports.
D8Gas is on a mission! We are committed to exposing and promoting a variety of the highest quality brands and products that are excelling in the Delta 8 space today. We strive to provide an exceptional customer shopping experience. From access to a vast variety of the best brands and products through ordering and fulfillment-customer satisfaction is 100% guaranteed.
Our customers are assured to be gassed up and ready to lift off upon the arrival of their new product(s)! The D8Gas team thoroughly researches, tests and rigorously quality-controls all the brands listed on D8Gas.com to ensure they meet the highest quality and health standards. Every product listed for sale has accessible lab reports providing research and information in support of claims.