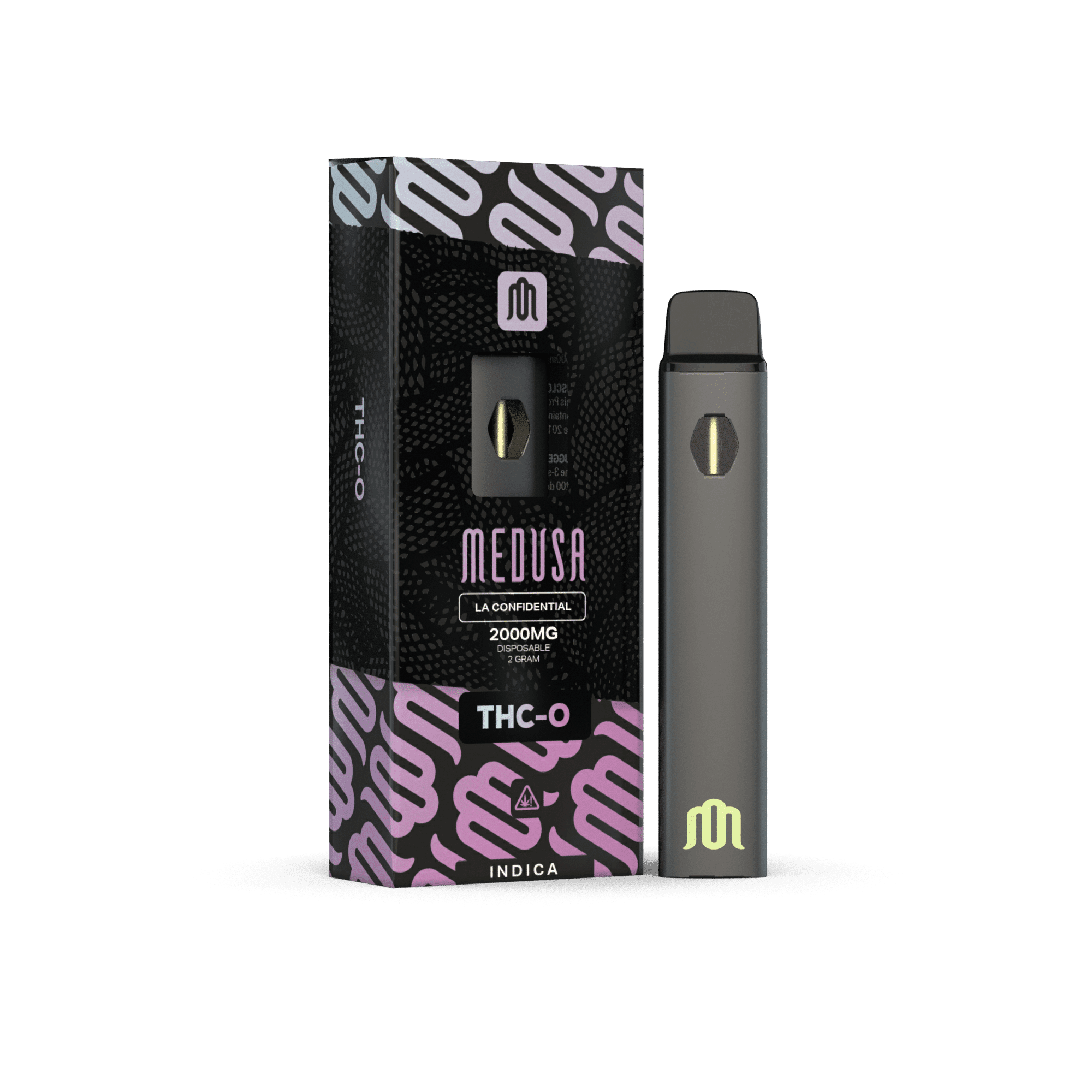 Medusa THC-O Disposable 2G
$34.99
Tax Included. $9 flat rate shipping. Free shipping on orders $50+.
Secure Checkout With
Medusa THC-O Disposable 2g
The long-awaited, line of THC-O products from the Medusa brand is finally in stock and is here to stay. Each Medusa THC-O Disposable comes pre-charged and pre-filled with 2 grams of premium THC-O that is extracted from the hemp plant. Enjoy a break after a long day and get uplifted with these THC-O vapes.
These disposables come in 3 of their signature strains. You are guaranteed to find one that you will love.
Medusa THC-O Disposable Strains
Sunset Sherbert- Hybrid
Lemon Cake- Sativa
LA Confidential- Indica
Product Features:
2 Grams
Ceramic Coil
Signature Flavors
Third-Party Lab Tested
Click here to view lab reports. 
D8Gas is on a mission! We are committed to exposing and promoting a variety of the highest quality brands and products that are excelling in the Delta 8 space today. We strive to provide an exceptional customer shopping experience. From access to a vast variety of the best brands and products through ordering and fulfillment-customer satisfaction is 100% guaranteed.
Our customers are assured to be gassed up and ready to lift off upon the arrival of their new product(s)! The D8Gas team thoroughly researches, tests, and rigorously quality-controls all the brands listed on D8Gas.com to ensure they meet the highest quality and health standards. Every product listed for sale has accessible lab reports providing research and information in support of claims.
Phunkadelic Delight
Growing up in Augusta GEE Aye I very much appreciate D8 GAS - MEDUSA - THC-O and enjoying a tune and cold drink, Yes I knew those funky cats back when in Dr. Funkenstein days of yore
Medusa
I love the Medusa disposable it feels super nice
La Confidential
Love the Medusa brand so far. I've had some issues with their regular cartridges being leaky so I went the disposable route and absolutely loved it. Effects can sometimes hit you initially and then again after a while. Stronger than their regular Delta 8.
The best
Medusa vapes are easily becoming some of our favorite d8 pens. Some vapes don't last and have poor quality but not these
The dispo was so fire and i really enjoyed it.