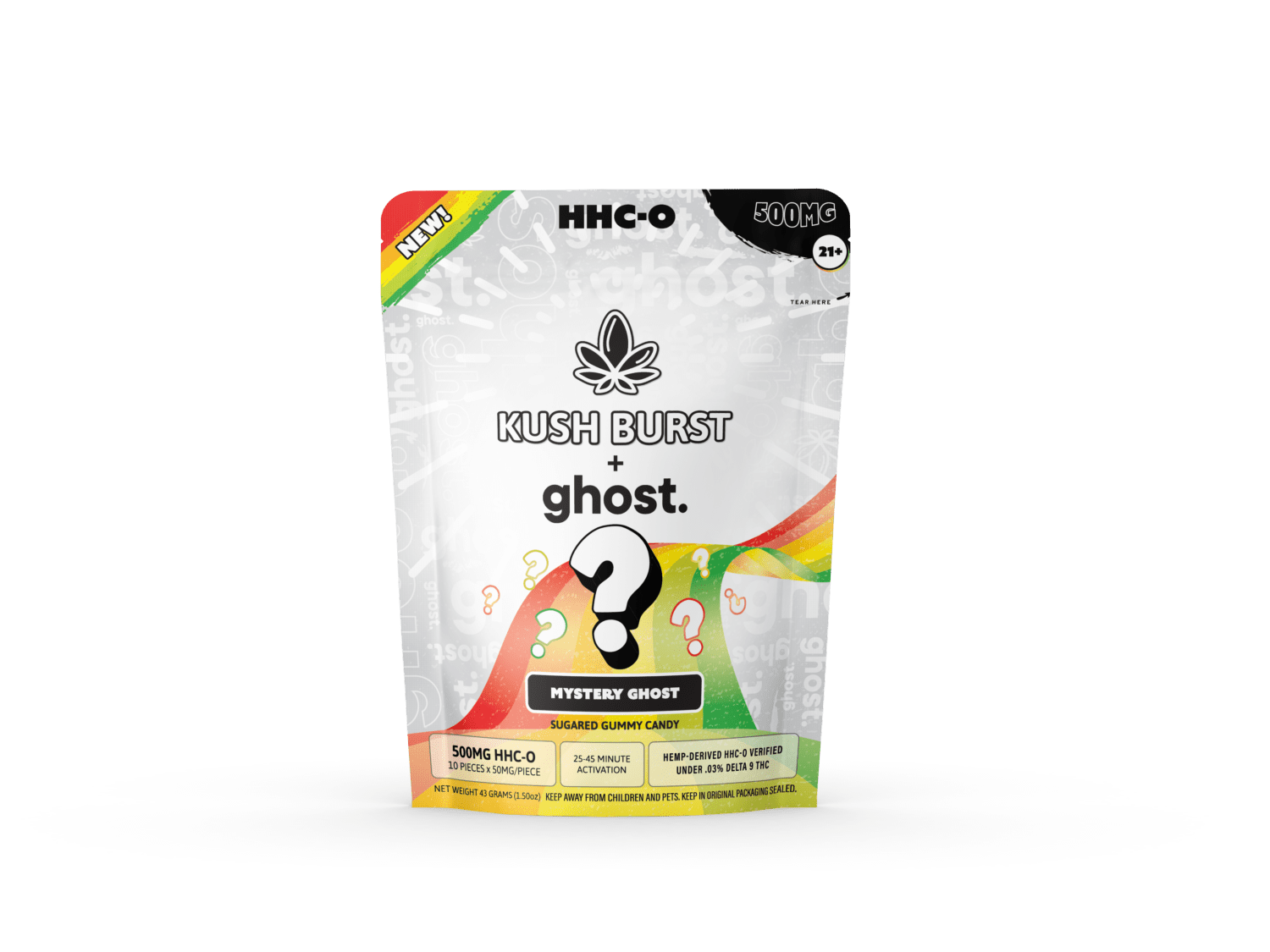 Ghost Kush Burst HHC-O Gummies 500mg
Tax Included. $9 flat rate shipping. Free shipping on orders $50+.
Secure Checkout With
Ghost Kush Burst HHC-O Gummies
The first Ghost collaboration with probably the best edible manufacturer in the country, Kush Burst. Ghost is well known for making some of the best tasting and hardest hitting vapor disposables available. Ghost Kush Burst HHC-O Gummies are infused with premium HHC-O. Bringing you these mouth watering edibles in KB signature flavors.
Each bag contains a total of 500mg. Each edible is infused with 50mg. These Ghost Kush Burst HHC-O Gummies have an activation time of about 25-45 minutes. There are 10 total edibles in each Mylar bag. These sugared gummy candies are available in 5 different flavors.
Ghost Kush Burst HHC-O Gummies Flavors
Magic Blue Razz- These magical blue gummies are out of this world tasty! blueberry, Raspberry and mixed berries with a kick.
Juicy Watermelon- Juicy, savory, and sweet. Burst into good vibes with our popular watermelon flavor and a splash of strawberry.
Mystery Ghost- This iconic white gummy is at the center of thousands of debates.
Peach Bliss- You can now experience summer all year long with this ripe peach gummy that will leave you sunbathing in bliss.
W.A.P.- Watermelon, Apple, Peach. The fruit mix of the gods!
Product Features:
Premium HHC-O
500mg bag
50mg per edible
Third Party Lab Tested
Made in the USA
Click here to view Lab Reports.
D8Gas is on a mission! We are committed to exposing and promoting a variety of the highest quality brands and products that are excelling in the Delta 8 space today. We strive to provide an exceptional customer shopping experience. From access to a vast variety of the best brands and products through ordering and fulfillment-customer satisfaction is 100% guaranteed.
Our customers are assured to be gassed up and ready to lift off upon the arrival of their new product(s)! The D8Gas team thoroughly researches, tests, and rigorously quality-controls all the brands listed on D8Gas.com to ensure they meet the highest quality and health standards. Every product listed for sale has accessible lab reports providing research and information in support of claims.
Tasty but not very strong
The consistency and flavor (I got blue raspberry) were good, but I didn't **** much after taking a hefty dosage. Finished the package in a day or two.
Bangers
Wow these ****.. start with one because they hit like a ton of bricks. Vibing **** off these jauns