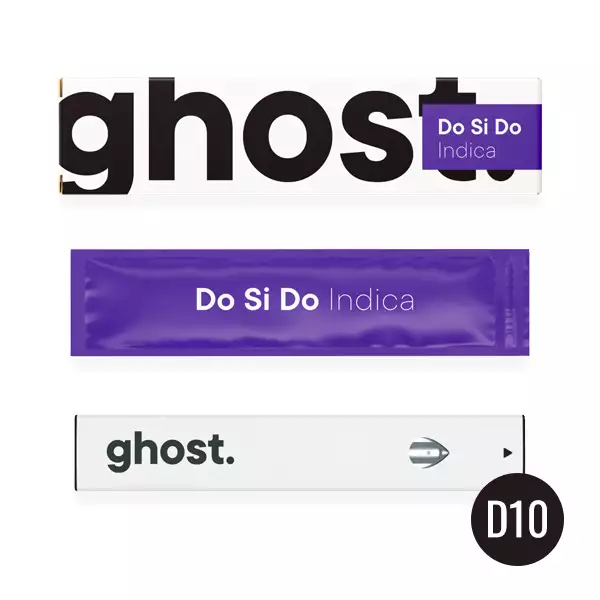 Ghost Delta 10 Disposable 1g
Tax Included. $9 flat rate shipping. Free shipping on orders $50+.
Secure Checkout With
Ghost Delta 10 Disposable
Check out these new one gram disposables from Ghost. These delta 10 vapes are pre filled and pre charged with 1000mg of delta-10 thc. Known for their proprietary technology, these vape devices come with dual airflow design which allows for a smoother, and tastier vaping experience. Also included, is a ceramic coil.
These d10 disposables come in 10 different flavor strains.
Ghost Delta 10 Strains
Ghost Cookies- Hybrid
Tangie- Sativa
Runtz- Hybrid
Grape Ape- Indica
Gelato- Indica
Do Si Do- Indica
Ghost Train Haze- Sativa
Pineapple Express- Sativa
Skunk OG- Hybrid
Wedding Cake- Hybrid
Product Features:
1000mg
Premium Delta-10 THC
280 mAh Battery
Made In The USA
Hemp Derived
Third Party Lab Tested
Click Here To View Delta 10 Lab Reports.
D8Gas is on a mission! We are committed to exposing and promoting a variety of the highest quality brands and products that are excelling in the Delta 8 space today. We strive to provide an exceptional customer shopping experience. From access to a vast variety of the best brands and products through ordering and fulfillment-customer satisfaction is 100% guaranteed.
Our customers are assured to be gassed up and ready to lift off upon the arrival of their new product(s)! The D8Gas team thoroughly researches, tests, and rigorously quality-controls all the brands listed on D8Gas.com to ensure they meet the highest quality and health standards. Every product listed for sale has accessible lab reports providing research and information in support of claims.
D10 Gelato - Fantastic!!
This is perfect for getting me mellow and squashes my anxiety
Good gas
I bought the Ghost delta 10 disposable 1g. The Ghost cookies was very smooth yet strong and uplifting. The flavor is great it produces thick creamy clouds of smoke. It doesn't clog up and it doesn't pull to easily just as **** as you pull. I enjoy it and I would try another flavor. Definitely worth the money if you like to vape concentrates like I do.