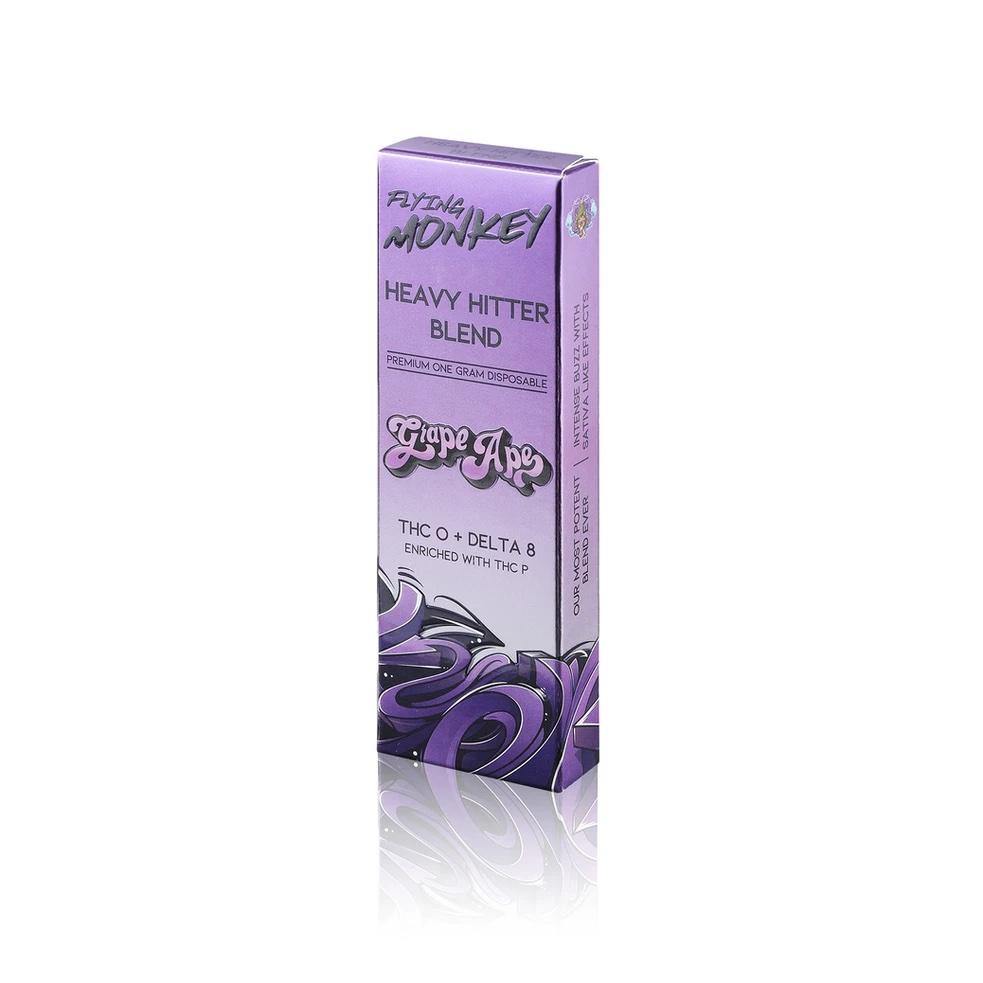 Flying Monkey Heavy Hitter Blend Disposable
$25.00
Tax Included. $9 flat rate shipping. Free shipping on orders $50+.
Secure Checkout With
Heavy Hitter Blend Flying Monkey Disposable
The new Heavy Hitter Disposable by Flying Monkey. This disposable is packed with 1 gram of a special cannabinol blend. This d8 vapor disposable is sleek and easy to carry. The fact that it is lightweight makes it convenient to carry.
This d8 disposable features a tightly sealed juice reservoir to prevent any leaking, and a powerful battery to ensure to last all day. Heavy Hitting Delta 8 Pens by Flying Monkey Vapor are available in 8 different strains.
Flying Monkey Vape Strains
Blue Dream [HYBRID]: Blue Dream is a Sativa dominant hybrid that carries a very sweet flavor. It is a cross of Blueberry Indica and Sativa Haze. Producing a strain known for its balanced full-body relaxation, with gentle uplifting and mental clarity. It's great for daytime use.
Fruity Pebbles [HYBRID]: Fruity Pebbles is a sweet hybrid that takes its genetics from Green Ribbon, Granddaddy Purple, and Tahoe Alien. This unique blend creates a tropical, berry flavor reminiscent of the cereal. The euphoric effects will keep you happy when you're stressed and help you catch some much-needed sleep if desired.
Girl Scout Cookies [HYBRID]: Girl Scout Cookies is an Indica-dominant hybrid bred by crossing OG Kush with Durban Poison. Girl Scout Cookies, or GSC for short, is a strain held in high regard due to it having strong, full-body relaxing effects. It is known for having a sweet and pungent flavor with hints of mint, cherry and lemon.
Gorilla Glue [HYBRID]: Gorilla Glue is a potent, Indica- dominant hybrid strain that delivers heavy handed euphoria and relaxation, leaving users feeling "glued" to the couch. One of the most award winning strains, derived from its parent strains of Chem's Sister, Sour Dubb, and Chocolate Diesel. This strain provides users with a relaxed, happy, and euphoric sensation and has built a very strong and credible reputation in the cannabis world. It has a very pleasant and homey taste with coffee overtones and a spicy chocolate taste on exhale.
Grape Ape [INDICA]: The hottest selling flying monkey vapor flavor Grape Ape, also called Purple Ape. is an Indica-dominant hybrid of Mendocino Purps, Skunk, and an Afghani landrace. A sweet but musky scent, this strain lets you reminisce of a more primitive time drinking grape soda at the schoolyards.
Strawnana [INDICA]: Strawnana is a sweet berry strain that is a hybrid crossing Banana Kush and Bubble Gum's strawberry phenotype. Indica dominant, this strain delivers an uplifting, peaceful euphoric effect. It is known for having a sweet fruit taste reminiscent of strawberry and banana. Check out the flying monkey review.
Product Features:
1 gram of Delta 8 THC Blend
THCO
THC- P
Made In The USA
Third Party Lab Tested
Click here to view Lab Reports.
Ingredients: Delta-8 Distillate, Terpenes, Flavoring
Recommended Use: Consult with a physician before using this product.
Warning: Must be 21 years of age. Do not use this product while pregnant or breastfeeding.
When Using This Product: Do not drive or operate heavy machinery.
D8Gas is on a mission! We are committed to exposing and promoting a variety of the highest quality brands and products that are excelling in the Delta 8 space today. We strive to provide an exceptional customer shopping experience. From access to a vast variety of the best brands and products through ordering and fulfillment-customer satisfaction is 100% guaranteed.
Our customers are assured to be gassed up and ready to lift off upon the arrival of their new product(s)! The D8Gas team thoroughly researches, tests, and rigorously quality-controls all the brands listed on D8Gas.com to ensure they meet the highest quality and health standards. Every product listed for sale has accessible lab reports providing research and information in support of claims.
Churros
This is like a blast of cinnamon with a donuty finish and I'm honestly obsessed.
BLUE DREAM
probably the best cart I've had. came with about almost 10% missing but it is so smooth and it hits ****.
Good product overall and good price.
These disposables are fire. I will be coming back for more flavors. Will not disappoint. I love the gorilla glue.