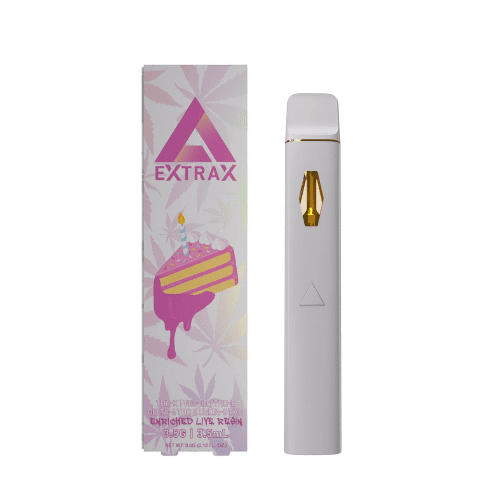 Delta Extrax Enriched Live Resin Disposable 3.5G
$40.00
Tax Included. $9 flat rate shipping. Free shipping on orders $50+.
Secure Checkout With
24/7 Customer Service
100% US Grown Hemp
All Products Third-Party Lab Tested
Same-Day Shipping with Discreet Packaging
Delta Extrax Enriched Live Resin Disposable
Introducing the all-new Delta Extrax Enriched Live Resin Disposable! This disposable features 3.5 grams of a proprietary live resin blend of 5 cannabinoids: THC-X, THC-JD, THC-B, delta-6 THC, and delta-8 THC. By fusing this amount of cannabinoids into a single disposable, it produces the entourage effect- where they work together to induce an immensely powerful experience. Live resin extracts are known for providing not only more flavorful hits, but a more potent experience as well. This is because it preserves a higher amount of terpenes, trichomes, and cannabinoids. Hybrid, sativa, and indica options are available so you can get the exact effect you desire.
Delta Extrax always uses the latest innovative technology for all of their collections. This is done to avoid defects such as clogging, leaking, and faulty batteries. The disposables preheat function allows the distillate to be burned at optimal temperatures for smoother and better tasting puffs. It's also USB-C rechargeable so that every last drop of this mouth-watering distillate can be enjoyed.
Delta Extrax Enriched Live Resin Disposable Strains
Birthday Cake (Hybrid)
Blueberry Kush (Indica)
Grape Sorbet (Indica)
Orange Crush (Sativa)
Strawnana (Hybrid)
Product Features:
Compliant with the 2018 Farm Bill
THC-X, THC-JD, THC-B, delta-6 THC, and delta-8 THC live resin distillate
3.5 grams per disposable
Ceramic coil
USB-C rechargeable
Third-party lab tested
Made in the USA with industrial hemp
Click here to view Lab Reports.
Ingredients: Delta-8 Distillate, Delta-6 Distillate, THC-X Distillate, THC-JD Distillate, THC-B Distillate, Terpenes
Recommended Use: Consult with a physician before using this product.
Warning: Must be 21 years of age. Do not use this product while pregnant or breastfeeding.
When Using This Product: Do not drive or operate heavy machinery.
D8Gas is on a mission! We are committed to exposing and promoting a variety of the highest quality brands and products that are excelling in the Delta 8 space today. We strive to provide an exceptional customer shopping experience. From access to a vast variety of the best brands and products through ordering and fulfillment-customer satisfaction is 100% guaranteed.
Our customers are assured to be gassed up and ready to lift off upon the arrival of their new product(s)! The D8Gas team thoroughly researches, tests and rigorously quality-controls all the brands listed on D8Gas.com to ensure they meet the highest quality and health standards. Every product listed for sale has accessible lab reports providing information in support of claims.