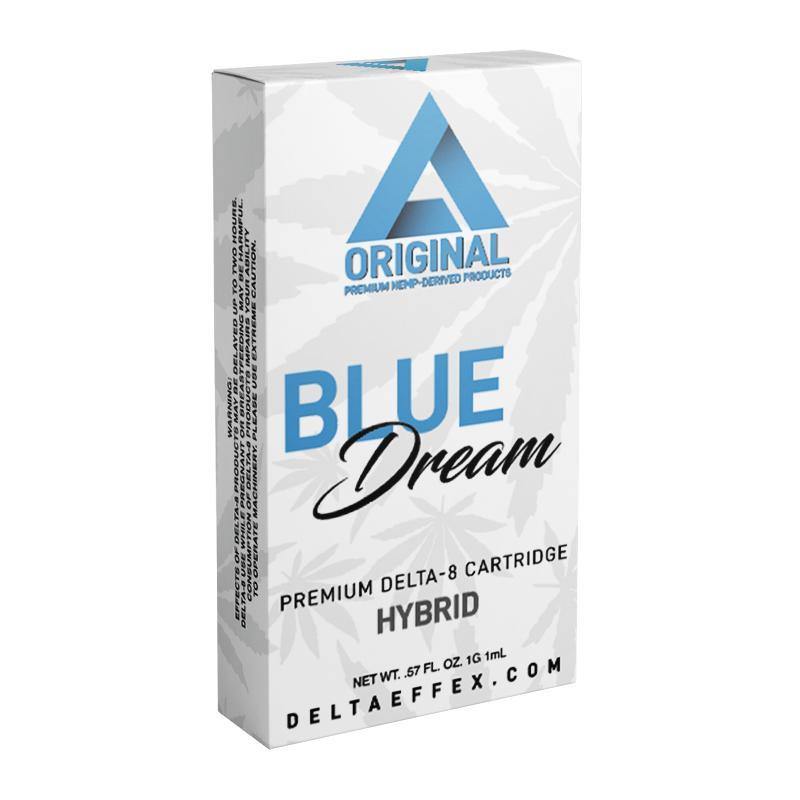 Delta Extrax Delta 8 Vape Cartridge 1G
$19.00
Tax Included. $9 flat rate shipping. Free shipping on orders $50+.
Secure Checkout With
24/7 Customer Service
100% US Grown Hemp
All Products Third-Party Lab Tested
Same-Day Shipping with Discreet Packaging
Delta Extrax Delta 8 Vape Cartridge
Delta Extrax is one of today's leading Delta-8 manufacturers. Their Vape Cartridges offer a light cerebral invigoration along with a balanced high.
Experience these top-notch delta 8 vape carts by trying out one or more of their flavors.
All of Delta Extrax D8 products are third party lab tested to ensure safety to all consumers. These cartridges are made in Sativa, Hybrid, and Indica form.
Delta Extrax Delta 8 Vape Cartridge Strains
Blue Dream [HYBRID]: Blue Dream is a legendary, celebrity Sativa dominant hybrid that carries a very sweet flavor. It is a cross of Blueberry Indica and Sativa Haze, producing a strain known for its balanced full-body relaxation, with gentle uplifting and mental clarity and motivating effects. It's great for daytime use and is the perfect starter strain due to it's mild potency, and a favorite amongst veterans for it's consistency.
Razzberry Kush [INDICA]: Raspberry Kush is said to have been derived from Rasberry cough and cheese kush giving users an exclusive taste of berries and cream that is mouth-watering. When used, a sense of happiness and focus coupled with an enjoyable euphoria is sure to have you relaxing in a unique way. This indica strain is perfect for those days you just want to escape and relax.
Banana Candy Kush [HYBRID]: The lineage for this strain is still in debate. It's appealing banana like flavor and aroma really makes this strain one of a kind.
Strawberry Cough [SATIVA]: This specific strain is known for it's sweet smell of ripe strawberries. This specific strain will make even the most experienced user cough up a storm. The berry, skunky, and sweet flavor in this strain will catch your attention. This strain is great to use during the day in times of elevated stress.
Cali Orange Kush [HYBRID]: Orange Kush is made by crossing OG Kush and Orange Bud. Users have reported that this strain eases your body and mind into a deep relaxation while lifting moods. Known for its sweet and tangy citrus flavor. Orange Kush is notorious for long, dense buds with tons of orange hairs and trichrome crystals.
Grand Daddy Purp [INDICA]: This is probably one of the most popular strains in the world. Grand Daddy Purp goes by many different names such as: Purp, Purps, GDP, Granddaddy Purps and many more. Grand Daddy Purp initially went viral in 2003 by Ken Estes. This is a very famous indica strain that is a cross of Mando Purps, Skunk, and Afghanistan.
Product Features: 
1000mg of Premium Delta-8 THC
 Authentic CCELL® Technology Cartridge
1mL Tank
Third party Lab Tested
 Less than 0.3% Delta 9 THC
Hemp Derived Products
Click Here To View Delta 8 THC Lab Reports. 
Ingredients: Premium Delta-8 Distillate, Natural Terpenes
Recommended Use: Consult with a physician before using this product.
Warning: Must be 21 years of age. Do not use this product while pregnant or breastfeeding.
When Using This Product: Do not drive or operate heavy machinery.
D8Gas is on a mission! We are committed to exposing and promoting a variety of the highest quality brands and products that are excelling in the Delta 8 space today. We strive to provide an exceptional customer shopping experience. From access to a vast variety of the best brands and products through ordering and fulfillment-customer satisfaction is 100% guaranteed.
Our customers are assured to be gassed up and ready to lift off upon the arrival of their new product(s)! The D8Gas team thoroughly researches, tests and rigorously quality-controls all the brands listed on D8Gas.com to ensure they meet the highest quality and health standards. Every product listed for sale has accessible lab reports providing research and information in support of claims.