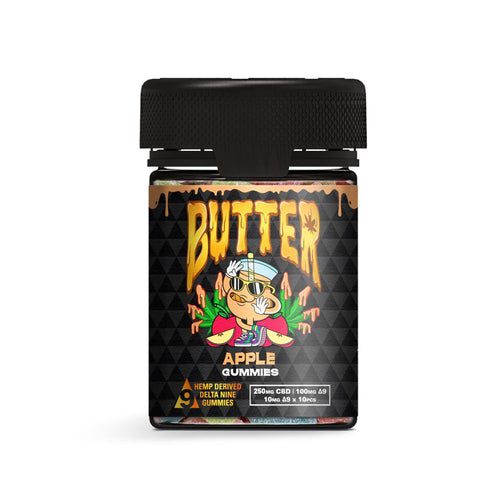 Butter Delta 9 Gummies 10 count
$16.00
Tax Included. $9 flat rate shipping. Free shipping on orders $50+.
Secure Checkout With
Butter D9 Gummies
New hemp-derived gummies from Butter are now available. These d9 edibles contain 10 mg of delta-9 THC and 25mg of CBD in each gummy. These d9 gummies are vegan and are federally legal per the 2018 Farm Bill.
Enjoy these gummies in 5 different mouth-watering flavors today.
Butter Delta 9 Flavors
Apple
Orange
Pink Lemonade
Pomegranate
Strawberry
Product Features:
10 Gummies Per Jar
10mg D9 Per Gummy
25mg CBD Per Gummy
Made in the USA
Third-Party Lab Tested
Click Here To View Lab Reports.
SUGGESTED USE: Consume 1/2 of one gummy to start to establish individual tolerance. Increase dose in increments to reach the desired effect.
Ingredients: Sugar, Apple Pectin, Sodium Citrate, Water, Corn Syrup, Coconut Oil, Flavoring, Color, Citric Acid, Lecithin.
D8Gas is on a mission! We are committed to exposing and promoting a variety of the highest-quality brands and products that are innovating and excelling in the Delta 8 space today to consumers worldwide…all while providing an exceptional customer shopping experience. From access to a vast variety of the best brands and products through ordering and fulfillment-customer satisfaction is 100% guaranteed.
Our customers are assured to be gassed up and ready to lift off upon the arrival of their new product(s)! The D8Gas team thoroughly researches, tests and rigorously quality-controls all the brands listed on D8Gas.com to ensure they meet the highest quality standards. Every product listed for sale has accessible lab reports providing information in support of claims.
Loved the taste!! My favorite flavor in the Butter products and also the results are awesome👍 so keep up the good gummies!