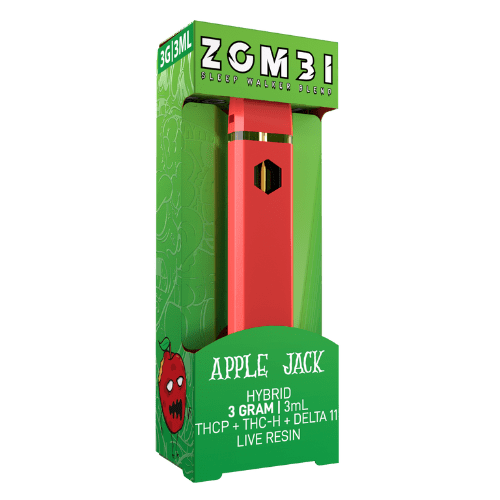 Zombi Sleep Walker Blend Disposable 3G
$38.00
Tax Included. $9 flat rate shipping. Free shipping on orders $75+.
Secure Checkout With
Zombi Sleep Walker Blend Disposable
Introducing the all-new disposables crafted by Zombi. These disposables are immensely potent and are crafted with one of the largest amounts of extract in any device. They are infused with 3 grams of live resin distillate of their sleep walker power blend cannabinoids; THC-P, THC-H and delta-11 THC. By using a live resin extract procedure, a higher abundance of terpenes, cannabinoids, and trichomes are preserved. This results in a more dank and flavorful experience.
Zombi Sleep Walker Live Resin Disposables are available in 3 different flavor profiles. They range from classic strains such as Blue Dream to the new and sought-after Apple Jack.
Zombi Sleep Walker Blend Live Resin Disposable Flavors/Strains:
Apple Jack (Hybrid)
Blue Dream (Sativa dominant hybrid)
Pineapple Express (Sativa dominant hybrid)
Product Features:
Compliant with the 2018 Farm Bill (less than .3% of delta-9 THC)
1 disposable incorporating 3 grams of THC-P, THC-H, and delta-11 THC
Live resin extract
Made in the USA with industrial hemp
Third-party lab tested for assurity of potency, accuracy, and safety
Click here to view delta-11 lab reports.
D8Gas is on a mission! We are committed to exposing and promoting a variety of the highest quality brands and products that are excelling in the Delta 8 space today. We strive to provide an exceptional customer shopping experience. We offer some of the best products on the market. From access to a vast variety of the best brands and products through ordering and fulfillment-customer satisfaction is 100% guaranteed.
Our customers are assured to be gassed up and ready to lift off upon the arrival of their new product(s)! The D8Gas team thoroughly researches, tests, and rigorously quality-controls all the brands listed on D8Gas.com to ensure they meet the highest quality and health standards. Every product listed for sale has accessible lab reports providing voluminous research and information in support of claims.
Great product...Great company
Same day shipping is awesome...Great product...effects are strong...I would put it a little above the de lights out stuff...supreme value!!!...$38 for 3 gms of 11, 8, h and p...unreal...taste is decent...if you have had blue dreams from another company it is similar...I even got a freebie in my order!....THANK YOU
New experience
This got me lit as all ****.
I smoke on the reg and this made me **** like a brand new experience.
Wow
Picked one up at a local shop and will put you on your ****. Great stuff. A new favorite.