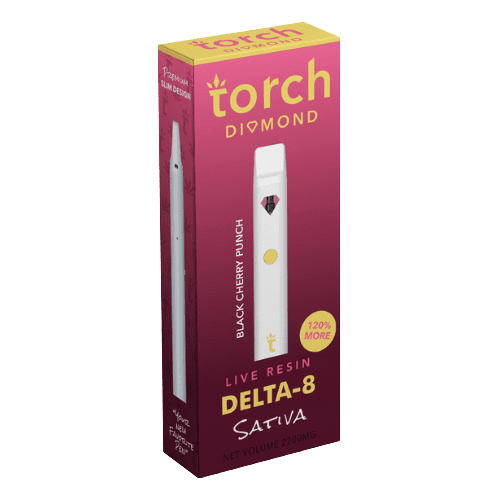 Torch Delta 8 Live Resin Disposable 2.2G
$28.00
Tax Included. $9 flat rate shipping. Free shipping on orders $50+.
Secure Checkout With
24/7 Customer Service
100% US Grown Hemp
All Products Third-Party Lab Tested
Same-Day Shipping with Discreet Packaging
Torch Delta 8 Disposable
Torch has done it again! This time, they've created a live resin disposable infused with 2.2 grams of delta-8 THC. The Torch Delta 8 Disposable isn't just your regular live resin disposables, they have been crafted using diamond concentrate instead of distillate. As a result, the concentration of cannabinoids and terpenes from the volatile nature of the extract provide a significantly stronger flavor and odor profile.
Torch uses an innovative approach to their devices, which are known to have very little to no inconvenient defect rates when compared to other brands such as clogging, leaking, and faulty batteries.
Torch Diamond Delta 8 Live Resin Disposables are offered in 5 different extremely potent flavor profiles. They're made with rare strains such as Lemon Cherry Gelato and White Berry. Aside from using diamond concentrate, they also use naturally-derived terpenes which assists in the mouth-watering aromas and flavors of these disposables.
Torch Delta 8 Disposable Flavors/Strains:
Black Cherry Punch (Sativa)
Grape Ape (Indica)
Lemon Cherry Gelato (Hybrid)
Sour Blueberry (Sativa)
White Berry (Hybrid)
Product Features:
Compliant with the 2018 Farm Bill ( consists of less than .3% of delta-9 THC)
1 disposable with 2.2 grams of delta-8 THC live resin diamond concentrate
Naturally-derived terpenes
Innovative device
Made in the USA with industrial hemp
5 potent strains to choose from
Click Here To View Lab Reports. 
D8Gas is on a mission! We are committed to exposing and promoting a variety of the highest quality brands and products that are excelling in the Delta 8 space today. We strive to provide an exceptional customer shopping experience. From access to a vast variety of the best brands and products through ordering and fulfillment-customer satisfaction is 100% guaranteed.
Our customers are assured to be gassed up and ready to lift off upon the arrival of their new product(s)! The D8Gas team thoroughly researches, tests, and rigorously quality-controls all the brands listed on D8Gas.com to ensure they meet the highest quality and health standards. Every product listed for sale has accessible lab reports providing research and information in support of claims.