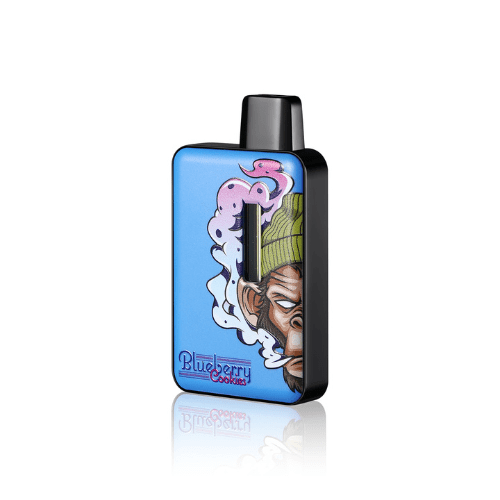 Flying Monkey Heavy Hitter Blend Disposable 2.0 | 2G
$30.00
Tax Included. $9 flat rate shipping. Free shipping on orders $50+.
Secure Checkout With
24/7 Customer Service
100% US Grown Hemp
All Products Third-Party Lab Tested
Same-Day Shipping with Discreet Packaging
Flying Monkey Heavy Hitter  Disposable 2.0
Flying Monkey has released an updated version of their famous Heavy Hitter Disposable! The new Flying Monkey Heavy Hitter Disposable 2.0 features a proprietary blend between 2 grams of potent, pure delta-8 THC and THC-P distillate- with the previous version having 1 gram. Flying Monkey incorporates naturally-derived terpenes to provide a strong blast of flavor to each hit.
The latest innovative technology is used to craft these disposables to avoid inconvenient defects such as clogging, leaking, and faulty batteries. Third-party lab testing is always performed for Flying Monkey collections to assure potency, safety, and accuracy. These disposables are crafted with a ceramic coil to avoid overheating the distillate to unnecessary temperatures which allows for longer distillate life and smooth hits.
The Flying Monkey Heavy Hitter Blend Disposable is offered in its original flavors with 3 new additions.
Flying Monkey Heavy Hitter  Disposable 2.0 Strains
Blue Dream [HYBRID]: Blue Dream is a Sativa dominant hybrid that carries a very sweet flavor. It is a cross of Blueberry Indica and Sativa Haze. Producing a strain known for its balanced full-body relaxation, with gentle uplifting and mental clarity. It's great for daytime use.
Fruity Pebbles [HYBRID]: Fruity Pebbles is a sweet hybrid that takes its genetics from Green Ribbon, Granddaddy Purple, and Tahoe Alien. This unique blend creates a tropical, berry flavor reminiscent of the cereal. The euphoric effects will keep you happy when you're stressed and help you catch some much-needed sleep if desired.
Girl Scout Cookies [HYBRID]: Girl Scout Cookies is an Indica-dominant hybrid bred by crossing OG Kush with Durban Poison. Girl Scout Cookies, or GSC for short, is a strain held in high regard due to it having strong, full-body relaxing effects. It is known for having a sweet and pungent flavor with hints of mint, cherry and lemon.
Grape Ape [INDICA]: The hottest selling flying monkey vapor flavor Grape Ape, also called Purple Ape. is an Indica-dominant hybrid of Mendocino Purps, Skunk, and an Afghani landrace. A sweet but musky scent, this strain lets you reminisce of a more primitive time drinking grape soda at the schoolyards.
Strawnana [INDICA]: Strawnana is a sweet berry strain that is a hybrid crossing Banana Kush and Bubble Gum's strawberry phenotype. Indica dominant, this strain delivers an uplifting, peaceful euphoric effect. It is known for having a sweet fruit taste reminiscent of strawberry and banana. Check out the flying monkey review.
Green Crack [SATIVA]: Green Crack, also known as "Green Crush" and "Mango Crack," is a potent sativa marijuana strain made by crossing 

Skunk

 #1 with an unknown indica. This strain is beloved by many consumers for its energizing effects.
Mango Gelato [HYBRID]: Mango Gelato is the standard for indica excellence with a unique earthy, spicy flavor. This strain produces buds that are sure to surpass all expectations in size and potency. The effect of Mango Gelato is relaxing for your body but stimulating for your mind, perfect for venturing off on a creative adventure of your own.
Sour Apple Killer [HYBRID]: Jungle Boys Sour Apple Strain is Overflowing with Killer Instincts! Expect to pucker up because this strain will send your tastebuds tingling. Bright green in color with a distinct Sour Apple aroma. Sour Apple strain lives up to its name. You won't get a sugar rush from this strain; however, it may leave you stuck on the couch.
Blueberry Cookies [HYBRID]: Blueberry Cookies is a potent 60/40 hybrid (Indica-dominant) that Dinafem Seeds, the famous Spanish breeder, bred from Blueberry Tahoe and Thin Mint Girl Scout Cookies. The strain gives you a brain-soaring, mind-elevating sense of creative calm.
Product Features:
Compliant with the 2018 Farm Bill
2 grams of delta-8 THC and THC-P distillate
Innovative disposable technology
Ceramic coil
Third-party lab tested
Made in the USA with industrial hemp
Click here to view Lab Reports.
Ingredients: Delta-8 Distillate, THC-P Distillate, Terpenes
Recommended Use: Consult with a physician before using this product.
Warning: Must be 21 years of age. Do not use this product while pregnant or breastfeeding.
When Using This Product: Do not drive or operate heavy machinery.
D8Gas is on a mission! We are committed to exposing and promoting a variety of the highest quality brands and products that are excelling in the Delta 8 space today. We strive to provide an exceptional customer shopping experience. From access to a vast variety of the best brands and products through ordering and fulfillment-customer satisfaction is 100% guaranteed.
Our customers are assured to be gassed up and ready to lift off upon the arrival of their new product(s)! The D8Gas team thoroughly researches, tests, and rigorously quality-controls all the brands listed on D8Gas.com to ensure they meet the highest quality and health standards. Every product listed for sale has accessible lab reports providing research and information in support of claims.