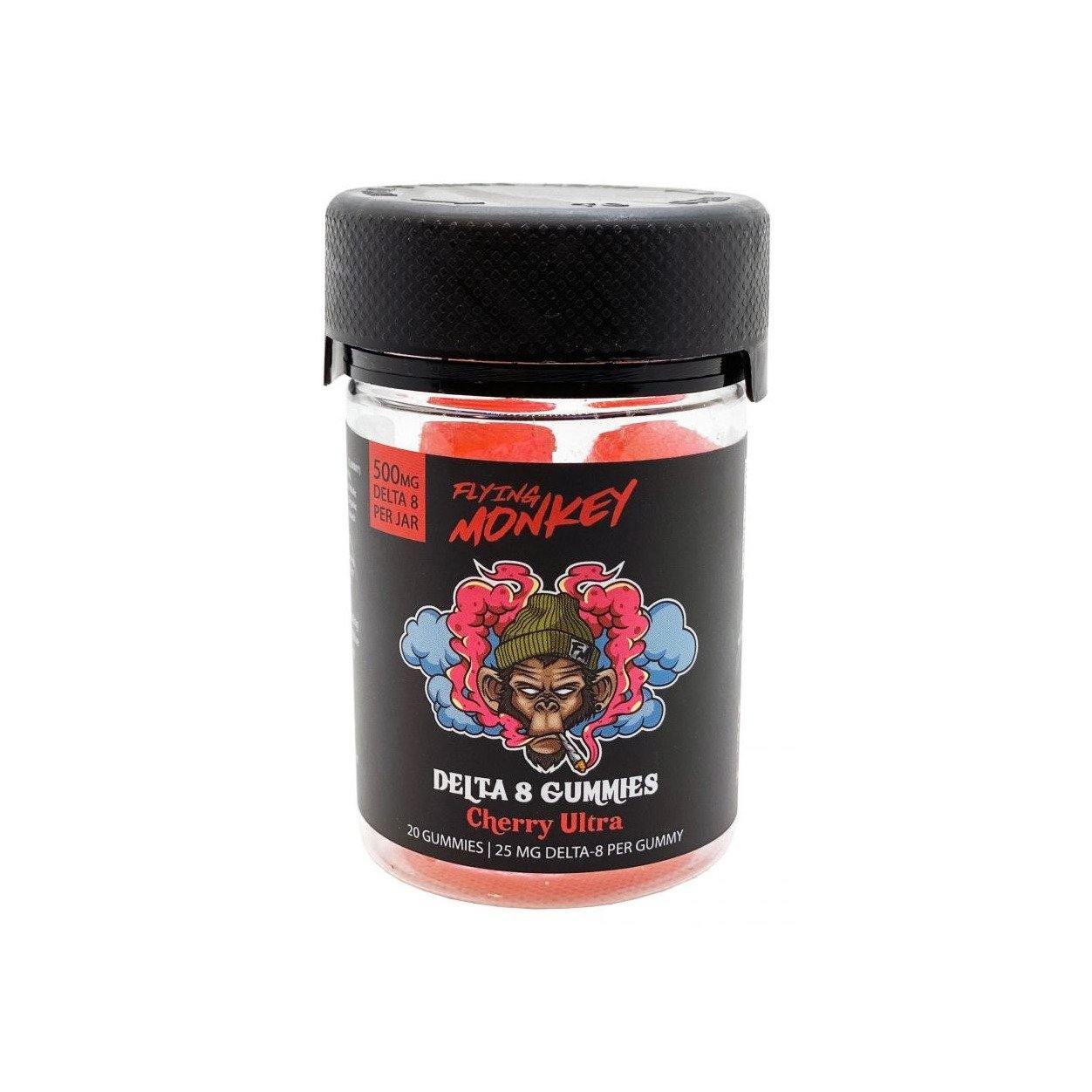 Flying Monkey Delta 8 Gummies 500mg
$22.00
Tax Included. $9 flat rate shipping. Free shipping on orders $50+.
Secure Checkout With
Packed with flavor, these premium delta-8 gummies are a great way to sit back and the day. Infused with delta 8 oil and added flavor. These Flying Monkey Delta 8 Gummies come with a sugary coat flavor to prevent caking and sticking. Experience the awesome benefits of and amazing effects of Delta-8 gummys.
Flying Monkey Delta 8 Gummies are available in 5 different flavors. Each jar comes with 20 gummies, that have 25mg each gummy. Testing shows or 86% delta 8 potency, with the rest being comprised of CBG, CBN, and CBD. Flying Monkey Delta-8 Gummies are formulated and produced in house and are infused with high quality delta-8 distillate.
Click here to view D8 disposables by Flying Monkey.
Flying Monkey Delta 8 Gummy Flavors:
Blue Dream – Indica dominant. A delicious blend of blueberry pie and sugary sweet blueberries.
Cherry Ultra – Indica dominant. A sweet, tangy cherry blend that has a strong initial flavor and a lingering aftertaste.
Pineapple Express – Sativa dominant. A sweet and fresh burst of pineapple featuring subtle notes of acidity.
​Sour Apple – Sativa dominant. Perfectly sour and sweet. A juicy apple flavor complimented by sharp sour notes.
Watermelon Zkittlez – Hybrid dominant. A mouthwatering flavor blend of fresh watermelon and sweet citrus.
Product Features:
Third Party Lab Tested
Less than 0.03% Delta-9 THC
20 gummies per jar
25mg per gummy
500mg per jar
Click here to view Lab Reports.
D8Gas is on a mission! We are committed to exposing and promoting a variety of the highest quality brands and products that are excelling in the Delta 8 space today. We strive to provide an exceptional customer shopping experience. From access to a vast variety of the best brands and products through ordering and fulfillment-customer satisfaction is 100% guaranteed.
Our customers are assured to be gassed up and ready to lift off upon the arrival of their new product(s)! The D8Gas team thoroughly researches, tests, and rigorously quality-controls all the brands listed on D8Gas.com to ensure they meet the highest quality and health standards. Every product listed for sale has accessible lab reports providing research and information in support of claims.
These are perfect
These are the best i ever had; i highly recommended them. The texture is great (not basic, its kinda **** but soft like its not rly a gummy but u chew on it. I never tasted anything like it.) the taste is great (I got the lemon, pineapple, and grape they were all amazing, the grape tasted the most like weed, the pineapple tasted the least like weed but it was the worst tasting, the lemon one is amazinggg, they all tasted like the best gummies i had this whole lifetime.) the **** was great (these have done sm for me it takes so little to work. My tolerance is a little low BUT it only takes 1/2 - 1 for me to **** it.)
Perfect
Not too strong and not too weak, perfect strength for a relaxing evening. Highly recommend
Flying Monkey
I've been trying different brands and I freely admit that Flying Monkey is my favorite.
Flying Monkey Delta 8 Gummies
I've tried several flavors and strains with my favorites being the Pineapple sativa and the Cherry indica. I use cbds to control my seizures bc I'm allergic to traditional seizure meds. My neurologist & I found the Delta 8 to be very sucessful in my seizure control. I "nibble" on one sativa gummy a couple of times a day (usually just 1/2 gummy per day) and follow with 1/2 to 1 whole indica gummy at night. I have not had seizures while taking the gummies. I was told to stop them for an upcoming surgery & the next day had two major seizures. My neurologist said to never stop my gummies again because they are my seizure control. Flying Monkey has a variety of flavors and strains so I won't get "bored" with my flavors. Highly recommend.
Most Amazing Gummies!!
I love the way these gummies work! Usually I get the blue razz every place has been sold out so I settled for the lemon and they are amazing !!! No nasty after taste or nothing !! The shipping was quick and arrived with no issues either !!