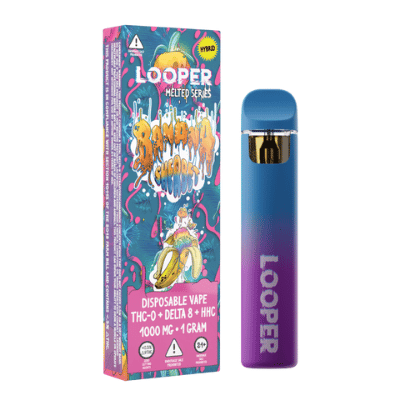 Dimo Hemp Looper Melted Series Disposable 1G
Tax Included. $9 flat rate shipping. Free shipping on orders $50+.
Secure Checkout With
24/7 Customer Service
100% US Grown Hemp
All Products Third-Party Lab Tested
Same-Day Shipping with Discreet Packaging
Dimo Hemp Looper Melted Series Disposable
Sometimes it's a tough choice to choose between your favorite HHC, THC-O, and Delta 8 products. With Dimo's Melted Series, get all 3 blended in 1! This Dimo Hemp Disposable comes with 1 gram of the perfect combination of HHC, THC-O, and D8 to give you a one-of-a-kind vaping experience. Pre-filled and pre-charged at your convenience so you can consume servings of hemp right out of the box!
Currently available in 1 amazing strain profile and flavor.
Dimo Hemp Looper Melted Series Disposable
Product Features:
1 Gram Disposable Vape
Pre-Charged & Pre-Filled
HHC, THC-O, & Delta-8 THC Blend
Under 0.03% Delta 9 THC
Compliant with the 2018 Farm Bill
Click here to view Lab Reports.
D8Gas is on a mission! We are committed to exposing and promoting a variety of the highest quality brands and products that are excelling in the Delta 8 space today. We strive to provide an exceptional customer shopping experience. From access to a vast variety of the best brands and products through ordering and fulfillment-customer satisfaction is 100% guaranteed.
Our customers are assured to be gassed up and ready to lift off upon the arrival of their new product(s)! The D8Gas team thoroughly researches, tests, and rigorously quality-controls all the brands listed on D8Gas.com to ensure they meet the highest quality and health standards. Every product listed for sale has accessible lab reports providing voluminous research and information in support of claims.