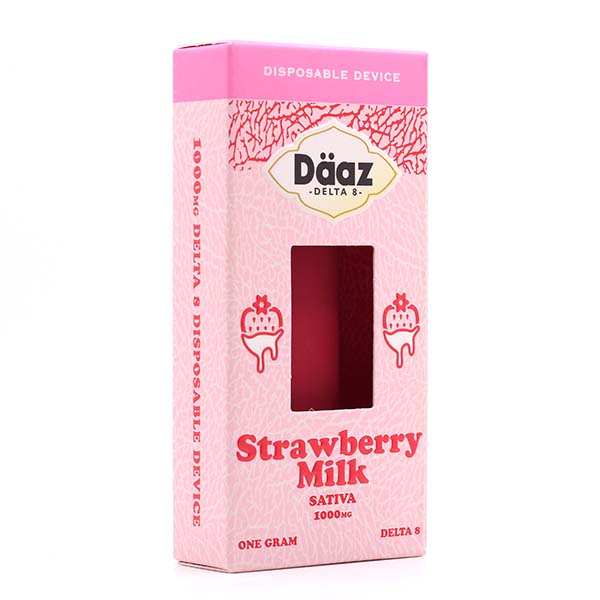 Daaz Delta 8 Disposable 1G
Tax Included. $9 flat rate shipping. Free shipping on orders $50+.
Secure Checkout With
Daaz Delta 8 Disposable 1g
Similar to your favorite Ice Cream. Indulge in these 4 delicious new flavors. Each Daaz Delta 8 Disposable has 1000mg or 1 gram of delta-8 THC with natural flavoring terpenes. All terpenes and distillate is blended to ensure a smooth and effective experience.
Daaz Delta 8 Disposable Flavors:
Cookie Dough – Indica
Birthday Cake – Hybrid
Gelato – Hybrid
Strawberry Milk – Sativa
Product Features:
1000mg pre filled disposable
4 different flavors
Made In The USA
Third Party Lab Tested
Click here to view Lab Reports.
D8Gas is on a mission! We are committed to exposing and promoting a variety of the highest quality brands and products that are excelling in the Delta 8 space today. We strive to provide an exceptional customer shopping experience. From access to a vast variety of the best brands and products through ordering and fulfillment-customer satisfaction is 100% guaranteed.
Our customers are assured to be gassed up and ready to lift off upon the arrival of their new product(s)! The D8Gas team thoroughly researches, tests and rigorously quality-controls all the brands listed on D8Gas.com to ensure they meet the highest quality and health standards. Every product listed for sale has accessible lab reports providing research and information in support of claims.
Daaz
Strawberry milk is amazing!
Amazing 🤩
I love love love the pens they are so amazing different shapes and sizes so much flavors and options I've got 4 so far and I will forever keep shopping
Mahalo from Hawaii
D8Gas is the BEST source for your delta 8 products.
My fave , is ROCKET FUEL VAPE , the flavor , the ****,everything is on point And the price can't be beat… I recommend it ,
And D8GAS fastest shipping to Hawaii,
All my HAWAIIAN BRADDAHS OUT THERE THIS IS THE PLACE TO GET ALL DA STUFF U NEED
ALOHA🤙🏽
I got the cookie dough and birthday cake they taste pretty sweet I enjoy the birthday cake more but I recommend both .