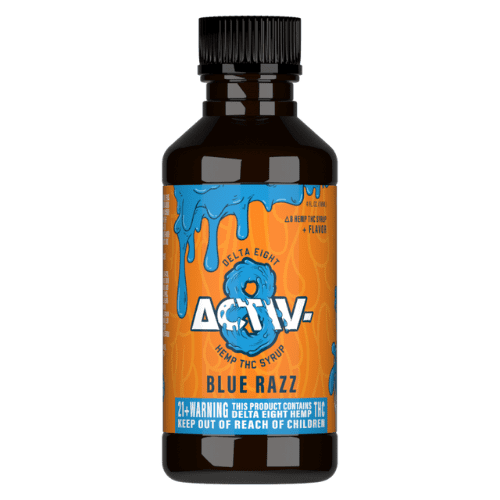 Activ-8 Delta 8 Syrup 4oz
Tax Included. $9 flat rate shipping. Free shipping on orders $50+.
Secure Checkout With
24/7 Customer Service
100% US Grown Hemp
All Products Third-Party Lab Tested
Same-Day Shipping with Discreet Packaging
Delta 8 Syrup
Introducing an extremely creative new way to consume delta-8 THC. The all-new Activ-8 Delta 8 THC Syrup bottle comes with 4oz of delicious and potent D8 infused syrup blended with natural flavoring as well as a measuring cup and 2 Styrofoam cups to get the full "pour up" experience. We recommend mixing this syrup with your favorite beverage!
Active-8 Delta 8 Syrup Flavors:
Apple
Blue Razz
Cherry
Grape
Orange
Pineapple
Product Features:
Compliant with the 2018 Farm Bill
4oz bottle with 2 servings (2oz a serving)
Contains NO illegal substances
Creative way to consume delta-8 THC
Extremely tasty and potent
Third-party lab tested
Made in the USA with industrial hemp
Directions:
It is recommended to start with half a bottle (2oz) and wait up to 2 hours for full the full effect to kick in. After, you can up the dosage depending on where you aim to get to in terms of the experience. You can mix this delta 8 syrup with your favorite beverage. Tilt your beverage before pouring and let the syrup sink to the bottom. Then, put the cap back on the beverage and turn it upside down so that the syrup can mix completely with your drink.
Click Here To View Lab Reports.
D8Gas is on a mission! We are committed to exposing and promoting a variety of the highest quality brands and products that are excelling in the Delta 8 space today. We strive to provide an exceptional customer shopping experience. From access to a vast variety of the best brands and products through ordering and fulfillment-customer satisfaction is 100% guaranteed.
Our customers are assured to be gassed up and ready to lift off upon the arrival of their new product(s)! The D8Gas team thoroughly researches, tests, and rigorously quality-controls all the brands listed on D8Gas.com to ensure they meet the highest quality and health standards. Every product listed for sale has accessible lab reports providing research and information in support of claims.