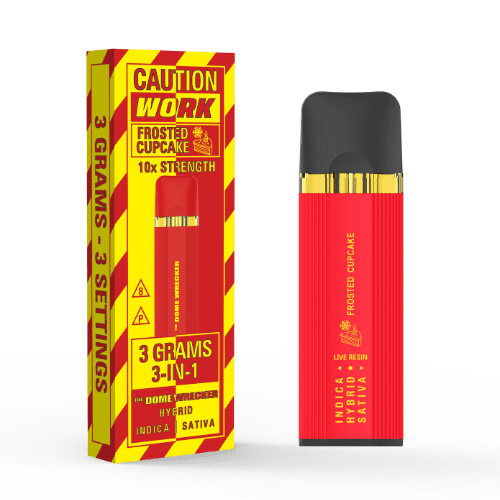 Work The Dome Wrecker 10X Potency Blend Disposable 3G
Tax Included. $9 flat rate shipping. Free shipping on orders $50+.
Secure Checkout With
24/7 Customer Service
100% US Grown Hemp
All Products Third-Party Lab Tested
Same-Day Shipping with Discreet Packaging
Work The Dome Wrecker 10X Disposable
Since the inception of Work's hemp products, nothing has grabbed as much attention and praise as their live resin disposables. The all-new Work The Dome Wrecker 10X Disposable is among some of the strongest devices available featuring 3 grams of top-grade, live resin diamond delta-8 THC and THC-P extract. It's innovated with 3 separate device configurations which allow you to choose which strain profile (indica, sativa, hybrid) you'd like to consume at any given moment- or both.
Work is one of the first pioneering brands to innovate a dual chamber system for the ability to experience both strain profiles at the same time or separately. Using a live resin extract procedure greatly enhances the flavor profile and potency by preserving a higher number of terpenes, cannabinoids, and trichomes.
This collection of disposables is part of the 10X Potency series, which consist of a proprietary diamond distillate blend of delta 8 and THC-P. THC-P is known to be 33x stronger than delta 9.
The Work The Dome Wrecker 10X Disposable is offered in 3 sweet mouth-watering strains such as Rainbow Popsicle and Frosted Cupcake.
Work The Dome Wrecker 10X Disposable Strains
Rainbow Popsicle
Sweet Mango
Frosted Cupcake
Product Features:
Compliant with the 2018 Farm Bill
Delta 8 and THC-P live resin distillate
3 grams per disposable
Durable, sleek, potent, and flavorful
3 device configurations
Dual coil
Third-party lab tested
Made in the USA with industrial hemp
Click here to view Lab Reports.
Ingredients: Delta-8 Distillate, THC-P Distillate, Terpenes
Recommended Use: Consult with a physician before using this product.
Warning: Must be 21 years of age. Do not use this product while pregnant or breastfeeding.
When Using This Product: Do not drive or operate heavy machinery.
D8Gas is on a mission! We are committed to exposing and promoting a variety of the highest quality brands and products that are excelling in the Delta 8 space today. We strive to provide an exceptional customer shopping experience. From access to a vast variety of the best brands and products through ordering and fulfillment-customer satisfaction is 100% guaranteed.
Our customers are assured to be gassed up and ready to lift off upon the arrival of their new product(s)! The D8Gas team thoroughly researches, tests and rigorously quality-controls all the brands listed on D8Gas.com to ensure they meet the highest quality and health standards. Every product listed for sale has accessible lab reports providing information in support of claims.