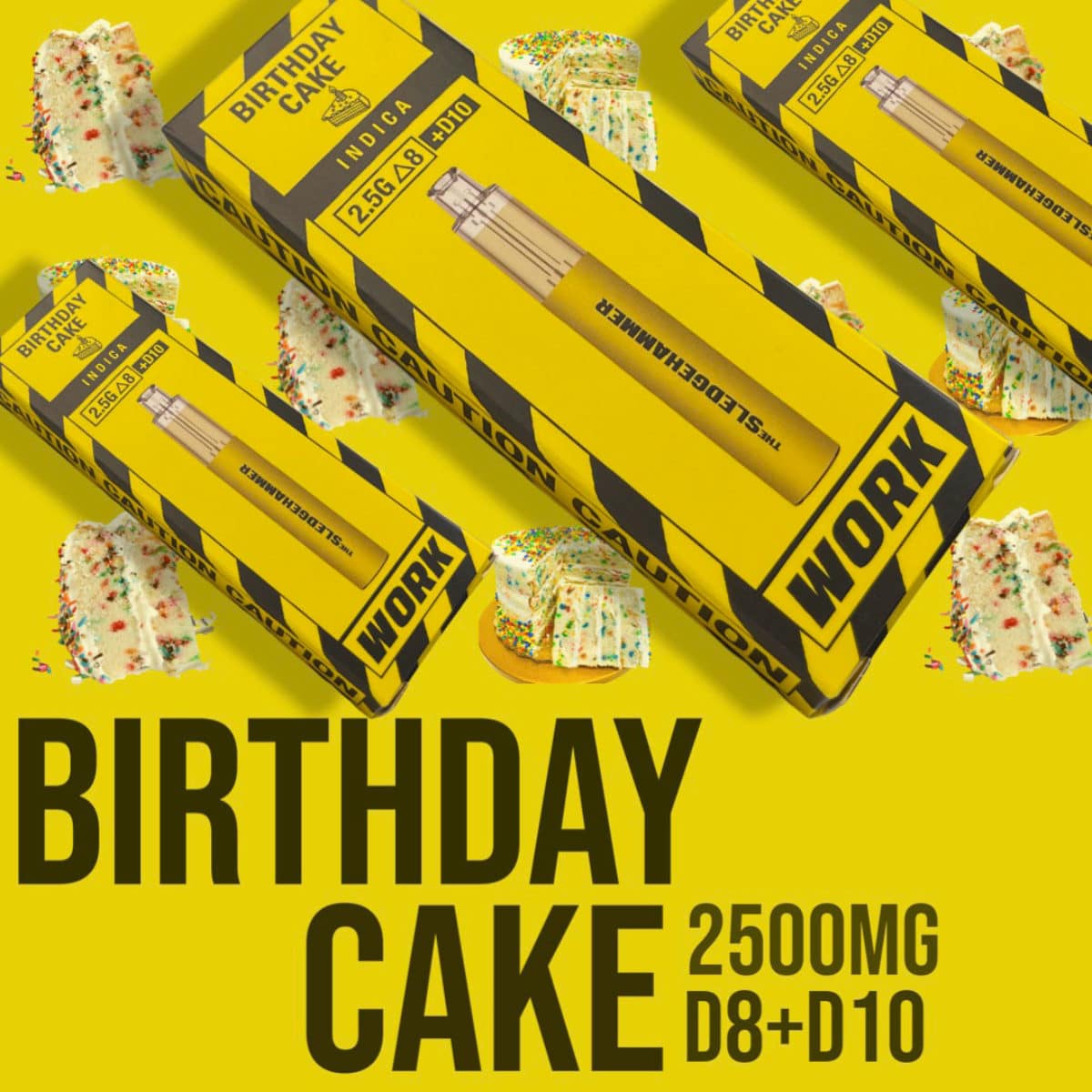 Work Sledge Hammer Delta 10 + Delta 8 2.5g
$38.00
Tax Included. $9 flat rate shipping. Free shipping on orders $50+.
Secure Checkout With
Work Sledge Hammer D10 + D8 Disposable 2.5g
The new 2.5 gram Work Sledge Hammer Disposable. One of the most potent Hemp disposables currently available on the market. This vape disposable is hard-hitting and enriched with Delta 8. This vape is available in 8 different mouth-watering strains.
Work Sledge Hammer Strains
Banana Kush – Indica
Grape Burst – Hybrid
Blueberry Banana Bread – Hybrid
Strawberry Banana – Indica
Mystery – Indica
Birthday Cake – Indica
Mint – Indica
Italian Gelato – Hybrid
Product Features:
2.5 gram disposable
Potent Blend of Delta 8 THC and Delta 10 THC
Organic Terpenes
Under 0.03% Delta-9 THC
Click here to view Lab Reports.
Ingredients: Delta-8 Distillate, Delta-10 Distillate, Terpenes
Recommended Use: Consult with a physician before using this product.
Warning: Must be 21 years of age. Do not use this product while pregnant or breastfeeding.
When Using This Product: Do not drive or operate heavy machinery.
D8Gas is on a mission! We are committed to exposing and promoting a variety of the highest quality brands and products that are excelling in the Delta 8 space today. We strive to provide an exceptional customer shopping experience. From access to a vast variety of the best brands and products through ordering and fulfillment-customer satisfaction is 100% guaranteed.
Our customers are assured to be gassed up and ready to lift off upon the arrival of their new product(s)! The D8Gas team thoroughly researches, tests and rigorously quality-controls all the brands listed on D8Gas.com to ensure they meet the highest quality and health standards. Every product listed for sale has accessible lab reports providing information in support of claims.
great taste. preformed the way I thought it would, and I will buy again. Also it was priced well.
Tastes , really good. And gets you really stoned .