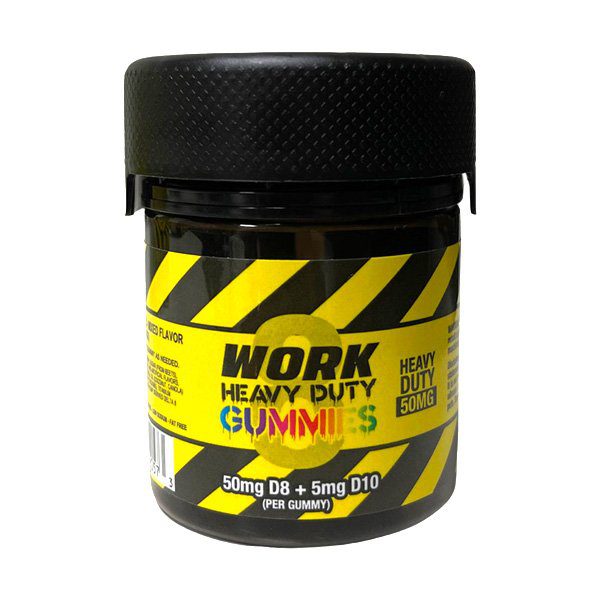 Work Heavy Duty Delta 8 + Delta 10 Gummies
$20.00
Tax included. Shipping calculated at checkout.
Out of stock
Secure Checkout With
Work Heavy Duty Gummies
Work is known for making some of the best disposables on the hemp market. This is their new line of delta 8 and delta 10 gummies. Each gummy is infused with 50mg of pure d8 and d10. Each jar comes with a total of 10 gummies.
Each jar comes with mixed flavor assortment.
Product Features:
500mg total per jar
50mg Delta-8 THC + 5mg Delta-10 THC
Made in the USA
Third Party Lab Tested
Click here to view Delta 8 Lab Reports.
D8Gas is on a mission! We are committed to exposing and promoting a variety of the highest quality brands and products that are excelling in the Delta 8 space today. We strive to provide an exceptional customer shopping experience. From access to a vast variety of the best brands and products through ordering and fulfillment-customer satisfaction is 100% guaranteed.
Our customers are assured to be gassed up and ready to lift off upon the arrival of their new product(s)! The D8Gas team thoroughly researches, tests and rigorously quality-controls all the brands listed on D8Gas.com to ensure they meet the highest quality and health standards. Every product listed for sale has accessible lab reports providing information in support of claims.
Only logged in customers who have purchased this product may leave a review.