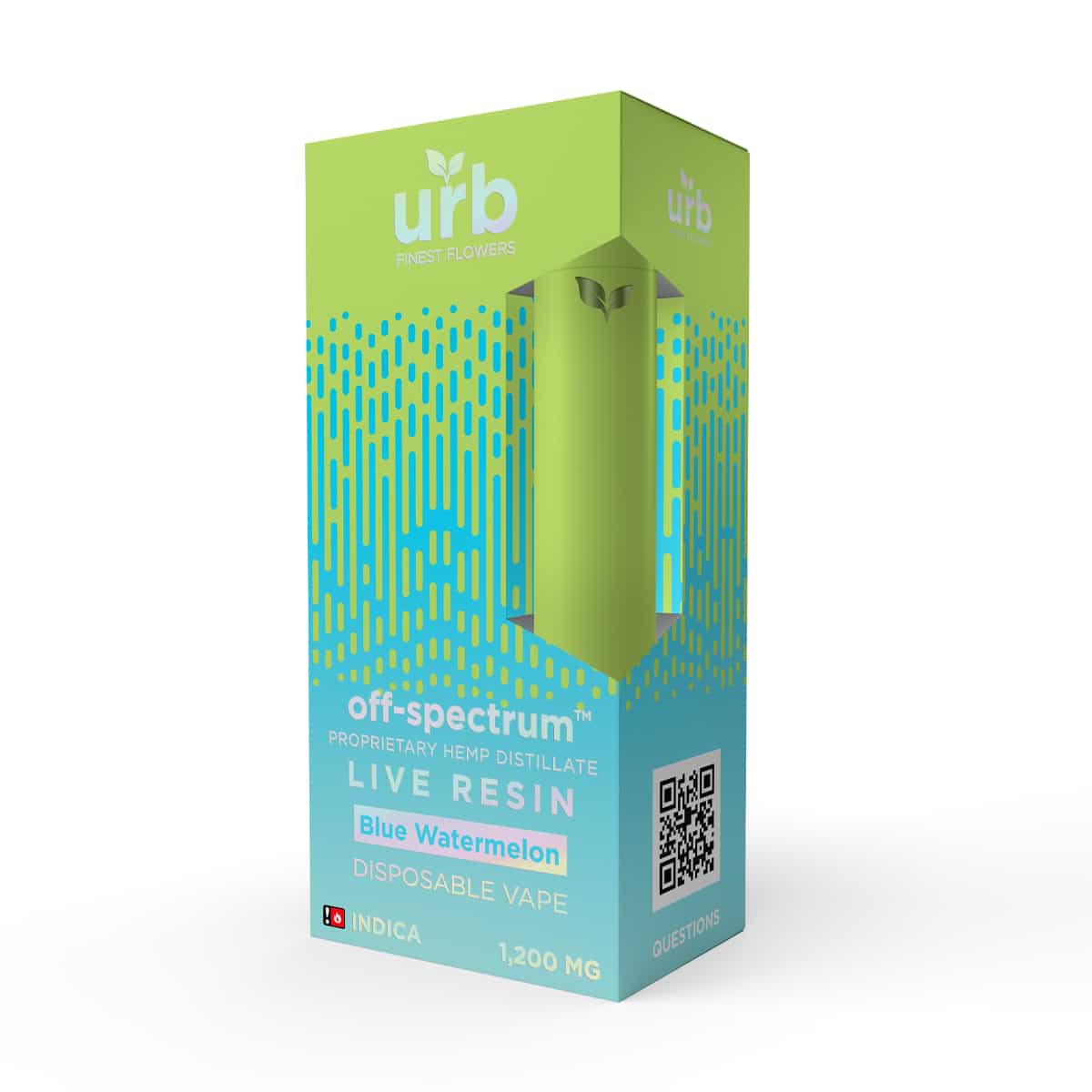 URB Off Spectrum Live Resin Disposable 1.2G
$36.99
Tax Included. $9 flat rate shipping. Free shipping on orders $50+.
Secure Checkout With
URB Off Spectrum Live Resin Disposable
Finally another phenomenal product from URB. They are very well known in the hemp industry for making some of the best products around. Off-spectrum is a heavy hitting unique blend of cannabinoids. This vape disposable contains live resin and terpenes with no delta-8 thc or any other cannabinoid that is higher than 0.03% thc. This product is legal in all 50 states.
These hemp live resin disposables are available in 5 different flavor strains.
URB Off Spectrum Strains
Strawberry Ice Cream- Indica
Blue Watermelon- Indica
Lemon Dream- Sativa
Purple Zkittlez- Hybrid
Maui Wowie- Sativa
Product Features:
1.2ml Hemp Live Resin Dsiposable
Variety of cannabinoids
Heavy Hitting
Hemp Derived
Third Party Lab Tested
Made in the USA
D8Gas is on a mission! We are committed to exposing and promoting a variety of the highest-quality brands and products that are innovating and excelling in the Delta 8 space today to consumers worldwide…all while providing an exceptional customer shopping experience. From access to a vast variety of the best brands and products through ordering and fulfillment-customer satisfaction is 100% guaranteed.
Our customers are assured to be gassed up and ready to lift off upon the arrival of their new product(s)! The D8Gas team thoroughly researches, tests, and rigorously quality-controls all the brands listed on D8Gas.com to ensure they meet the highest quality and health standards. Every product listed for sale has accessible lab reports providing information in support of claims.
Nice hit - great taste!
I agree with the previous comment, this is a smooth-**** vape. I love it when you can find ****-quality CBD vapes like this! Now we just need more flavors :)
Love the smoothness
Love the flavor of this product and how smooth the live resin is. Also love that I can enjoy the entire pen without it exploding on me like other brands do
This flavor was pretty good as well, it was mid but it was still good!!!
It lasted me a good while and I'm glad I was able to consume and give this my honest opinion because I'm ready to start my journey on trying all these flavors and seeing which hit different and which ones don't