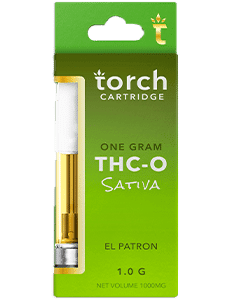 Torch THC-O Live Resin Cartridge 1G
$21.00
Tax Included. $9 flat rate shipping. Free shipping on orders $50+.
Secure Checkout With
Torch THC-O Cartridge
Well known for making amazing cannabis and hemp products, Torch is based out of Irvine, California. This new line of THC-O infused products are amazing and taste great. Torch THC-O Cartridge comes pre filled with one full gram. Aside from the oil that is used in these carts, they also add strain specific organic terpenes to give users the best flavor possible.
By using a live resin extract procedure for these cartridges, a much higher abundance of terpenes, cannabinoids, and trichomes are preserved. This results in a more flavorful and potent experience. Torch uses only premium active ingredients to formulate their products.
Torch THC-O Cartridge Strains
Apple Fritter- Hybrid
El Patron- Sativa
Green Crack- Sativa
Ice Cream Cake- Indica
Jack Herrer- Sativa
Kush Mints- Hybrid
Mango- Hybrid
Orange Mimosa- Indica
Product Features:
Live Resin Terpenes
Delta-8 THC & THC-O
Made in the USA
Third Party Lab Tested
Click here to view Lab Reports.
D8Gas is on a mission! We are committed to exposing and promoting a variety of the highest quality brands and products that are excelling in the Delta 8 space today. We strive to provide an exceptional customer shopping experience. From access to a vast variety of the best brands and products through ordering and fulfillment-customer satisfaction is 100% guaranteed.
Our customers are assured to be gassed up and ready to lift off upon the arrival of their new product(s)! The D8Gas team thoroughly researches, tests and rigorously quality-controls all the brands listed on D8Gas.com to ensure they meet the highest quality and health standards. Every product listed for sale has accessible lab reports providing voluminous research and information in support of claims.
Orange Mimosa
Awesome flavor, no clogging and lasted awhile for a 1G cart and amazing product from Torch I definitely recommend!!!!
Torch THC-O Live Resin Orange Mimosa
Awesome flavor lasted a long time for a 1G cart and no clogging but order the mango flavor but still amazing product
Very good
Smooth hit and they last a long time
Good price and effects
I have tried many cartridges and this one's are good burning, and smooth taste. They can be used almost till the end.