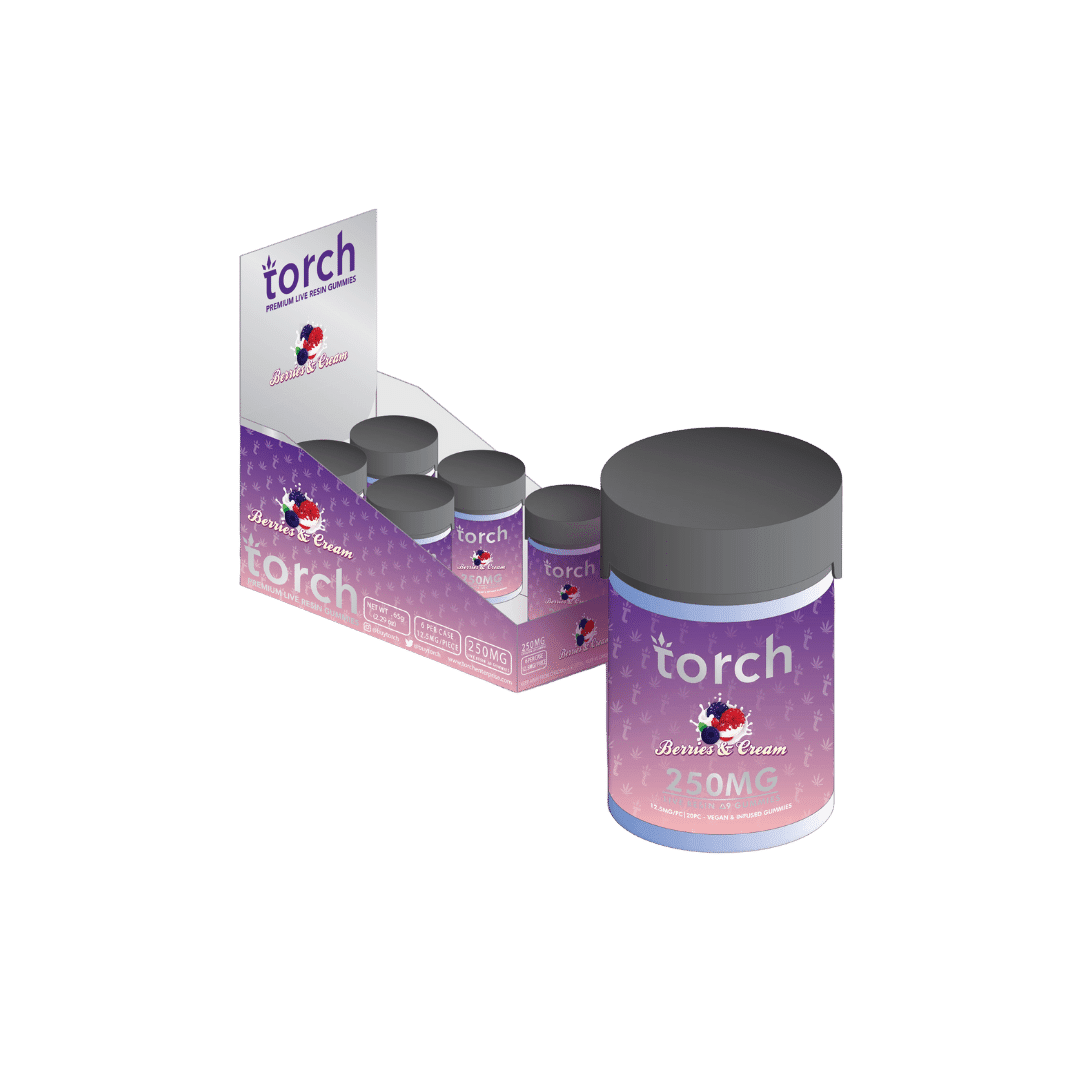 Torch Live Resin D9 Gummies 250mg
$22.00
Tax Included. $9 flat rate shipping. Free shipping on orders $50+.
Secure Checkout With
Torch Live Resin D9 Gummies
Known for making some of the best disposables on the market, they have now come out with a new series of live resin hemp derived delta 9 gummies. These edibles contain less than 0.3% delta-9 thc per gummy which makes them Federally Legal. These  d9 edibles are vegan and infused not sprayed.
Enjoy these delicious d9 gummies in 8 delicious flavors which will have you mind blown. Each edible contains 12.5mg per piece and there are a total of 20 pieces per jar.
Torch Live Resin D9 Gummy Flavors
Caramel Apple
Berries & Cream
Cherry Cola
Chili Lime
Mango Peach
Root Beer Float
Sour Grapezilla
Strawberry Lemon Lime
Product Features:
20 gummies per jar
Hemp Derived
Premium Active Ingredients
Real Live Resin
Third Party Lab Tested
Click Here To View Lab Reports. 
D8Gas is on a mission! We are committed to exposing and promoting a variety of the highest quality brands and products that are excelling in the Delta 8 space today. We strive to provide an exceptional customer shopping experience. From access to a vast variety of the best brands and products through ordering and fulfillment-customer satisfaction is 100% guaranteed.
Our customers are assured to be gassed up and ready to lift off upon the arrival of their new product(s)! The D8Gas team thoroughly researches, tests and rigorously quality-controls all the brands listed on D8Gas.com to ensure they meet the highest quality and health standards. Every product listed for sale has accessible lab reports providing research and information in support of claims.
Omgoodness
These gummies are delicious and I need to remember they aren't candy!!
The shipping department was awesome with their packaging
And the gummies really do work they are fabulous
Melt in Your Mouth Goodness!
Think Jelly Belly but without the **** coating. I got rootbeer float & they taste like a rootbeer float! So much so, that I am very interested in trying the other flavors now! AND they have a tad bit more mg per candy than most delta 9 gummies, at a very reasonable price! Will def be getting more of these! Yum!
awesome!
These are awesome! I tried the Caramel Apple flavor & the Berries & Cream, both taste great!
These are great!
Taste great & work great!
Great purchase will purchase again in future
Great fruity flavor, no harsh aftertaste.
Feels as strong as prescription strength
edibles. Highly recommend