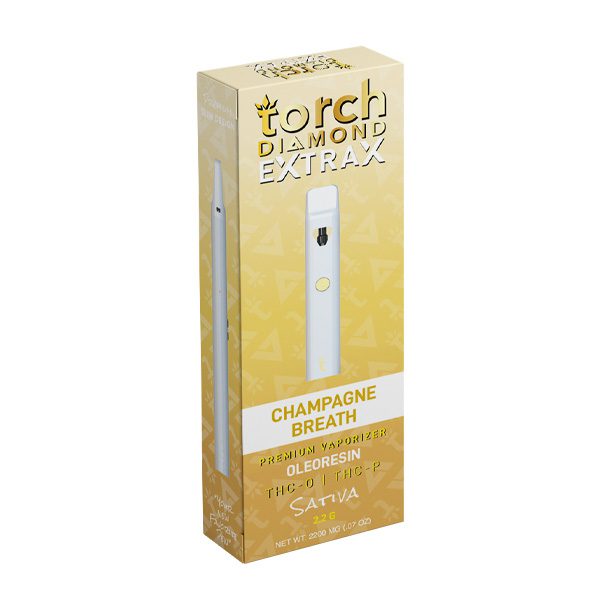 Torch Delta Extrax Disposables 2.2G
$32.00
Tax Included. $9 flat rate shipping. Free shipping on orders $50+.
Secure Checkout With
Torch Delta Extrax Disposables
Finally the new collaboration from 2 of the best selling hemp brands on the market. Delta Extrax is well known for manufacturing high quality strains. Torch has designed a premium device that provides vapers with a smooth and clean vaping experience. These 2.2 gram Torch Delta Extrax Disposables feature a pre-heat function capability, proprietary ceramic coil design and ergonomic tactile excellence.
These vape pens are USB-C rechargeable port and are currently available in 8 different mouth watering flavor strains. The blend of oil in these devices contains THC-O and THC-P. Each disposable comes fully charged and pre filled. Enjoy the euphoric and uplifting buzz.
Torch Delta Extrax Disposables Strains
Laughing Gas- Hybrid
Dosi Punch- Indica
Champagne Breath- Sativa
Paradise OG- Hybrid
Truffleati- Indica
Pirate Milk- Hybrid
Diced Pineapples- Indica
Honey Buns- Hybrid
Product Features:
2200mg
THC-O, THC-P, Oleoresin
Pre-Heat Function
USB-C Rechargeable
Third Party Lab Tested
Made in the USA
Click Here To View Lab Reports. 
D8Gas is on a mission! We are committed to exposing and promoting a variety of the highest quality brands and products that are excelling in the Delta 8 space today. We strive to provide an exceptional customer shopping experience. From access to a vast variety of the best brands and products through ordering and fulfillment-customer satisfaction is 100% guaranteed.
Our customers are assured to be gassed up and ready to lift off upon the arrival of their new product(s)! The D8Gas team thoroughly researches, tests, and rigorously quality-controls all the brands listed on D8Gas.com to ensure they meet the highest quality and health standards. Every product listed for sale has accessible lab reports providing research and information in support of claims.
Great disposable
Best disposable device I've come across. I love the preheat function.
Satisfied customer
I got this hoping it was better than the normal torch product and it absolutely was
Top Quality Torch
Great Price and Service Excellent Enjoy
Torch and D8Gas- Potent and Best Price
TORCH comes with a well designed vape and is pleasant and strong
Exactly what I expected.
Everything came complete and in good condition. The product was amazing and the price perfect. The best in the market Torch revolutionary burn system.