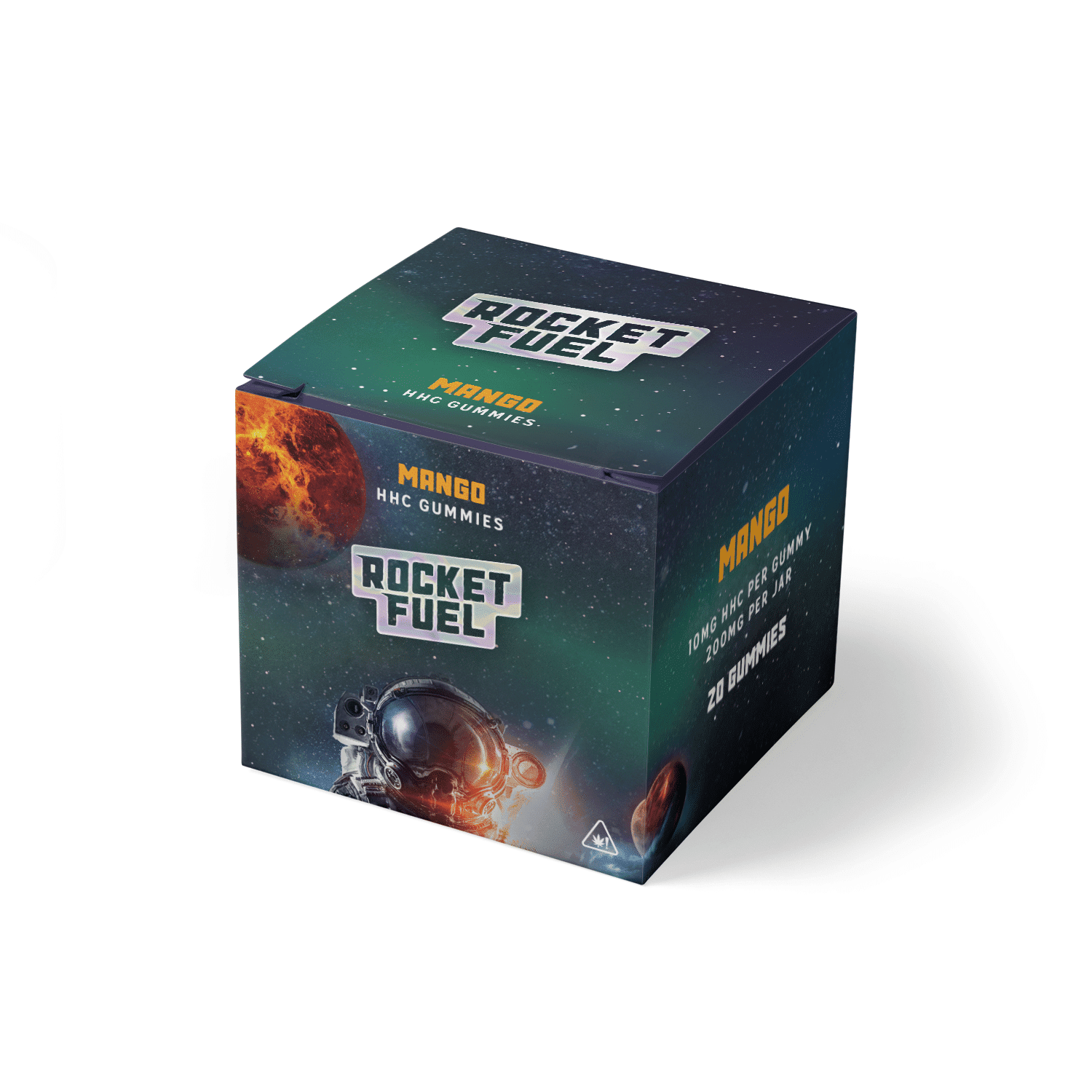 Rocket Fuel HHC Gummies 200mg
Tax Included. $9 flat rate shipping. Free shipping on orders $50+.
Secure Checkout With
Rocket Fuel 200mg HHC Gummies
With an apparent potential to overtake the hemp market, HHC is one of the newest cannabinoids to release and has been gaining a lot of positive attention. We are proud to announce our all-new HHC gummies, infused with premium hemp-derived HHC extract. Our gummies contain the highest quality ingredients, third-party lab tested for quality and safety.
Recent reports on HHC have shown to have comparable effects to many of the similar new cannabinoids like Delta 8, Delta 10, THC- O, etc. Researchers are very intrigued by its stronger stability compared to normal THC, being less impacted from UV and showing to have an incredibly long shelf life.
Rocket Fuel HHC Gummy Flavors
Sour Peach
Sour Fruit Punch
Mango
Blue Lemonade
Product Features:
200mg HHC per jar
10mg HHC per gummy
20 Gummies per jar
Under 0.03% Delta-9 THC
Third-Party Lab Tested
Made in the USA
Click here to view Lab Reports.
D8Gas is on a mission! We are committed to exposing and promoting a variety of the highest quality brands and products that are excelling in the Delta 8 space today. We strive to provide an exceptional customer shopping experience. From access to a vast variety of the best brands and products through ordering and fulfillment-customer satisfaction is 100% guaranteed.
Our customers are assured to be gassed up and ready to lift off upon the arrival of their new product(s)! The D8Gas team thoroughly researches, tests, and rigorously quality-controls all the brands listed on D8Gas.com to ensure they meet the highest quality and health standards. Every product listed for sale has accessible lab reports providing research and information in support of claims.
Just what I needed
What a wonderful nice relaxing ****.
Good taste
I've never tried these before and am glad
I did now. Enjoyable and pleasurable. Thank you. I would order them again
Great company. Great product
LOVE the mango Rocket Fuel gummy's!!!! Bought these when they were on sale for the heck of it, and boy am I GLAD I did lol!!!
I'm smokin 45 years here and I was LIT after eating four of those things lol!!! Three of them gets me high
but 4 🤩🤩🤩🤩🤩✌🏼lol
Great taste and kicked in inna hour great buzz!