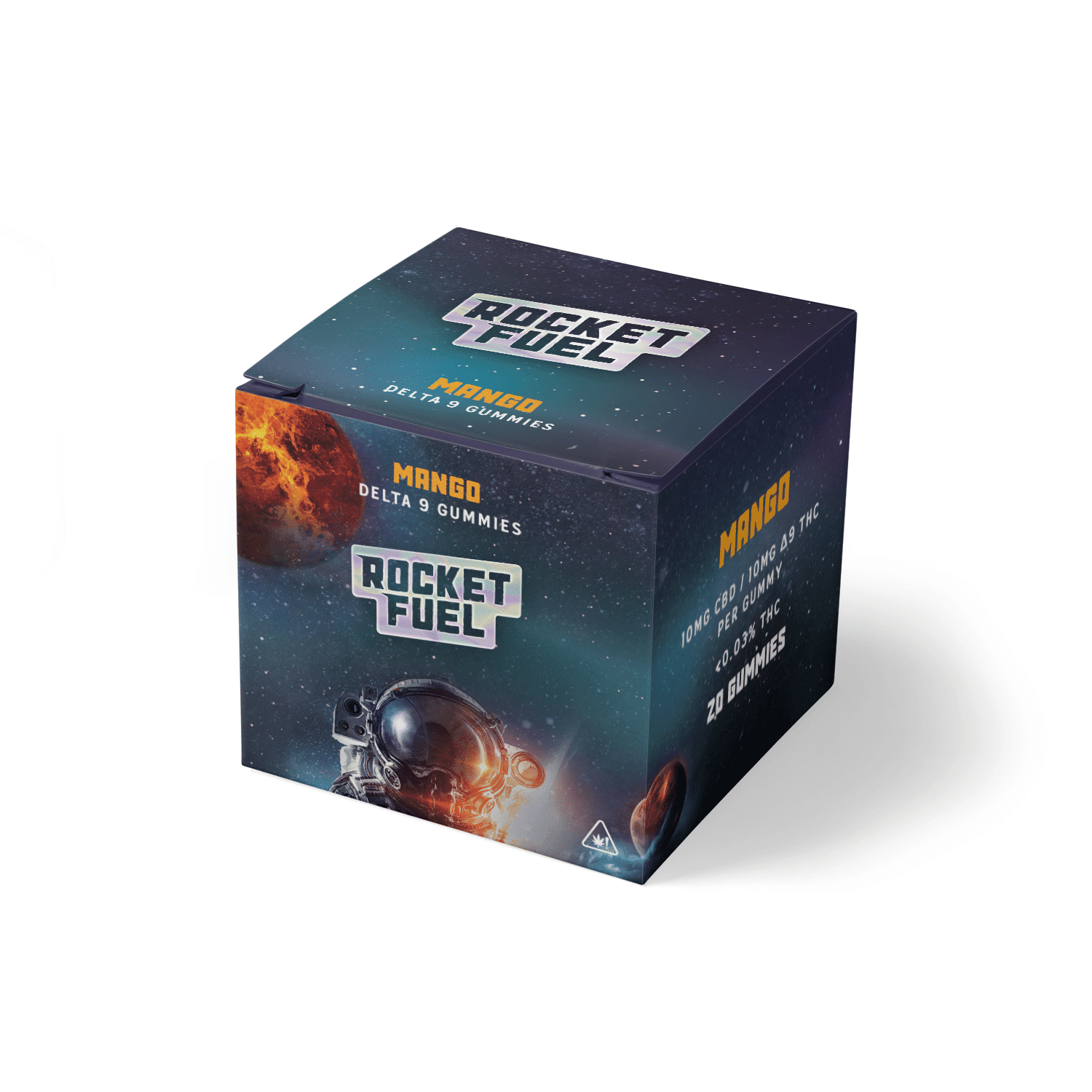 Rocket Fuel Delta 9 Gummies 200mg
Tax Included. $9 flat rate shipping. Free shipping on orders $50+.
Secure Checkout With
Rocket Fuel 200mg Delta 9 Gummies
Our potent and extremely flavorful gummies come in a jar of 20 pieces, each infused with 10 mg of CBD extract and 10 mg of our excellent Delta-9 THC extract. This is one of the most convenient and simple to use edibles, the best choice for hemp enthusiasts who prefer to not smoke or vape.
Our Delta 9 gummies are derived from US-grown, federally legal hemp plants and contain less than 0.3% Delta 9 THC. The perfect cannabinoid blend to give the ideal body relaxing effects of CBD while giving you subtle euphoric and uplifting effects to help get some well-needed relaxation.
Rocket Fuel Delta 9 Gummy Flavors
Blue Raspberry – Sometimes referred to as "Blue Razz", Blue Raspberry is one of the most popular flavors known for its sweet and fruity blend of blueberry and raspberry.
Sour Peach– Exploding like a supernova of flavor, these gummies capture the essence of fresh and sour peach with the uplifting effects of Delta 9. Product
Mango – Reminiscing of biting into a juicy ripe mango, bursting with flavor. This delicious sweet flavor is one of the best selling flavors
Strawberry – A hard-hitting effect and a flavor so good, you won't be able to keep your hands off.
Features
200mg Delta 9 THC
200mg CBD
20 Gummies per Pack
10mg of Delta 9 THC per Gummy
Childproof Jar
Third-Party Lab Tested
Less than 0.3% Delta 9 THC
Click Here To View Lab Reports.
D8Gas is on a mission! We are committed to exposing and promoting a variety of the highest quality brands and products that are excelling in the Delta 8 space today. We strive to provide an exceptional customer shopping experience. From access to a vast variety of the best brands and products through ordering and fulfillment-customer satisfaction is 100% guaranteed.
Our customers are assured to be gassed up and ready to lift off upon the arrival of their new product(s)! The D8Gas team thoroughly researches, tests, and rigorously quality-controls all the brands listed on D8Gas.com to ensure they meet the highest quality and health standards. Every product listed for sale has accessible lab reports providing research and information in support of claims.
Love it
Helps me sleep makes me **** good
Great reliable D9 product! Super fast customer service by D8GAS! My go to shop😎👍👌
These are very fresh and taste great! Works like a charm!
These gummies are very powerful. There is no way that I can eat even 1/2 of one. About 1/4 is a good dose for me.