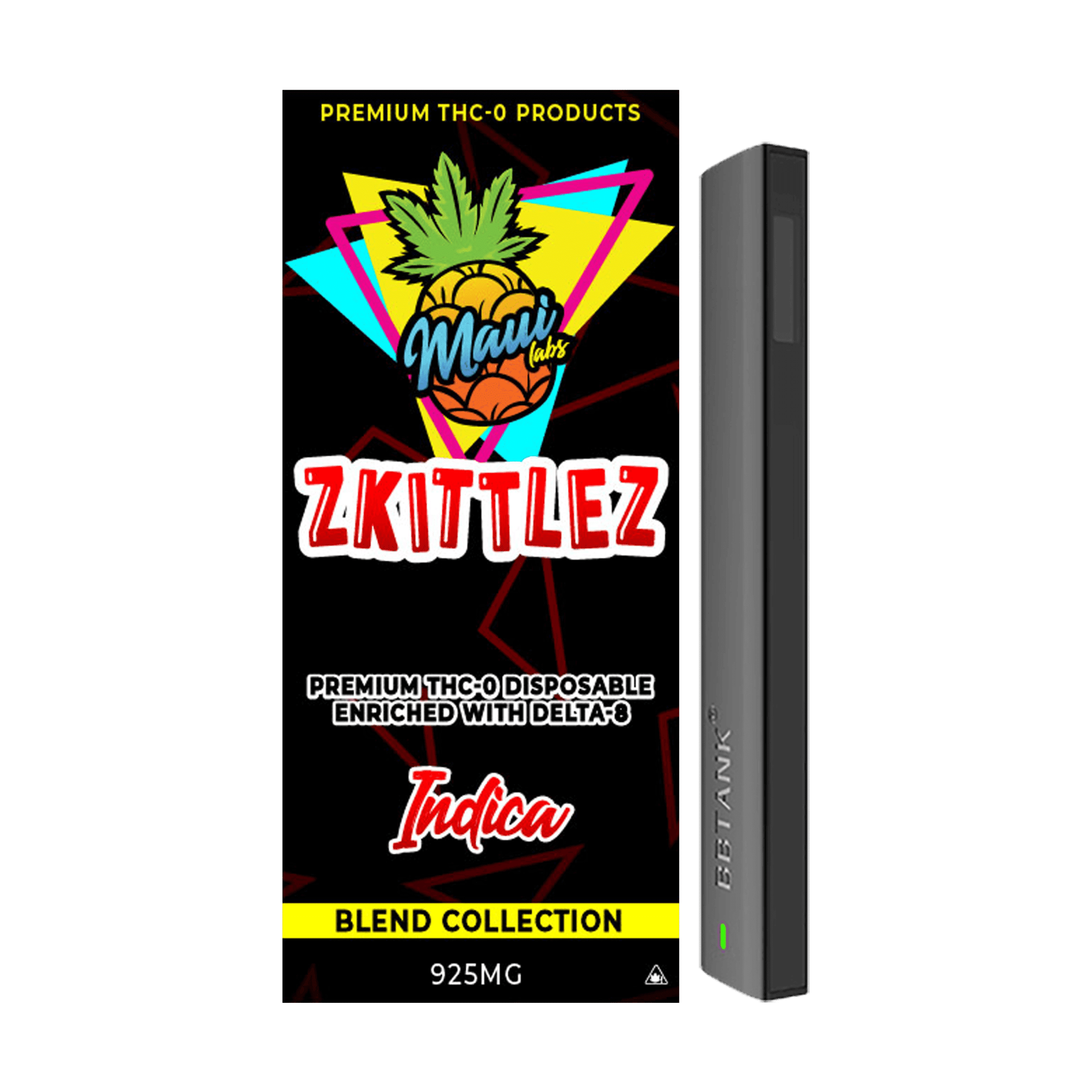 Maui Labs THC-O Vape Disposables
Tax Included. $9 flat rate shipping. Free shipping on orders $50+.
Secure Checkout With
Maui Labs THC-O Vape Disposables
New Maui Labs THC-O Vape Disposables. Packed with 1g of premium THC-O and enriched with Delta 8.
Delta 10 THC sensation has a similar head and body feel as sativa strains and Delta 8 is similar to indica strains. When you put them together it creates a synergistic bond that supercharges both cannabinoids. Maui Labs Zkittlez The Blend Disposable Vapes combines the cleanest, most potent Delta 10 THC and Delta 8 THC on the market for a head and body feel like nothing else.
All Maui Labs D8 Vapes are made using a C02 extraction process that creates the cleanest and purist end product available.
Maui Labs THC-O Strains
Zkittlez, also known as "Skittlz," "Island Skittles" and Skittles, is a hybrid of Grapefruit and Grape Ape. Maui Labs Zkittlez leaves you feeling uplifted, euphoric and inspired! It delivers a relaxing body buzz that you pain free and relaxed. Zkittlez calms sleep issues, boosts mood, alleviates stress and anxiey and can reduce inflammation.
Gelato is a blend of Thin Mint GSC and Sunset Sherbet. Gelato is a very potent indica and sativa hybrid that helps alleviate insomnia but doesn't leave you feeling fatigued either. Maui Labs Gelato leaves you feeling pain free, productive, and stimulated. Maui Labs Gelato Delta 10 & Delta-8 delvers a euphoric high that relaxes you almost immediately, so it is not for inexperienced users.
Product Information:
1 ml Disposable Vape
925mg of Delta-8
Organic Terpenes
Made in the USA
Click here to view lab reports. 
D8Gas is on a mission! We are committed to exposing and promoting a variety of the highest quality brands and products that are excelling in the Delta 8 space today. We strive to provide an exceptional customer shopping experience. From access to a vast variety of the best brands and products through ordering and fulfillment-customer satisfaction is 100% guaranteed.
Our customers are assured to be gassed up and ready to lift off upon the arrival of their new product(s)! The D8Gas team thoroughly researches, tests, and rigorously quality-controls all the brands listed on D8Gas.com to ensure they meet the highest quality and health standards. Every product listed for sale has accessible lab reports providing research and information in support of claims.