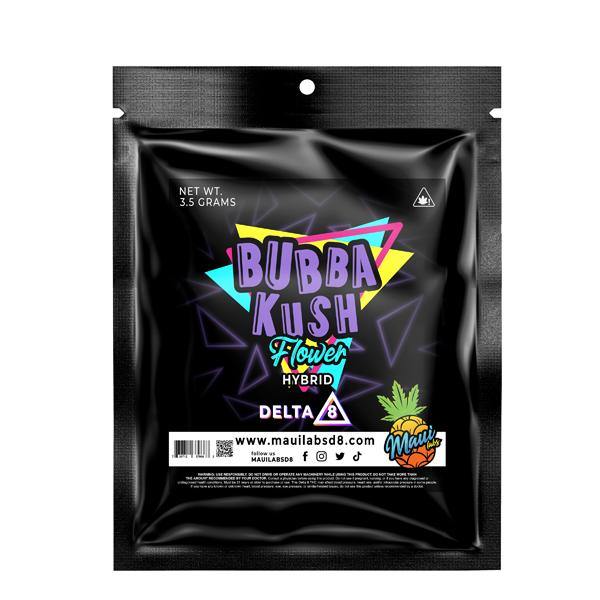 Maui Labs Delta 8 Flower 3.5g
Tax Included. $9 flat rate shipping. Free shipping on orders $50+.
Secure Checkout With
Maui Labs Delta 8 Flower 3.5g
Experience Maui Labs Delta 8 most potent and flavorful hemp flower, infused with their premium Delta 8 distillate. Giving you an extremely enjoyable smoking experience.
Delta-8 Flower is a great way to get high without all of the psychotropic events.
Maui Labs D8 Flower Strains
Coming in 4 flavors/strains of White Diamond, Bubba Kush, Gelato, and Cookies, with 3.5 grams per pack!
Product Features:
3.5 Full Grams of Delta 8 Flower
Third party Lab Tested 
Less than 0.3% Delta 9 THC
Click here to view Lab Reports.
Ingredients: Delta-8 Distillate, Terpenes, CBD Flower
Recommended Use: Consult with a physician before using this product.
Warning: Must be 21 years of age. Do not use this product while pregnant or breastfeeding.
D8Gas is on a mission! We are committed to exposing and promoting a variety of the highest quality brands and products that are excelling in the Delta 8 space today. We strive to provide an exceptional customer shopping experience. From access to a vast variety of the best brands and products through ordering and fulfillment-customer satisfaction is 100% guaranteed.
Our customers are assured to be gassed up and ready to lift off upon the arrival of their new product(s)! The D8Gas team thoroughly researches, tests, and rigorously quality-controls all the brands listed on D8Gas.com to ensure they meet the highest quality and health standards. Every product listed for sale has accessible lab reports providing research and information in support of claims.
This was a GREAT deal!! When used it does definitely get you high (this is the only reason I am taking one star off ) the only issue I had is it was pretty dry and I like my smoke to have a little moisture in it because it burns a little better but gotta say, at these prices I bought a few to put aside for making edibles it just could not be passed up at these prices!!
I've been sticking with cartridges mostly for years now but I was shocked they had "flower" here, so I figured I'd give it a shot and it's a very good mellow feel! Highly recommend
Great for a mild high or if you're trying to go to sleep.
Sticky, tasty....what more could you want. I was asleep in 3 minutes!