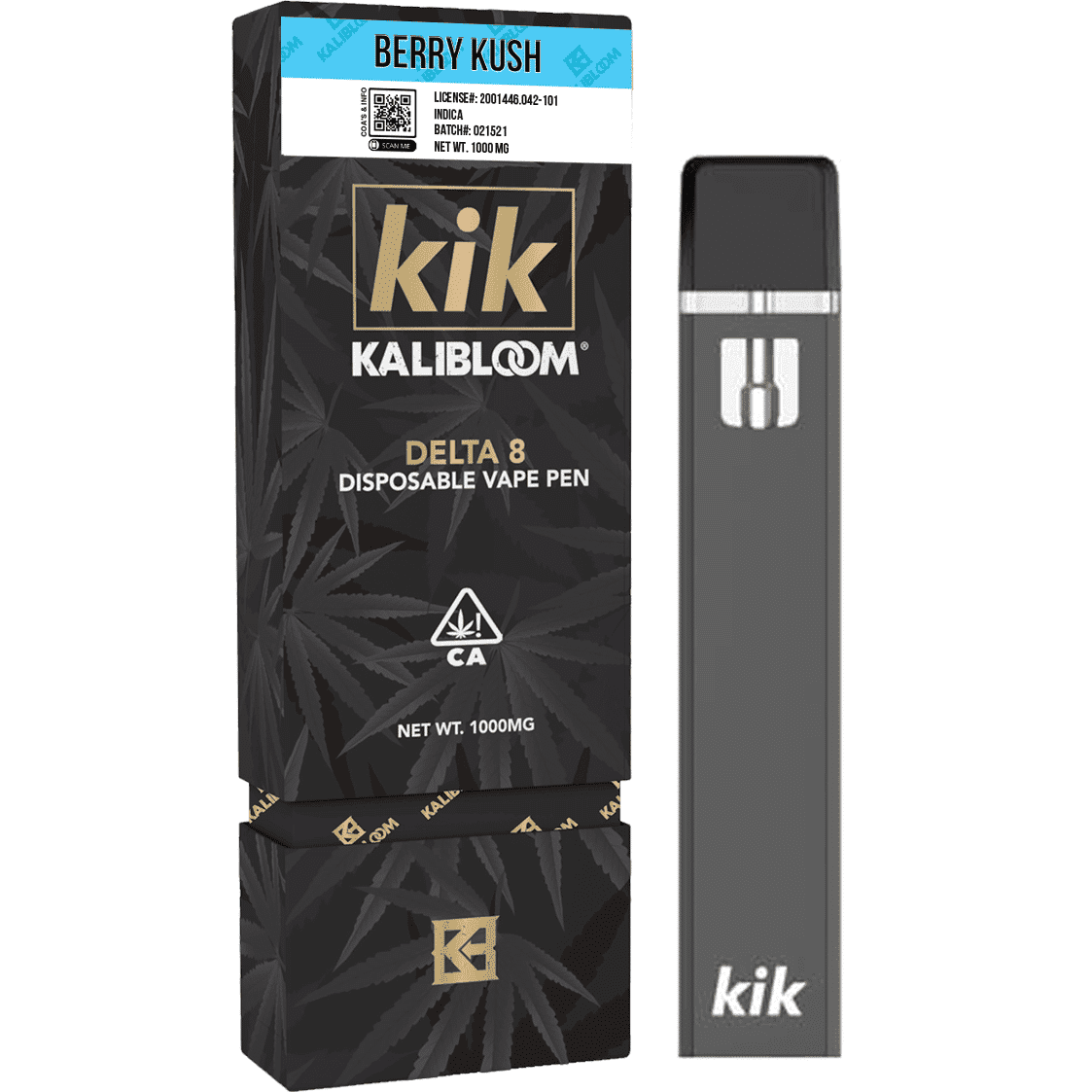 Kik Delta 8 Disposable 1G
Tax Included. $9 flat rate shipping. Free shipping on orders $50+.
Secure Checkout With
KIK Delta 8 Disposable
These Delta 8 Disposables by Kik are some of the newest vape devices that have hit the market, coming with 1000mg (1g) of their premium Delta 8 distillate. Using only the highest quality hemp, blended with strain specific terpenes, these disposables will provide you with unmatched flavor and smoke profiles.
These devices are pre-charged and pre-filled to give you the most convenient way to experience Delta 8 and all of it's wellness benefits.
Kik Delta 8 Disposable Strains
Biscotti (Hybrid)
Chemdawg (indica)
Fire OG (Indica)
Grape Ape (Sativa)
Lemon Cake (Sativa)
Runtz (Hybrid)
Guava (Sativa)
Papaya Rosin (Hybrid)
Berry Kush (Indica)
Sour Diesel Sauce (Sativa)
Gushers (Hybrid)
Gelato #41 (Hybrid)
King Louis XIII (Indica)
Blue Dream (Sativa)
Gorilla Glue (Indica)
Ice Cream Cake (Indica)
NYC Diesel
GSC
Exotic Jack
Paris OG
Mimosa
Green Crack
Maui Wowie
Master Kush
Product Features:
1 Gram Disposable
Pre Filled
Pre Charged
Made in the USA
Third Party Lab Tested
Click here to view Lab Reports.
Ingredients: Delta-8 Distillate, Terpenes, Flavoring
Recommended Use: Consult with a physician before using this product.
Warning: Must be 21 years of age. Do not use this product while pregnant or breastfeeding.
When Using This Product: Do not drive or operate heavy machinery. 
D8Gas is on a mission! We are committed to exposing and promoting a variety of the highest quality brands and products that are excelling in the Delta 8 space today. We strive to provide an exceptional customer shopping experience. From access to a vast variety of the best brands and products through ordering and fulfillment-customer satisfaction is 100% guaranteed.
Our customers are assured to be gassed up and ready to lift off upon the arrival of their new product(s)! The D8Gas team thoroughly researches, tests, and rigorously quality-controls all the brands listed on D8Gas.com to ensure they meet the highest quality and health standards. Every product listed for sale has accessible lab reports providing research and information in support of claims.
Great, Top Quality!
I am always hesitant to try new brands in a delta vape, because I only want the best products when it comes to inhaling a potentially unknown substance. I did my research and bout a kik, blue dream sativa, pod starter kit and am so pleased! The pen is very plentiful with each puff, it tastes clean yet just as the strain should & gives a pleasant, joyful ****. I will def I buy again!
Tricky opening the box but well worth it. Nice flavor and effect
Lemon cake and gushers are pretty good love the taste and disposables dont clog
This is one of my new favorites! I have tried Paris OG and Berry Kush! Try one and see what you think!