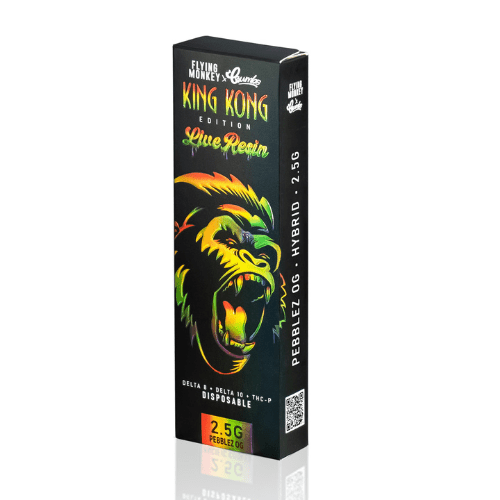 Flying Monkey Crumbs King Kong Live Resin Disposable 2.5G
$35.00
Free Shipping on Orders $60+.
Secure Checkout With
24/7 Customer Service
100% US Grown Hemp
All Products Third-Party Lab Tested
Same-Day Shipping with Discreet Packaging
King Kong Crumbs Live Resin Disposable
Flying Monkey has done it again! This time, they've created some of the most potent live resin disposables available in the hemp market. The King Kong Live Resin Disposable is infused with 3 different cannabinoids and a whopping amount of 2.5 grams of top-grade delta-8 THC, delta-10 THC, and THC-P distillate. By using a live extract procedure as opposed to using dried and cured hemp flower, a much larger amount of terpenes, trichomes, and cannabinoids are preserved providing not only a stronger experience, but also a more flavorful one.
King Kong Crumbs Live Resin Disposables are currently available in 5 different flavor profiles such as White Runtz and Pebblez OG. Regardless of which strain you end up choosing, they all provide an extremely potent experience. Sativa, Hybrid, and Indica strains are offered so you can get the effect you desire.
King Kong Live Resin Disposable Flavors/Strains:
Ape Mintz (Indica)
Jetfuel Gelato (Sativa)
Pacific Cooler (Sativa)
White Runtz (Hybrid)
Pebblez OG (Hybrid)
Product Features:
Compliant with the 2018 Farm Bill (less than .3% of delta-9 THC)
One 2.5 gram disposable infused with 3 cannabinoids: delta-8 THC, delta-10 THC, and THC-P
Live resin extracts
Naturally-derived terpenes
Flying Monkey x Crumbs collaboration
Made in the USA with industrial hemp
Click Here To View Lab Reports.
D8Gas is on a mission! We are committed to exposing and promoting a variety of the highest quality brands and products that are excelling in the Delta 8 space today. We strive to provide an exceptional customer shopping experience. From access to a vast variety of the best brands and products through ordering and fulfillment-customer satisfaction is 100% guaranteed.
Our customers are assured to be gassed up and ready to lift off upon the arrival of their new product(s)! The D8Gas team thoroughly researches, tests, and rigorously quality-controls all the brands listed on D8Gas.com to ensure they meet the highest quality and health standards. Every product listed for sale has accessible lab reports providing research and information in support of claims.