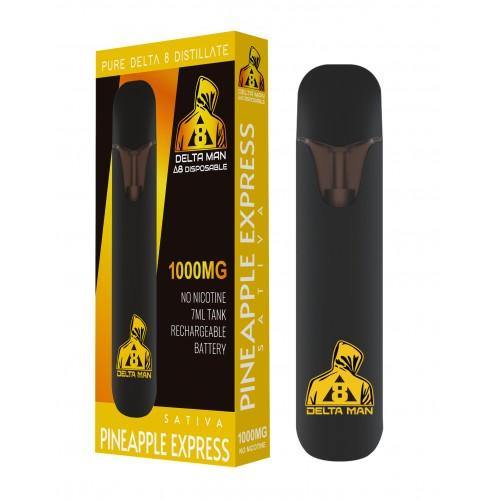 Delta Man Delta 8 Disposables 1G
$18.00
Tax Included. $9 flat rate shipping. Free shipping on orders $50+.
Secure Checkout With
24/7 Customer Service
100% US Grown Hemp
All Products Third-Party Lab Tested
Same-Day Shipping with Discreet Packaging
Delta Man Delta 8 Disposable
Delta Man Disposables now out. These disposables are packed with 1000mg of Delta-8 THC. This vape disposable comes pre-charged and pre-filled. Easy and ready to use.
These nicotine free Delta Man D8 Disposables are available in 4 different mouth watering flavors. D8 Delta Man disposables contain under 0.03% THC.
Delta 8 Disposables Delta Man Flavors
Maui Wowie- Maui Wowie Delta 8 is a sativa dominant strain. This d8 strain originated as an outdoor grow on the island of Maui and almost immediately spread to all the Hawaiian Islands. The strain offers a high-end euphoria along with pineapple flavors that allow your mind to drift away to creative spaces.
Pineapple Express- Pineapple Express is a sativa dominant hybrid marijuana strain made by crossing Trainwreck with Hawaiian. This strain rose to fame on the silver screen in 2008 amidst the release of the movie Pineapple Express. Since then, this strain has become a favorite in the hearts and minds of cannabis lovers. Pineapple Express produces long lasting energetic effects that you can feel right away. Pineapple Express may make you feel buzzy, alert, and creative. The best time to smoke Pineapple Express is in the morning, afternoon, or early evening hours.
Skittlez- Zkittlez is an iconic, Indica-dominant strain bred from a mix of Grape Ape and Grapefruit that produces a candy flavored strain. The effects of Zkittlez are calming, leaving consumers focused, alert, and happy while relaxing the body to help unwind, preferred by most for end of the day use to really help get some rest.
Sour Diesel- Sour Diesel, also known as "Sour D" and "Sour Deez," is a popular sativa marijuana strain made by crossing Chemdawg and Super Skunk. Sour Diesel effects are dreamy, cerebral, fast-acting and energizing. This strain features a pungent flavor profile that smells like diesel.
Product Features:
1000mg
Third Party Lab Tested
Made in the USA
Click here to view Lab Reports.
D8Gas is on a mission! We are committed to exposing and promoting a variety of the highest quality brands and products that are excelling in the Delta 8 space today. We strive to provide an exceptional customer shopping experience. From access to a vast variety of the best brands and products through ordering and fulfillment-customer satisfaction is 100% guaranteed.
Our customers are assured to be gassed up and ready to lift off upon the arrival of their new product(s)! The D8Gas team thoroughly researches, tests, and rigorously quality-controls all the brands listed on D8Gas.com to ensure they meet the highest quality and health standards. Every product listed for sale has accessible lab reports providing research and information in support of claims.