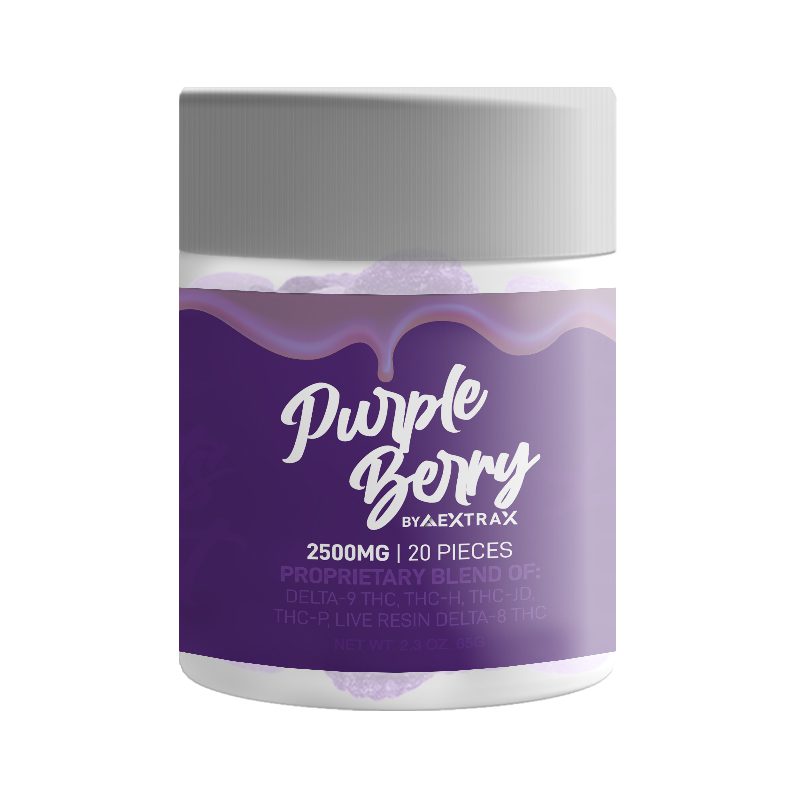 Delta Extrax Lights Out Gummies 2500mg
$30.00
Tax Included. $9 flat rate shipping. Free shipping on orders $50+.
Secure Checkout With
24/7 Customer Service
100% US Grown Hemp
All Products Third-Party Lab Tested
Same-Day Shipping with Discreet Packaging
Delta Extrax Lights Out Gummies
Part of their new "Lights Out" collection, these new edibles from the Delta Extrax brand are phenomenal and taste amazing. Aside from the mouthwatering explosion of flavor that these edibles have, they are also infused with some of the most popular cannabinoids currently out in the hemp industry. These are by far the strongest edibles formulated by this brand. These gummies feature a proprietary blend including delta 9 thc, THCh, THCjd, THC-P, and Live Resin Delta-8 THC.
There simply is no other blend of cannabinoids out like this. Pop a gummy, turn off the lights, and enjoy the ride. These edibles are available in 3 different flavors. There are a total of 20 edibles inside of each jar, and each gummy is infused with 125mg. The entire jar contains 2500mg.
Delta Extrax Lights Out Gummies Flavors
Purple Berry- We take the sweet, tart flavor of the grape, mix it with the juicy sweetness of blueberries, and infuse it into our Purple Berry gummies. These infused edibles provide an experience like none other! Get ready for the incredible flavor from these gummies and take your taste buds on a sweet journey with a satisfying surprise at the end!
Root Beer- Get ready for a palate-pleasing taste of a Root Beer Float. With these gummies, you can expect to get the sweet foamy flavor of a creamy vanilla Root Beer Float along with a psychoactive experience like none other!
Sour Peach- If you love the delicate, melting flavor of a sweet peach on a warm summer day then you'll love these Sour Peach gummies. Delta Extrax has combined a unique blend of cannabinoids + tangy sour flavors + sweet, lush peach.
Product Features:
2500mg jar
Proprietary Blend
Live Resin
Very Potent & Powerful
Third Party Lab Tested
Made in the USA
Ingredients:
Corn Syrup, Sugar, Gelatin, Modified Potato Starch, Citric Acid, Malic Acid, Lactic Acid, Pectin, Calcium Lactate, Tartaric Acid, Modified Corn Starch, Sodium Citrate, Natural And Artificial Flavor, Titanium Dioxide, Red 40, Blue 1, Yellow 5.
Suggested Use:
Consume 1 gummy to start to establish individual tolerance. Increase dose in increments to achieve desired effects.
Click here to view Lab Reports.
D8Gas is on a mission! We are committed to exposing and promoting a variety of the highest quality brands and products that are excelling in the Delta 8 space today. We strive to provide an exceptional customer shopping experience. From access to a vast variety of the best brands and products through ordering and fulfillment-customer satisfaction is 100% guaranteed.
Our customers are assured to be gassed up and ready to lift off upon the arrival of their new product(s)! The D8Gas team thoroughly researches, tests and rigorously quality-controls all the brands listed on D8Gas.com to ensure they meet the highest quality and health standards. Every product listed for sale has accessible lab reports providing voluminous research and information in support of claims.
Delta Extrax Lights Out Gummies 2500mg
Delta Extrax Lights Out Gummies 2500mg
Gummies
These work for me and my husband
lights are almost out great **** use on week nights to calm down after work