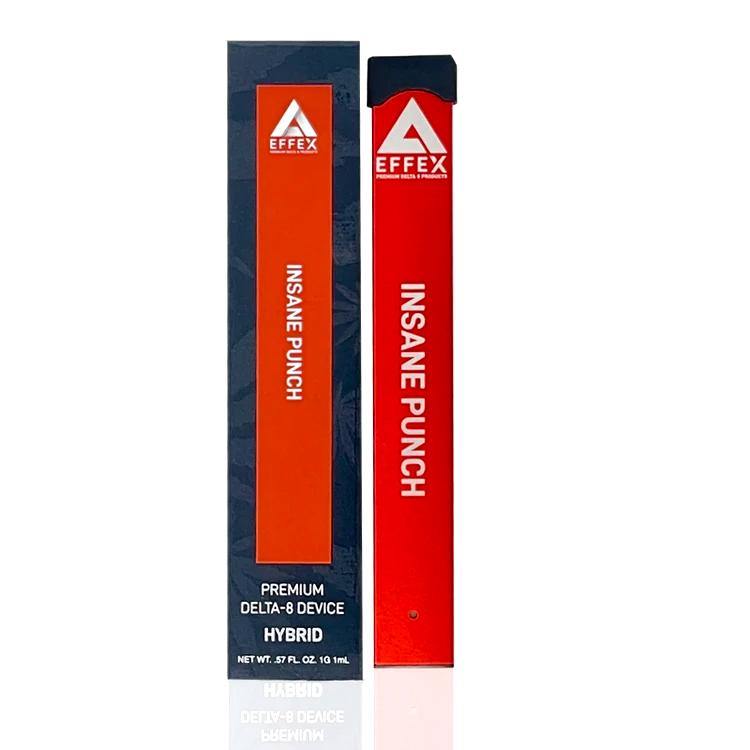 Delta Extrax Delta 8 Disposable 1G
Tax Included. $9 flat rate shipping. Free shipping on orders $50+.
Secure Checkout With
24/7 Customer Service
100% US Grown Hemp
All Products Third-Party Lab Tested
Same-Day Shipping with Discreet Packaging
Delta Extrax Delta 8 Disposable
Delta Extrax is one of the leading manufacturers in Delta-8 today. D8 Extrax offers a wide variety of products in different strains and flavors. The Delta Extrax Delta 8 Disposable comes in different flavors and are rechargeable, plus they come with 280 mAh battery. All of their vape products are third party lab tested to ensure safety and quality for all clients.
They only source only the best, and quality Delta-8 THC Distillate for their products. The Delta Extrax delta 8 vape disposable truly is one of a kind. Try these vape disposables today and get ready to experience pure amazement.
Be sure to check out Effex's vape cartridges as well. Our clients have been ranting and raving about the new Cali Orange Kush 510 cart.
Delta Extrax Flavors/Strains
Watermelon [INDICA]: Watermelon which is also known as "Watermelon Kush" and "Watermelon OG," is an indica dominant marijuana strain made by crossing two parents which are still unknown. Watermelon produces relaxing effects, making it useful as a sleeping aid or as an appetite stimulant. Watermelon has an extremely unique watermelon flavor profile, very reminiscent of grape with hashy undertones. Watermelon is highly praised and loved by growers for its high yield and potency, requiring roughly 55 to 60 days flowering time.
Insane Punch [HYBRID]: Insane Punch premium delta 8 thc disposables comes from Purple Punch and Purple Train, which is why this strain leans more to the Indica side. Users that have tried Insane Punch report a total body relaxation with a quiet clear mind. This strain is amazing for the days where you just need to take a load off.
Guava Purp [INDICA]: Guava Purp stems from Purple Fig and guava strains. This strain is packed with tropical fruity flavors and grape undertones. Users have reported a light sense of energy. Guava Purp is perfect for any consumer searching for euphoric body high.
Product Features:
1.0 Full Gram of Delta-8
THC 1 THC disposable Vape
Third party Lab Tested
Less than 0.3% Delta 9 THC
Hemp Derived Terpenes
Compliant with the 2018 Farm Bill
Specs:
280 mAh
Not Refillable
Rechargeable
No Light when plugged into charger = fully charged
White light while charging = still charging
Red light = needs to be charged
White light while in use = working/activated
Ingredients: Delta-8 Distillate, Terpenes, Flavoring
Recommended Use: Consult with a physician before using this product.
Warning: Must be 21 years of age. Do not use this product while pregnant or breastfeeding.
When Using This Product: Do not drive or operate heavy machinery.
Click Here To View Delta Extrax Delta-8 THC Lab Reports.
D8Gas is on a mission! We are committed to exposing and promoting a variety of the highest quality brands and products that are excelling in the Delta 8 space today. We strive to provide an exceptional customer shopping experience. From access to a vast variety of the best brands and products through ordering and fulfillment-customer satisfaction is 100% guaranteed.
Our customers are assured to be gassed up and ready to lift off upon the arrival of their new product(s)! The D8Gas team thoroughly researches, tests, and rigorously quality-controls all the brands listed on D8Gas.com to ensure they meet the highest quality and health standards. Every product listed for sale has accessible lab reports providing research and information in support of claims.