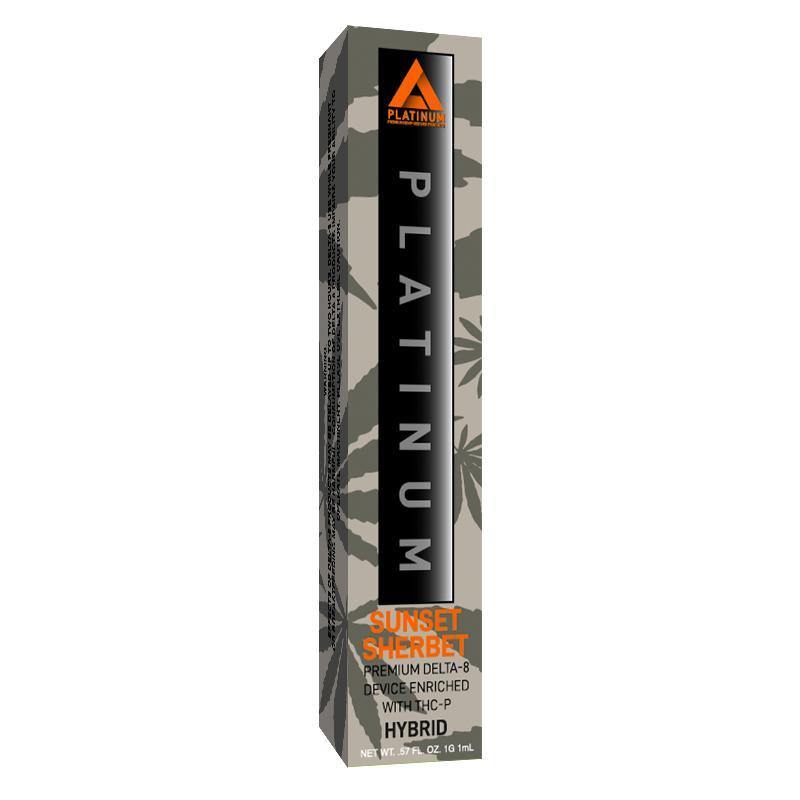 Delta Etrax Platinum THC-P Vape Disposables 1g
$30.00
Tax Included. $9 flat rate shipping. Free shipping on orders $50+.
Secure Checkout With
24/7 Customer Service
100% US Grown Hemp
All Products Third-Party Lab Tested
Same-Day Shipping with Discreet Packaging
Delta Extrax THCP Disposable
Be sure to check out these all-new THCP Vape Disposables by Delta Effex Platinum. Each disposable vape is blended with 1g of pure THC-P and enriched with Delta 8.
This D8 THCP vape disposable is part of Delta Effex's new Platinum Collection. All of the Platinum Collection products are lab tested for quality both in the raw form and in the finished product.
These vape products are available in 2 mouth-watering flavors. These vapes are rechargeable and do come pre-filled with thcp distillate.
THC-P Vape Flavors
Sunset Sherbet Premium THCP Disposable Flavor: This flavor will remind you of your favorite childhood candy with sweet berry tones. Experience this candy-like blend that stems from the famous GSC (Girl Scout Cookies). This HYBRID strain exhibits full-body effects paired with a burst of cerebral energy for those days where you just need to clear your head.
Mai Tai Premium THC-P Disposable Flavor: This vape is also enriched with premium D8 distillate. On every hit, you will taste a fruity flavor similar to the cocktail that it is named after. Also, a part of the Effex Platinum Collection. This Sativa strain provides an uplifting and euphoric sense to users.
THCP Product Features: 
Rechargeable
NOT Refillable
280 mAh
No Light when plugged into charger = fully charged
White light while charging = still charging
Red light = needs to be charged
White light while in use = working/activated
Click here to view lab reports. 
D8Gas is on a mission! We are committed to exposing and promoting a variety of the highest quality brands and products that are excelling in the Delta 8 space today. We strive to provide an exceptional customer shopping experience. From access to a vast variety of the best brands and products through ordering and fulfillment-customer satisfaction is 100% guaranteed.
Our customers are assured to be gassed up and ready to lift off upon the arrival of their new product(s)! The D8Gas team thoroughly researches, tests, and rigorously quality-controls all the brands listed on D8Gas.com to ensure they meet the highest quality and health standards. Every product listed for sale has accessible lab reports providing research and information in support of claims.