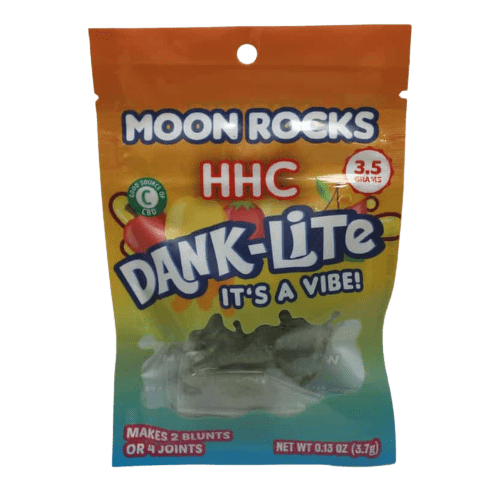 Dank Lite HHC Moon Rocks 3.5G
$18.00
Tax Included. $9 flat rate shipping. Free shipping on orders $50+.
Out of stock
Want to be notified when this product is back in stock?
Secure Checkout With
24/7 Customer Service
100% US Grown Hemp
All Products Third-Party Lab Tested
Same-Day Shipping with Discreet Packaging
Dank Lite HHC Moon Rocks
These Dank Lite HHC Moon Rocks are some of the most potent flower available in the hemp industry. The buds are so sticky that we recommend putting down that grinder and try using a scissor! These moonrocks are crafted by dipping the hemp nugs into HHC distillate and then rolling them in CBD kief. The package consists of 3.5 grams of flower, enough to roll 2 blunts or 4 joints depending on how fat you roll them. Before reaching consumer hands, Dank Lite undergoes third-party lab testing to assure potency, accuracy, and safety.
These Dank Lite HHC Moon Rocks come in the Green Goblin strain. This is a Sativa-dominant hybrid of a mix between Northern Lights & Skunk #1. You can expect a gassy, skunky aroma when smoking these moonrocks.
Dank Lite HXC Moon Rocks Product Features:
Compliant with 2018 Farm Bill
3.5 gram of HHC blended with CBD kief
Tested by third party labs for assurity of potency, safety, and accuracy
Crafted with industrial hemp
Made in the USA
Click here to view lab reports.
D8Gas is on a mission! We are committed to exposing and promoting a variety of the highest quality brands and products that are excelling in the Delta 8 space today. We strive to provide an exceptional customer shopping experience. From access to a vast variety of the best brands and products through ordering and fulfillment-customer satisfaction is 100% guaranteed.
Our customers are assured to be gassed up and ready to lift off upon the arrival of their new product(s)! The D8Gas team thoroughly researches, tests, and rigorously quality-controls all the brands listed on D8Gas.com to ensure they meet the highest quality and health standards. Every product listed for sale has accessible lab reports providing research and information in support of claims.