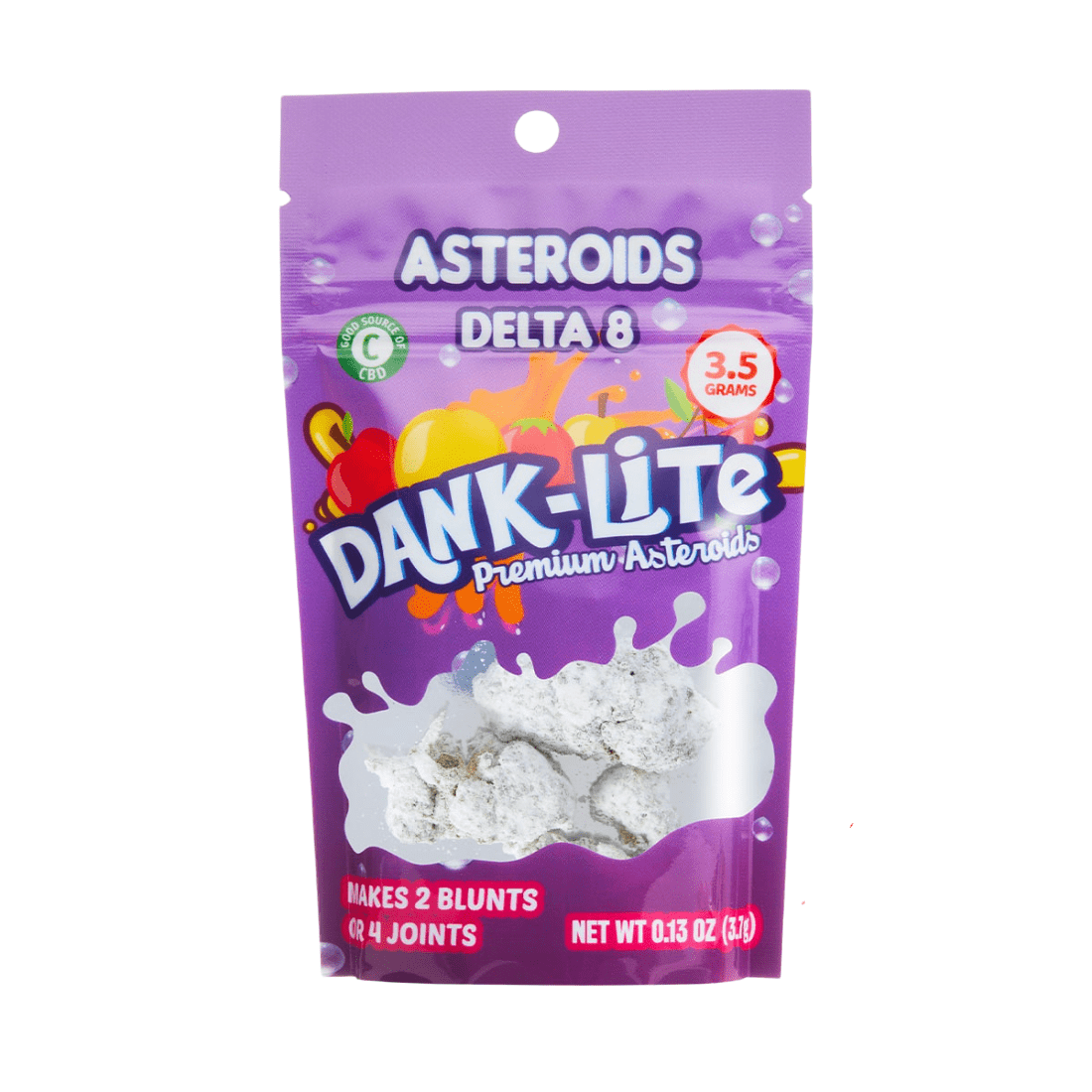 Dank Lite Asteroids 3.5G
$25.00 – $30.00
Tax Included. $9 flat rate shipping. Free shipping on orders $50+.
Secure Checkout With
Dank Lite Asteroids
Introducing the rare product collection of 3.5g Asteroids. Dank Lite Asteroids are crafted using premium hemp flower which is dipped in top-grade delta-8 THC / HHC distillate and then rolled onto pure CBD isolate powder. This infusion of cannabinoids produces what is known as the entourage effect, which provides a stronger experience composed to using them separately.
These asteroids are created using the Green Goblin strain, which is a collaboration between the famous Northern Lights strain and Skunk #1. You should expect an extremely dank and skunk aroma when smoking these nugs. We also recommend using scissors instead of breaking these down or grinding them due to the fact that it's so sticky!
Dank Lite Asteroids Variations:
Product Features:
1 bag with 3.5g of Asteroids
Infused with delta-8 THC / HCC and covered in CBD isolate powder
Compliant with the 2018 Farm Bill (less than .3% of delta-9 THC)
Made in the USA with industrial hemp
Click Here to View Delta-8 Lab Reports
D8Gas is on a mission! We are committed to exposing and promoting a variety of the highest-quality brands and products that are innovating and excelling in the Delta 8 space today to consumers worldwide…all while providing an exceptional customer shopping experience. From access to a vast variety of the best brands and products through ordering and fulfillment-customer satisfaction is 100% guaranteed.
Our customers are assured to be gassed up and ready to lift off upon the arrival of their new product(s)! The D8Gas team thoroughly researches, tests, and rigorously quality-controls all the brands listed on D8Gas.com to ensure they meet the highest quality and health standards. Every product listed for sale has accessible lab reports providing information in support of claims.