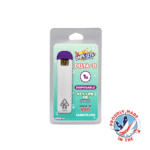 Dank Lite Delta 11 Disposable 1G
$20.00
Free Shipping on Orders $60+.
Out of stock
Want to be notified when this product is back in stock?
Secure Checkout With
24/7 Customer Service
100% US Grown Hemp
All Products Third-Party Lab Tested
Same-Day Shipping with Discreet Packaging
Dank Lite Delta 11 Disposable
Introducing the all-new delta 11 disposables from Dank Lite. The Dank Lite Delta 11 Disposable is infused with 1 gram of delta-11 THC, an extremely potent cannabinoid, and naturally-derived botanical terpenes to provide an immensely flavorful smoke and aroma when using it.
These Dank Lite Disposables come in 3 different flavor profiles which include a hybrid, sativa, and indica. They consist of new and sough-after strains such as Key Lime Pie which are known to provide potent experiences. No matter which strain you end up choosing, we can assure you will enjoy this product.
It's really easy to use these disposables. The only step required is to remove it from its packaging and start puffing away! When you've finished enjoying your Dank Lite Delta 11 Disposable, toss it out and come back to us for a new one.
DANK LITE D11 DISPOSABLE STRAINS
Product Features
Disposable infused with 1 gram of delta-11 THC
Compliant with the 2018 Farm Bill
Naturally-derived botanical terpenes
Made in the USA with industrial hemp
3 dank flavor profiles
Third-party lab tested for assurity of potency, safety, and accuracy
Click Here to View Lab Reports
D8Gas is on a mission! We are committed to exposing and promoting a variety of the highest-quality brands and products that are innovating and excelling in the Delta 8 space today to consumers worldwide…all while providing an exceptional customer shopping experience. From access to a vast variety of the best brands and products through ordering and fulfillment-customer satisfaction is 100% guaranteed.
Our customers are assured to be gassed up and ready to lift off upon the arrival of their new product(s)! The D8Gas team thoroughly researches, tests, and rigorously quality-controls all the brands listed on D8Gas.com to ensure they meet the highest quality and health standards. Every product listed for sale has accessible lab reports providing information in support of claims.